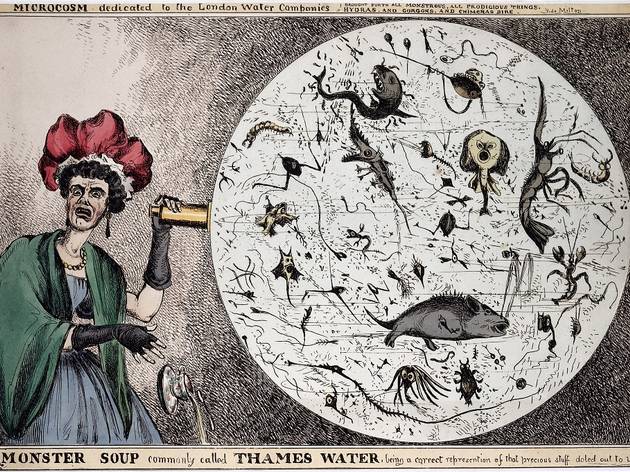 Dirt proves fertile ground in a thematic show whose curators have scoured continents and swept centuries for content that is unfailingly interesting. It is divided into five sections encompassing the earliest recorded sighting of bacteria, John Snow's groundbreaking work during the cholera outbreak in London in September 1854 and practices in parts of contemporary India, where more than a million people are employed to clean the waste from latrines by hand.
In the opening room, where oil paintings, domestic handbooks and glazed Delft tiles illustrate the proximity in the minds of the seventeenth-century Dutch of cleanliness and godliness, an old broom abandoned against the wall is, in fact, a contemporary artwork. Look closely and you see that Susan Collis's 'Waltzer' (2007) has precious stones embedded in the handle; seed pearls are caught up among the coarse dark bristles. Unexpected gems crop up repeatedly in this show.
Alongside a section that charts how the succes of the First International Hygiene Exhibition in Dresden in 1911 led to the founding of the Deutsches Hygiene-Museum in its own purpose-built home only for its effective marketing strategies to be hijacked by the Nazis in the pursuit of their racist ideology, you'll find a film about the Pioneer Health Centre in Peckham, which ran from 1926 to 1950. The clipped commentary sounds patronising to contemporary ears but the theory of integrating health and social services in the community was ahead of its time.
Another gem is a small, unprepossessing watercolour, 'The Great Dust Heap' (1837), by EH Dixon. Situated at King's Cross', this heap was just one of many man- made hills where London's poor scavenged a living. The dust was reused in the construction of bricks, a practice revived by artist Serena Korda in a commissioned work, 'Laid to Rest', which will see her create 500 commemorative bricks incorporating donated dust from homes and workplaces during the course of the exhibition.