I am Ashurbanipal: King of the World, King of Assyria review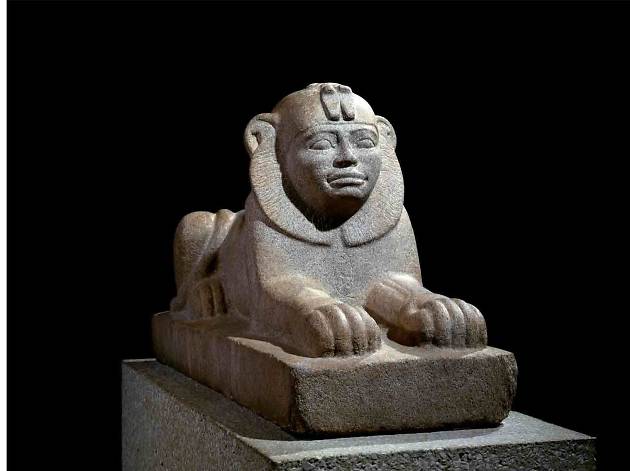 Time Out says
The great king Ashurbanipal was seriously not into lions, absolutely hated the things. The first of many gorgeously detailed Assyrian wall reliefs in this mesmerising exhibition depicts the king firing arrows at fleeing lions and shoving swords through their rearing chests. Lions, you see, represented power and savagery, and no one could hold power but Ashurbanipal, and his savagery, though gruesomely brutal, was anything but wild.
Between 669BC and 631BC, Ashurbanipal oversaw the massive expansion of the Assyrian empire from its roots in northern Iraq all the way down along the Nile. As the self-proclaimed 'king of the world', he wanted to be a lavish, opulent and noble leader. Early wall reliefs here show him hunting to prove that no beast could conquer him: wildlife flees, a horse spews reams of blood, another is impaled on the king's spear, inches from his majesty's face.
But the king wanted to rule intelligently too. He collected thousands of written works on clay sheets and prisms. The library shown here is the empire's whole body of knowledge, a kingdom's worth of education, and it's staggeringly beautiful.
Brutality was never far away though, and Ashurbanipal was seriously into quashing. He destroyed his brother's Babylonian kingdom, punishing his own flesh and blood mercilessly. In the most amazing reliefs, the king counters an Elamite attack from the east with sickening effectiveness. In swirling, flowing compositions, the chaos of war erupts into beheadings, stabbings, beatings and rivers of blood. It's overwhelmingly violent, but words can't do justice to how beautiful the work is. So intricate and alive, like the gods will erupt out and attack at any moment.
But his reign ended, though no one knows how, and his empire collapsed. One of the final walls here is covered with a digital projection of billowing smoke. The destruction of Ashurbanipal's empire is complete. It drags you into the present day, too. The ancient cities of Nimrud and Nineveh have been ransacked and near destroyed over the centuries, especially lately at the hands of Isis.
So if this show gives you anything, it's perspective. Empires grow and collapse. They always have, and they always will. This is what the British Museum is for: reminding you that the world is bigger and older than you can imagine, and it feels good to remember that every once in a while.
@eddyfrankel
Details
Users say