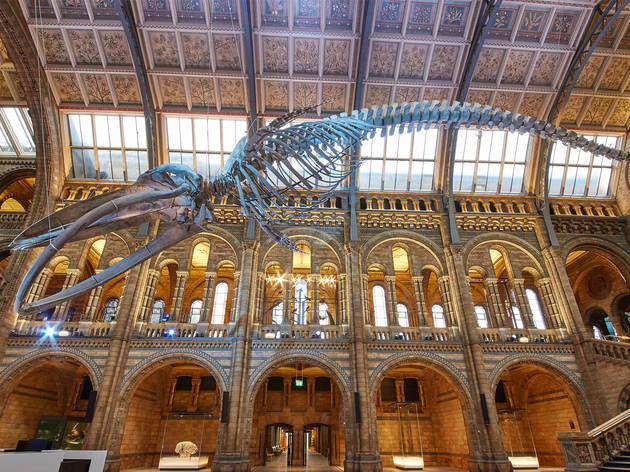 1/8
© Trustees of the NHM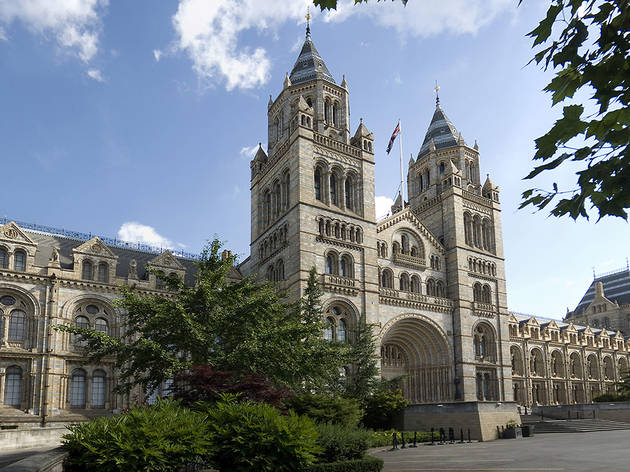 2/8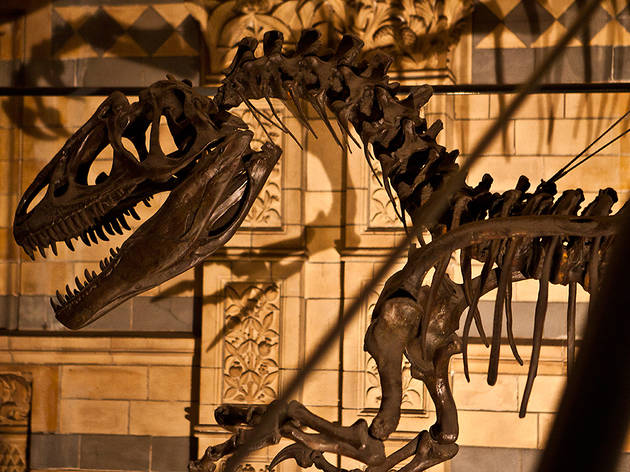 3/8
Dinosaur skeleton at Dinosnores sleepover © Celia Topping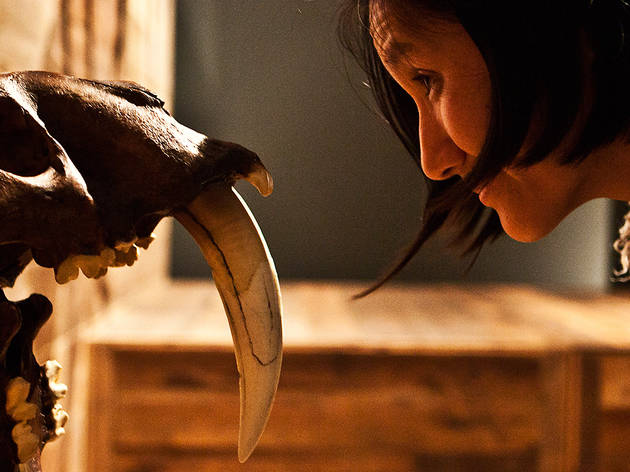 4/8
Sabre toothed tiger skull © Celia Topping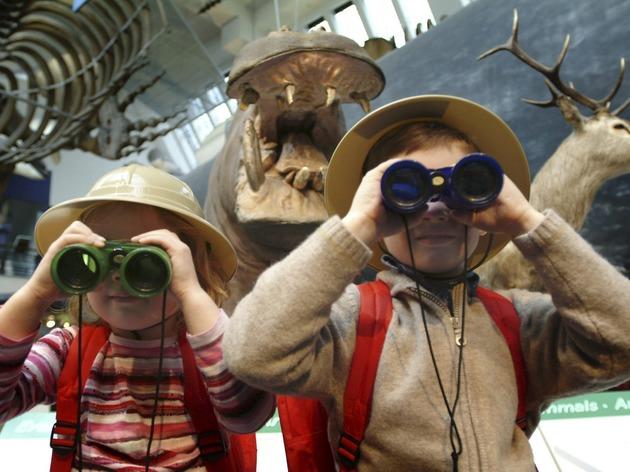 5/8
Kids explore the NHM © Courtesy of Trustees of Natural History Museum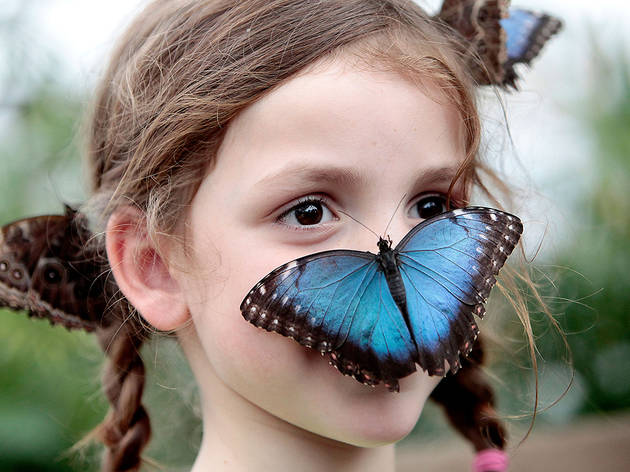 6/8
Annual summer Sensational Butterflies event © Kevin Webb/NHM Image Resources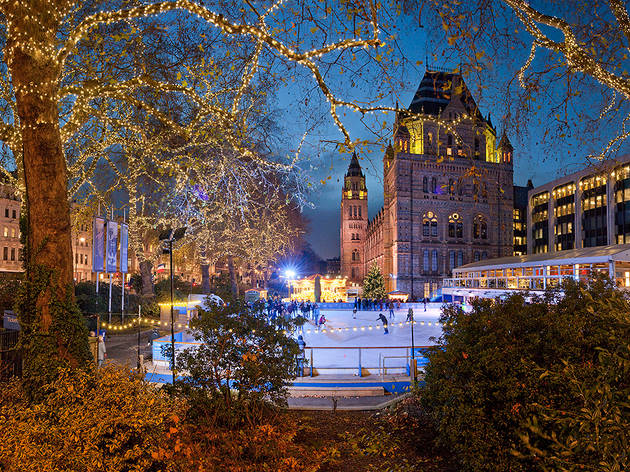 7/8
Annual winter ice rink at the NHM © PETER KINDERSLEY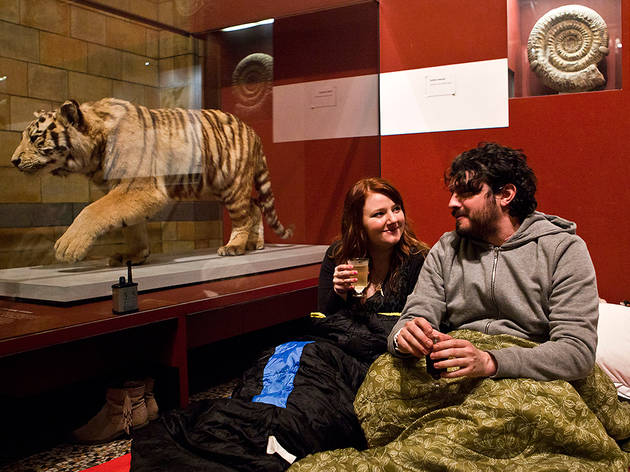 8/8
Dinosnores adult sleepover © Celia Topping
Time Out says
Both a research institution and a fabulous museum, the Natural History Museum opened in Alfred Waterhouse's purpose-built Romanesque cathedral of nature on the Cromwell Road in 1881. Joined by the splendid Darwin Centre extension in 2009, the original building still looks quite magnificent. The pale blue and terracotta façade just about prepares you for the natural wonders within.
Since 1905, London's most beloved dinosaur, Dippy the Diplodocus, reigned in the Hintze Hall. The 26-metre-long plaster-cast replica of a Diplodocus skeleton embarked on a nationwide tour in 2017, beginning on Dorset's Jurassic Coast (where it's currently in residence) and finishing in Norwich in late 2020. While Dippy's off on holiday, a diving Blue Whale skeleton has taken up his spot.
A left turn leads into the west wing or Blue Zone, where long queues form to see animatronic dinosaurs - especially endlessly popular T rex. A display on biology features an illuminated, man-sized model of a foetus in the womb along with graphic diagrams of how it might have got there.
A right turn from the central hall leads past the 'Creepy Crawlies' exhibition to the Green Zone. Stars include a cross-section through a Giant Sequoia tree and an amazing array of stuffed birds, including the extinct dodo and the chance to compare the egg of a hummingbird, smaller than a little fingernail, with that of an elephant bird (now extinct), almost football-sized.
Beyond is the Red Zone where you can take an escalator ride through the centre of the Earth to discover the famous earthquake simulator. 'Earth's Treasury' is a mine of information on a variety of precious metals, gems and crystals; 'From the Beginning' is a brave attempt to give the expanse of geological time a human perspective.
Many of the museum's 80 million specimens are housed in the Darwin Centre, where they take up nearly 17 miles of shelving. With its eight-storey Cocoon, this is also home to the museum's research scientists.
Each year the museum features fresh new temporary exhibitions, as well as some regular favourites, like Wildlife Photographer of the Year and their tropical butterfly house, 'Sensational Butterflies'. There are also many opportunities to visit the museum after hours including movie nights, Crime Scene Live, monthly late openings and the chance to sleep over at the Museum with Dino Snores.
See more of London's best museums and our seven favourite objects inside the National History Museum.
Details
Address:
Cromwell Road
London
SW7 5BD

Transport:
Tube: South Kensington
Price:
Free (permanent collection); admission charge applies for some temporary exhibitions
Contact:
Opening hours:
Daily 10am-5.50pm (last admission 5.30pm)
Do you own this business?
What's On
Pick a date
Please select two valid dates
The first date can't be after the second date
No events found for the selected dates
'Introducing Fantastic Beasts: The Wonder of Nature'

Harry Potter magic is being sprinkled over the Natural History Museum this Spring for a very special exhibition. For the first time, creatures from JK Rowling's wizarding world will be displayed alongside real-world specimens and artefacts from the Museum's...

Natural history

Until Sunday January 3 2021
Average User Rating
4.8 / 5
Rating Breakdown
5 star:

87

4 star:

17

3 star:

3

2 star:

0

1 star:

0
When I was a kid I would visit the NHM all the time – I was completely obsessed. As far as museums for children go, you can't get much better. Outstanding range of dinosaurs on display restructured from their bones, most notably the diplodocus that greets you as you enter, with an animatronic T rex that could be alive it's so realistic! Is it for adults though? Absolutely. There is stacks of information on display should you wish to learn, and endless displays if all you're after is an enjoyable way to spend an afternoon. The layout is excellent in addition. The only criticism I would have is that there is not enough features visitors can get involved with – for example I think there used to be a 'realistic earthquake experience' that is no longer there. Bringing this type of thing back makes the museum more excitable so it is more than an informative exhibition. Unquestionably still a must visit for all age groups.
A great day out for kids of all ages.
This museum is amazing for children and for adults at the same time. Interactive, funny and interesting... In the weekend can be busy and sometimes I had to wait 20-30 minutes outside in the queue, but it was worth it! My favourite part is the one about earth because is very easy to understand and you can learn a lot.
I love the area as well, so after you see the museum, you can have a walk in South Kensington, which is full of nice things to do. Enjoy your time there!
Excellent museum for kids and adult !!

Amazing place and building! There are so many great exhibits here, from dinosaur skeletons to an earth quake simulation. Definitely one of the best museums in London,

I love the Natural History Museum. I've been here at least 3 times, twice in the day and once in the night. It has never disappointed. In addition to to wonderful dinosaur skeleton/fossils, they have tons of other amazing exhibits and a range of exciting events. I really love the fact that it opens at night once a month....it has got a very different atmosphere and makes it really good alternative night out with friends. In addition, their weird and wonderful events never fail to excite me...in particular, I tried the insect wine tasting. Safe to say, insects are not my thing, but I definitely had a great evening!!
We had a great family day out here and my son loved it. To be honest we did too, lots to do and parts I had forgotten - timeless place and amazing this is free. Places like this are what makes London special and amazing. We try to go every couple of years and will keep that up.

Love the NHM. Used to go before I had kids and now go with them. On my last visit it was May Half Term on a saturday. I should have known better really. Queued for nearly an hour and a half to get in. But it was still worth it.
The restaurant there too is suprisingly good and a great place to unwind before you go in for round two!
Everything about this place is special, The building itself is amazing and the exhibits are fantastic. What kid isn't fascinated by Dinosaurs? My family and i go every year, sometimes twice when they have the outdoor ice rink. Still amazes me that its free and with the Science musuem right next door it its just a win win.