Top ten museum exhibitions in London
Check out our pick of the city's best cultural offerings at the top ten museum exhibitions in London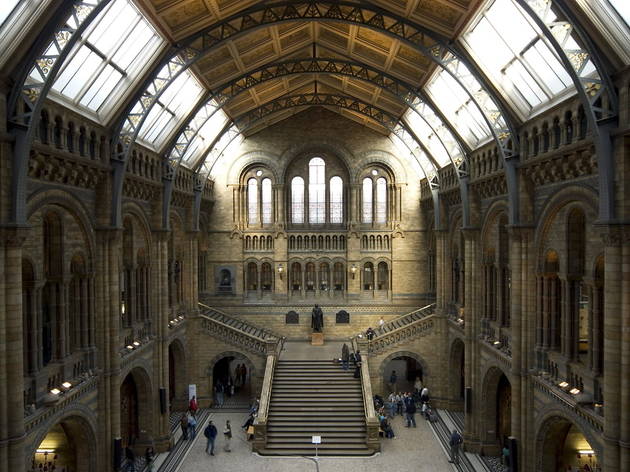 Get ready culture vultures: some of
London's best museums
are showcasing an abundance of cracking exhibitions on now and throughout the year's
events calendar
. Whatever the day, week or season, there's always an exciting show to delve into, on subjects as varied as history, fashion, art and the natural world. Check out our guide to
free museums in London
if you fancy seeing more of the capital's culture on a shoestring.
The best museum exhibitions in London
1
Most of us don't get any better with age. After our twenties we just get uglier, fatter and more useless. But Katsushika Hokusai was like a seriously fine wine.
Read more
2
It's tempting to open this review with something like 'in these fractious times, a show about protest couldn't be more timely, blah blah blah'. And yes: it does feel like dissent is hanging in the air more feverishly than ever right now. But if the IWM's chronicle of anti-war activism in the UK makes anything clear, it's that for all the current renewed interest in organised protest, it's hardly ever lain dormant.
Read more
3
Snaking your way through the Barbican's latest exhibition you will probably be met with an almost overwhelming desire to take off your shoes, so accurate is the 1:1 recreation of Ryue Nishizawa's Moriyama House.
Read more
5
Revolution is a powerful word, and this exhibition – commemorating 100 years since the communist uprising in Russia – is about civil unrest, propaganda and disenchantment.
Read more
6
Russian photographer Sergey Ponomarev has been documenting the conflict in Syria since 2013. Initially on commission from the New York Times, he was one of only a few photographers allowed into the areas of the country under the control of President Assad's government.
Read more
7
'The streets shall be our brushes, the squares our palettes,' said the Soviet poet Vladimir Mayakovsky in 1918, a year after the Bolsheviks seized power in Russia. And with the idea of the nation as a blank canvas in mind, this exhibition – one of several shows about revolutionary Russia in this centennial year – looks at six unrealised architectural projects.
Read more
8
Diana's fashion story – like her life story – ended just as things were getting good. Thrust into the limelight aged 19 as the fiancée to the heir to the throne, she only owned one dress: she had to learn about fashion and discover her sense of style in the public eye.
Read more
9
Fifty years since their first single, Arnold Layne, the V&A is hosting a retrospective of those psychedelic pioneers, the Floyd. Set and construction pieces from The Dark Side of the Moon and The Wall join instruments, designs, lyrics and prints - and, yes, a laser show. Wish You Were Here?
Book now
Read more
10
Original concept art and models from Godzilla, Stargate and Dark City, original manuscripts by Jules Verne, new commissions and music, film and contemporary art come together in this huge summer exhibition capturing sci-fi as we know it. Objects from beloved films, including pieces from the Ray and Diana Harryhausen Foundation, tell the story of how the genre went mainstream, and how the sci-fi imagination has changed for the 21st century. 
Read more
Find the best bits of London museums
London is packed with top attractions and museums, but once you've decided which cultural hotspot to explore, where do you start? By reading our guide to the seven essential things to see at some of London's best institutions.
Read more