Top ten museum exhibitions in London
Check out our pick of the city's best cultural offerings at the top ten museum exhibitions in London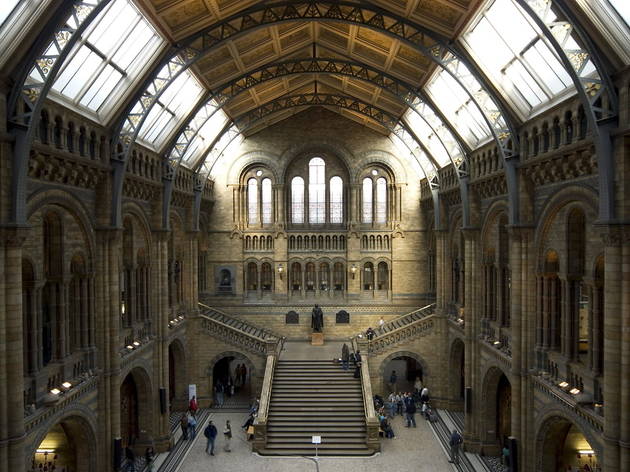 Get ready culture vultures: some of
London's best museums
are showcasing an abundance of cracking exhibitions on now and throughout the year's
events calendar
. Whatever the day, week or season, there's always an exciting show to delve into, on subjects as varied as history, fashion, art and the natural world. Check out our guide to
free museums in London
if you fancy seeing more of the capital's culture on a shoestring.
The best museum exhibitions in London
1
It's a well-known trick that if you get a facelift and you want it to remain a secret, you should get a haircut at the same time because then everyone will attribute your fresh face to your new 'do – such is the transformative power of hair.
Read more
2
There are tons of reasons to be depressed right now. Fortunately, the retrospective of architect and designer Josef Frank's work at the Fashion and Textile Museum is the visual and emotional equivalent of a comforting cup of tea and a nice sit-down.
Book now
Read more
3
Mental asylums. Mind-altering drugs. Dirt. The Wellcome Collection has carved out a rep for delivering exhibitions that are outlandish without ever being sensationalist. And while the premise of their latest show – the relationship between humans and animals – might not have the same WTF factor, it's still just as quirky and enthralling.
Read more
4
There's a deceptively simple premise to this show. Documentary artist Mark Neville has taken photographs of children playing around the world. There are children playing in Helmand and the Highlands. In Pittsburgh and Kenya and the Ukraine. Some of them are playing children's games, some are part of a much more grown-up world of organised celebrations: parades, feasts and dances.
Read more
6
Two electric chairs are exhibited side by side in the Wellcome's latest show. The first, a photograph, illustrates the revolutionary form of capital punishment introduced to New York's Sing Sing Prison in 1890. The second, with two metal handles on its armrests, delivered a type of electrotherapy (not to be confused with still-used shock therapy) believed to cure illness in the late nineteenth century.
Read more
7
Lockwood Kipling – father of poet Rudyard – was one of those quintessentially Victorian jack-of-all-trades. An artist, designer, sculptor, teacher, curator and champion of the Arts and Crafts movement, he is largely responsible for the V&A's glittering collection of Indian cultural artefacts. This show will look at his remarkable legacy.
Read more
8
The V&A is a victim of its own success. Ever since the Alexander McQueen exhibition 'Savage Beauty', with its drama, tragedy and preposterous gorgeousness, the bar for their fashion exhibitions has been set impossibly high. While this is not another 'Savage Beauty', it is a thoughtful and interesting show.
Read more
9
No one liked Victorian art in the 1960s, when Sir Frederic Leighton's masterpiece 'Flaming June' couldn't reach its ultra-low estimate at auction. No one cared about it except for Puerto Rican industrialist Luis Ferré, who spotted it in a Mayfair gallery and snapped it up for just £2,000.
Read more
10
When Horatio Nelson died, he left his mistress, Emma Hamilton, £2,000, his house and his pigtail. It's a perfect metaphor for Emma's life: romantic, precarious and ultimately determined by others.
Read more
Find the best bits of London museums
London is packed with top attractions and museums, but once you've decided which cultural hotspot to explore, where do you start? By reading our guide to the seven essential things to see at some of London's best institutions.
Read more