Videogames: Design/Play/Disrupt review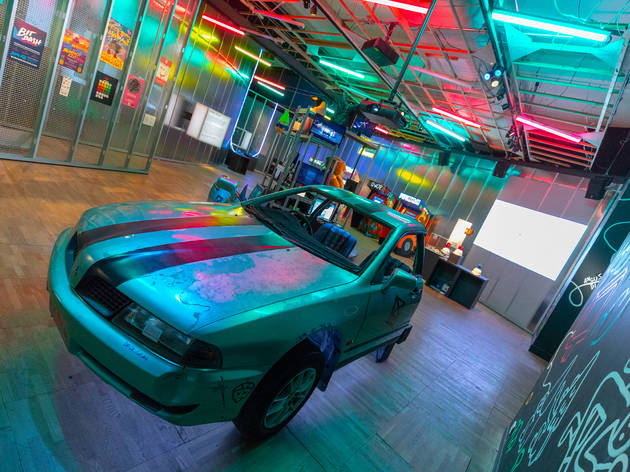 Time Out says
On hearing the title of this exhibition, you're either going to think: What a great excuse to play eight more hours of Journey, just to re-familiarise myself with the NPCs, or: What? Video games? Like Pac-Man?
Admittedly, the first few rooms of this show about the culture and history of video-gaming feel like a fanfare that can only be heard by die-hard gamers. It walks you through all sorts of scene-development processes, early prototypes and character sketches that might leave you a bit 'Oh, cool' – in modest awe at the intricacy and skill it takes to create a smash hit.
But just before you get thoroughly bamboozled by all the tech and hit eject, you're met with a wave of noughties nostalgia: Tamagotchis, Nintendo DS games, Minecraft… From then on, it's a multiplayer party – everyone's invited.
The show also guides you through the intriguing political and social conversations surrounding the industry, like 'Why are video games so white?'. And you get to play 'How do you do it?', the premise of which is to engage an 11-year-old girl's dolls in sexual activity as many times as you can before her mum sees.
But then, you get what you really came for: the chance to be let loose in an arcade full of games you'd otherwise never, ever get to play. You emerge feeling how Tom Hanks did after frolicking in that Fifth Avenue toy store in 'Big'. Maybe this isn't just a gamer's paradise after all. If you had doubts at the start, you've been won over: you're a fanatic too now.
Details
Average User Rating
2.8 / 5
Rating Breakdown
5 star:

0

4 star:

1

3 star:

4

2 star:

3

1 star:

0
I attended this exhibition with really high hopes following the 'TIME OUT SAYS' review, which I feel is completely over rated for what is actually on offer.
Yes there is some detailed and interesting content into the background of design and programming, with the interview section being of most interest due to the political, sexual and gun based content.
However, I did not find this to be a nostalgic experience at all, instead bemused by the games on offer, finding them so strange and definitely not nostalgic.
The advertisement of 'But then, you get what you really came for: the chance to let loose in an arcade full of games you'd otherwise never, ever get to play' is relevant in the sense that you would never want to play these games, so very much not relevant as a positive selling point to this exhibition. I emerged with the outright thought of what a waste of time and space that was.
I really did not have the same experience as the TimeOut editor/reviewer Samantha Willis. 2/5 stars is a very generous review, 4/5 is outrageous. Sorry, but I really do think TimeOut should review the content and experience again. The one good thing TimeOut has done here is offer half price entry, the organiser should be ashamed to charge full price for this exhibition.