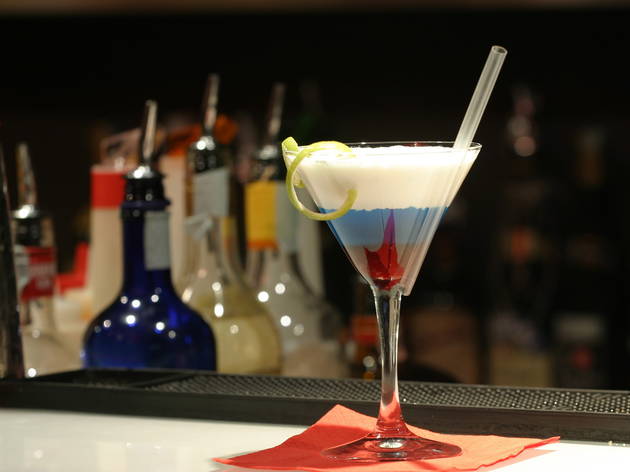 A well-known Soho jazz spot offering food alongside the music.
Venue name:
Jazz After Dark
Contact:
Address:
9
Greek Street
London
W1D 4DQ

Menu:
View Menu
Do you own this business?
You may be interested in:
Average User Rating
1.8 / 5
Rating Breakdown
5 star:

0

4 star:

0

3 star:

2

2 star:

1

1 star:

3
The worst experience ever! Toilet is so small you can not enter. So are the tables. We reserved table few days before online. While I was waiting for him I asked for an orange juice, when they brought it to me, they brought the bill as well, wanted me to pay and leave or what? My friend arrived after lots of work, he was very tired and after a big dinner (lots of unhealthy, not very tasty processed meat and bones) and an orange vodka he fell asleep under the very soft jazz music. I went to use the toilet while the staff member told my friend to pay and leave as they thought he is drunk. My friend unfortunately thought I left him there. (my 3rd date with him so far so he didn`t know I would never do that). While I arrived back he has gone. Is terrible! Haha
To be fair the drinks in this place are slightly lower than average.. but the food. I ordered 'Amy's favourite,' olives and hummus with pitta bread to share with a friend, the olives we're awful with one being mouldy and all of them clearly out of a tin. The hummus was lumpy and dry. I am not usually one to complain at mediocre food but Jazz After Dark was not even that level. 'Amy's favourite' consisted of meatballs, fries, chicken wings and fried chicken, the meatballs again tasted like they were from a tin, certainly not fresh. The chicken was awful and tasted old, I have honestly eaten better chicken in £1 chicken shops. The younger members of staff were very pleasant, but the older members we're rude and did not take my complaint about the food seriously and charged us full price. Seriously awful food, the worst experience i've had in three years of living in London.
Completely over priced. £10 to get in and the music was absolutely terrible. They call themselves a jazz club but they sounded like the bands you hear in a school concert. The bouncer justified the £10 entry (normally £15) by saying "its live music" but hearing live music played badly is one of the worst things a person can experience. Considering Ronnie Scotts also charge £10 for late night entry, and its right around the corner, Jazz afer Dark is the rip off of the century. (I would have gone to Ronnie's but it was full) Should have spent the £10 on a record, would have been much better value for money
I enjoyed my evening ... But i do think that is more to do with the company i was in rather than the place itself ..., I enjoyed the band but the place could do with a re-vamp of some sort !!! even the seats are running out of padding and it is is very cramped inside. would i go there again ?? i would probably try somewhere else if i am honest