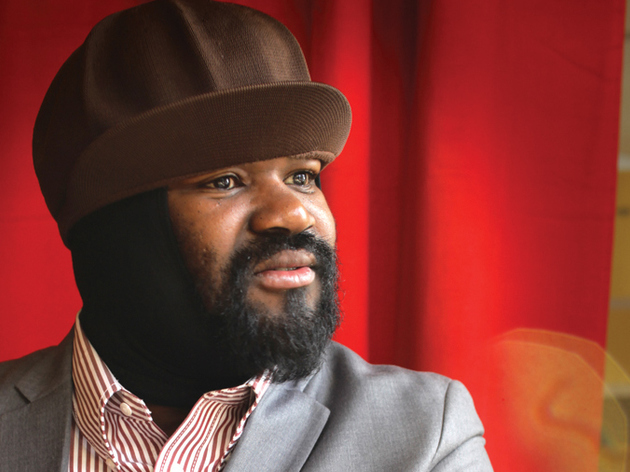 US soul-jazz singers Porter and Cole close the second day of
Bluesfest
with a double-headline show. Cole is the daughter of Nat King, and is known for a string of soulful hits throughout the '70s and '80s including 'This Will Be (An Everlasting Love' and 'Miss You Like Crazy' – all powered by an enormous set of lungs and an instinct for spot-on phrasing. Porter, meanwhile, got critics, fans and musicians raving with his stunning, Grammy-nominated 2010 debut 'Water', and he's the real deal live too. He's just released his third album, 'Liquid Spirit', and combines the deep soulfulness of John Lucien, the hipness of Kurt Elling and the streetwise lyrical style of Gil Scott-Heron in his prime, bringing an earthy emotional power to all that he sings.
Rating Breakdown
5 star:

2

4 star:

0

3 star:

0

2 star:

1

1 star:

0
sorry should be 5 stars not two
Gregory without any doubt the greatest voice around ,with a mesmerising stage presence. a very tight band gave him plenty of time to express himself . Liquid spirit was superb,Harlem always a killer. He needs tv exposure and more theatre dates , he would blow most musical voices out of the water . At least JAZZ FM is his main promoter ,good on them
I was excited about the idea of finally getting to see this wonderful artist and was not disappointed by his RAH gig. Firstly he and his marvelous band arrived on stage to begin their performances on time. This set the scene for me and in my head I gave him commendations for this small courtesy shown to us his fans. What came after was a exciting as he opened with one of my favorites on the Way to Harlem. It was a a tight set with he and the band never missing a beat, his apparent magical way of connecting with us the audience as he invited us to participate quite early on in the set was engaging. I am not ashamed to say I whooped my way through the all to brief time of he and his band on stage. The rendition of Liquid Spirit had me in sensual delight in the same way that Working moved me to tears not just for its lyrical composition but because it is a relevant statement and something of a social commentary about previous time in the USA which Porter propelled us into with such heartfelt ease. He is one that I am so proud to say we have amongst us; Long may he sustain his professionalism and his ability to entertain and educate us with his music.