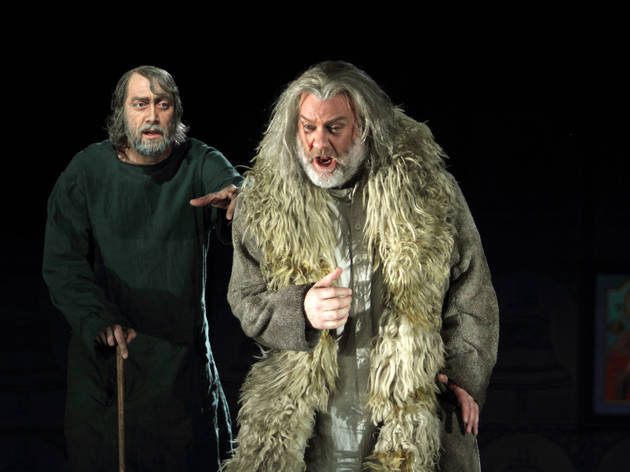 1/8
© Catherine Ashmore
AIN ANGER AS PIMEN, BRYN TERFEL AS BORIS GODUNOV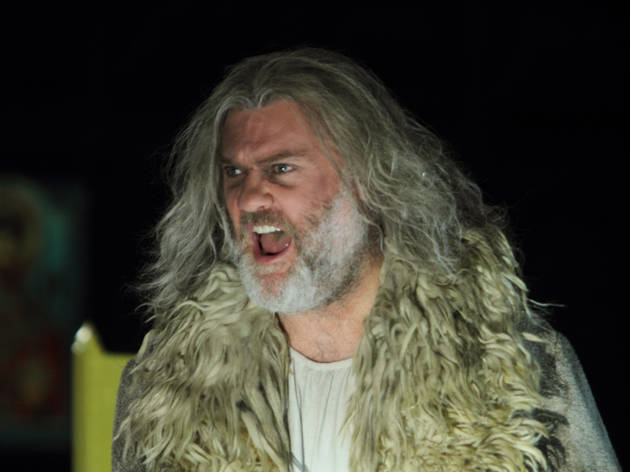 2/8
© Catherine Ashmore
BRYN TERFEL AS BORIS GODUNOV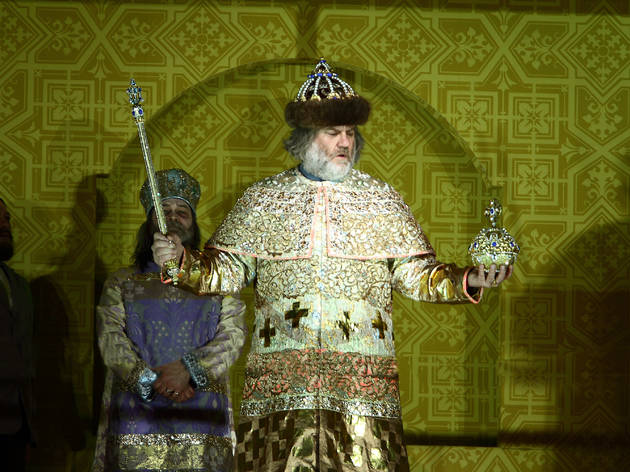 3/8
© Catherine Ashmore
BRYN TERFEL AS BORIS GODUNOV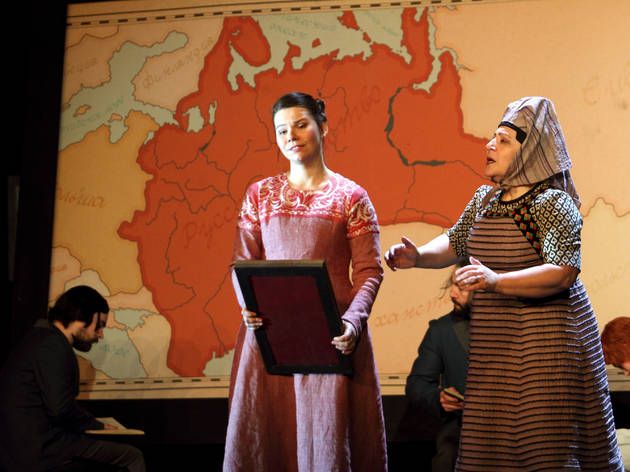 4/8
© Catherine Ashmore
VLADA BOROVKO AS XENIA, SARAH PRING AS XENIA'S NURSE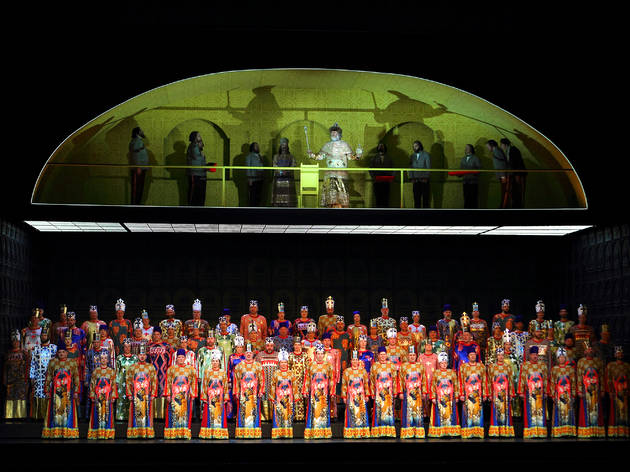 5/8
© Catherine Ashmore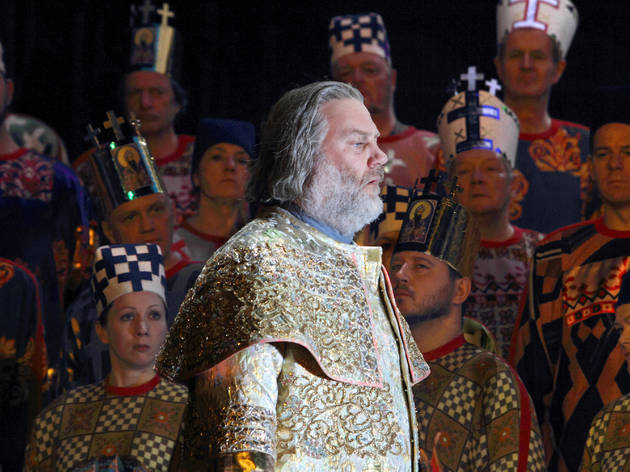 6/8
© Catherine Ashmore
BRYN TERFEL AS BORIS GODUNOV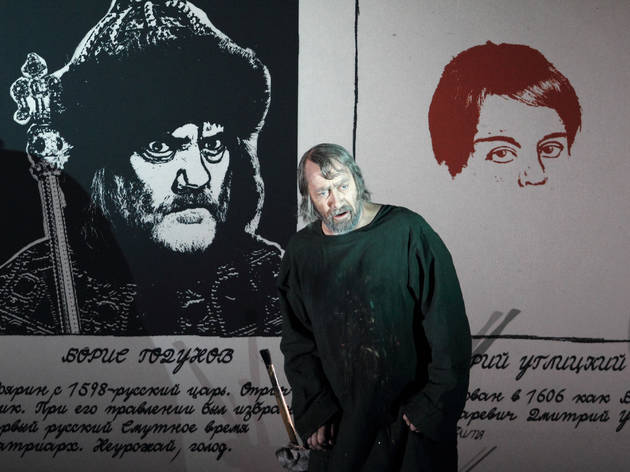 7/8
© Catherine Ashmore
AIN ANGER AS PIMEN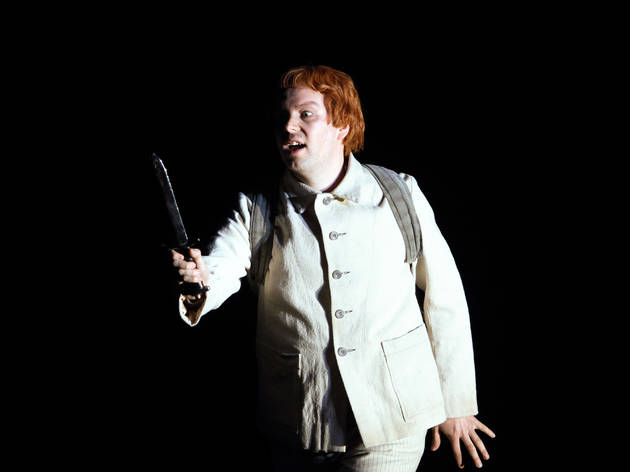 8/8
© Catherine Ashmore
DAVID BUTT PHILIP AS GRIGORY OTREPIEV ('THE FALSE DMITRY')
Time Out says
Bryn Terfel is staggering as a guilt-stricken, murderous Tsar in this Russian masterpiece
It was clearly a man's world in Tsarist Russia, if Mussorgsky's 1869 masterpiece 'Boris Godunov' is accurate. Of 15 principal singers, only three are women and even they have minor roles. That coupled with an almost exclusively male chorus creates a claustrophobic, masculine milieu for this tale without a love interest based on the play by Alexander Pushkin.
This testosterone-fuelled environment is anchored in bass-baritone Bryn Terfel who gives a stunning debut in the title role of the tormented Tsar in a near perfect production. It may be nearly half an hour before the guilt-ridden ruler sings, but his descent from ambitious tyrant to shambling wreck is enthralling.
Boris's guilt is a result of having ordered the murder of Dmitri, the eight-year-old heir to the throne in order to secure the position for himself. Under Richard Jones's superb direction the murder by black-clad assassins is enacted many times in the bright gallery above the stage, as the boy plays with a spinning top; a brutal event playing out endlessly in the tortured mind of the new ruler. Miriam Beuther's other designs are simple but effective – a vaulted room clad in a repeating Kremlin Bell motif, with a door on either side, and above, a brightly wall-papered gallery depicting the corridor outside those doors.
Too many fine individual performances to mention them all, but there are stand-out performances from statuesque Estonian bass Ain Anger as Pimen, a monk with the presence of an Old Testament prophet and a voice like granite. Meanwhile, bass John Tomlinson provides light relief in a hilarious turn as the less-righteous monk Varlaam, in cahoots with Harry Nicoll as his grinning sidekick Missail, who accompanies his drunken songs on the spoons.
Though lacking formal arias, the vocal writing is both lyrical and intense, the ROH Chorus magnificently delivering the choral gamut from exquisite Orthodox vespers to rousing homage to their tsar. Underpinning it all is the glorious orchestral score, building from gentle accompaniment to soaring columns of sound. Antonio Pappano conducts the consummate ROH orchestra with aplomb, keeping up the pace and allowing room for the singers to communicate the gripping drama.
Details