Five reasons to go to London Contemporary Music Festival
'Marxist Chillwave'? Japanese theatre? Stockhausen? It can only be London's most out-there celebration of the musical avant-garde. Image by Fabio Lugaro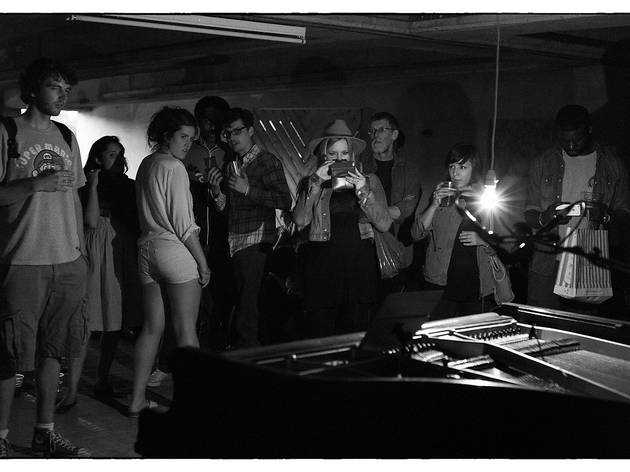 1. There's nothing else like it in London.

Last year, the first London Contemporary Music Festival took over a floor of Peckham multistorey car park for eight days of avant-garde music, dance and art. Pitched as a wide-ranging musical equivalent of the Frieze art fair, this year the festival is back with six more evenings of cutting-edge sounds.


2. The line-up is as brilliantly odd as you could hope.

LCMF 2014 features everything from '
Marxist Chillwave
' (May 27) – a musical examination of capitalism, featuring grime-influenced electronic producer
Fatima Al Qadiri
alongside an improvisation on Richard Wagner's 'Ring Cycle' – to
an evening of Japanese noh theatre
paired with a Karlheinz Stockhausen piece played on a big wooden door (May 29).


3. It's your first chance to nose around an intriguing new east London warehouse space.

Having turned the grimy Old Street roundabout into the shiny new 'Tech City', former government start-up adviser Rohan Silva has a new project: a giant office space-cum-culture hub called
Second Home
. Located on Hanbury Street, just off Brick Lane, it opens properly in the autumn. But before the smell of flat whites becomes overpowering, you can check it this week as the venue for LCMF.


4. It's a rare chance to witness some underground legends at work.

John Giorno has had what you might call an interesting life: a boyfriend of Andy Warhol and subject of the artist's film 'Sleep', he's also worked with William S Burroughs, Patti Smith, Philip Glass and more of New York's artiest. Josephine Foster, meanwhile, is a cult Colorado musician who has tackled everything from free jazz and psychedelic rock to
the earliest forms of old-time Americana
. At LCMF she's performing her rearrangements of classical German lieder, alongside a series of readings by Giorno in
'A New History of Song'
on May 30.


5. The last night will be truly smashing.

To close the festival on June 1 as part of an evening of
'Italian Colourism'
, revered artist Michaelangelo Pistoletto will smash a mirror with a large hammer. It's part of a piece called 'Fourteen Less One', which he has never performed in the UK before, and which brings the artist's decades-old obsession with mirrors and reflections to a new, hyper-physical level. Or, if you want to put it a bit more crudely: stop… hammer time.
London Contemporary Music Festival takes place at Second Home from Mon May 26 to Sun Jun 1.
Plenty of people escape from London in August to hit music festivals around the UK. Follow them at your peril: there are plenty of great gigs in London this summer, and you might just catch some of those festival headliners a lot closer to home. Here's the best live music this month. This page will be updated as more events are announced.
Read more
September is one of the best months to see live music in London: the gig calendar ramps up after the summer music festivals, but the days are still long and the evenings light. Here are the best concerts to catch this month. This page will be updated as more events are confirmed.
Read more
London's autumn gig calendar is always packed, and there's no reason why this year would be an exception. Among our October gig highlights you'll find rising stars alongside veterans and legends. Here are our must-see concerts in London this month.
Read more
It's almost definitely drizzling and chilly right now so what better way to keep warm than by seeking out a sweaty room full of adrenaline-pumped music fans? Here's our guide to the best London gigs happening this November.
Read more
From Christmas concerts to end-of-the-year pop spectaculars, London has plenty of great live music to offer even in midwinter. Here's our gig guide for December; check out our list of Christmas gigs for shows with some extra festive sparkle.
Read more
See our ultimate London gig guide