'Hansel and Gretel' review
1/5
© Clive Barda
'Hansel and Gretel' at Royal Opera House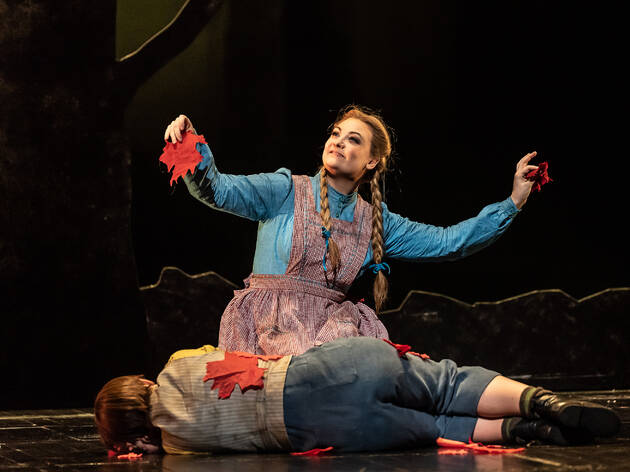 2/5
© Clive Barda
'Hansel and Gretel' at Royal Opera House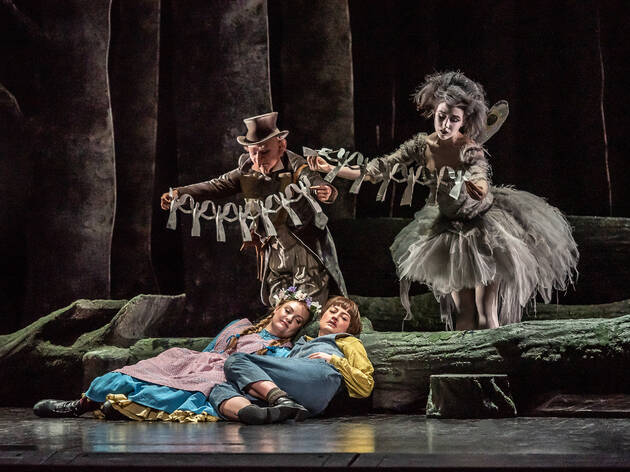 3/5
© Clive Barda
'Hansel and Gretel' at Royal Opera House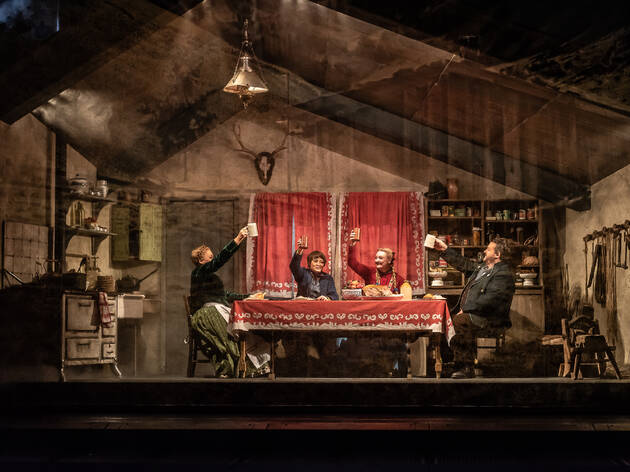 4/5
© Clive Barda
'Hansel and Gretel' at Royal Opera House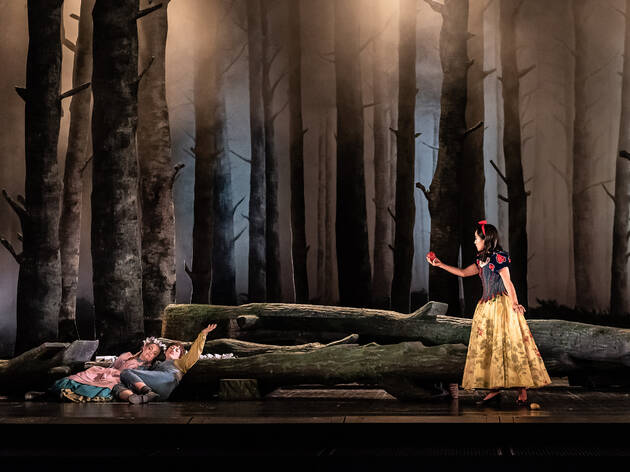 5/5
© Clive Barda
'Hansel and Gretel' at Royal Opera House
Humperdinck's gingerbread-scoffing opera for kids gets a stylish, wintry new staging
Engelbert Humperdinck's 1893 opera for kids is as warm as a witch's kitchen, and as dark as the forest outside. It swaps the Grimm Brothers' fairytale's wicked child-abandoning parents for a desperately poor couple who send their kids into the forest in a much-regretted flash of anger. And Antony McDonald's stylish new production mixes in more than enough wit to leaven the bleakness of black forest poverty.
The witch's gingerbread house is a masterstroke: a lopsided cottage impaled with a giant knife that might just have been a warning to savvier kids than these two. But Humperdinck's parent-provoking children are a refreshingly naughty antidote to all the saintly moppets that fill Victorian fiction. They gobble strawberries and leap up to tramp folk dances across the kitchen table. These stamping, finger-clicking scenes are probably the most German thing you'll ever see outside a beer hall, and they make for moments of gutsy energy in a score that's otherwise all about lush, rich romanticism.
It might be nominally aimed at kids, but 'Hansel and Gretel' is musically complex, and its central duo are played by adult performers Hanna Hipp and Jennifer Davis. They mix knockabout tomfoolery with beautifully blending soprano voices that soar through the towering darkness of the forest – a place that hides a magical array of leaping woodland animals and fairy story characters who play in the shadows.
The only disappointment is the story's witch-baking climax. Not to come over all 'GBBO' superfan on you, but its baking setup is totally unrealistic: instead of being tipped in the oven, the witch is drowned in an unfeasibly huge pan of gingerbread batter which is 'cooking' over the stove. Not how you make gingerbread. Gerhard Siegel's panto-dame-style turn is wittily done, but it's also the wrong kind of disconcerting seeing his witch end up mummified in dough like a fossilised Pompeii victim, rather than magically transformed into a cake.
But slightly niche grumbles aside, 'Hansel and Gretel' is a treat: an introduction to the world of opera that's by turns sweet and shiver-inducing.
Snap up exclusive discounts in London
Time Out's handpicked deals — hurry, they won't be around for long...