Music festivals calendar: August
With the Wilderness and South West Four music festivals pitching up in August, the music will be as hot as the weather this month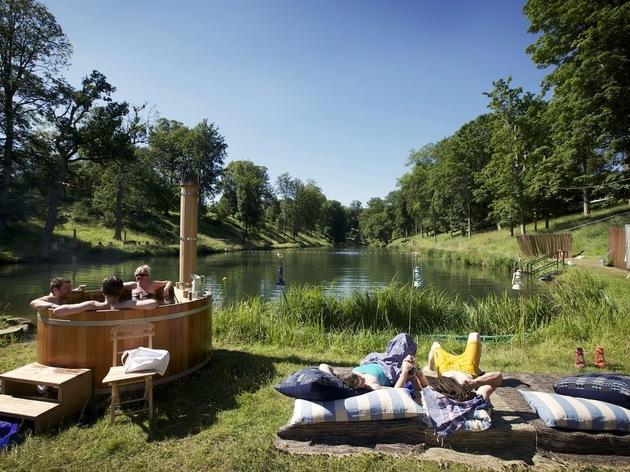 This August 2017 find a summer festival with our comprehensive music festival calendar. August is a big month in festival season so whether you're looking for a banging dance music festival, a boutique event or huge pop acts, pick from our list of the best UK and London festivals in August. With everything from Wilderness to Reading Festival on offer, you're guaranteed to find something to suit your tastes. And if not, there's always September.
RECOMMENDED: More UK and London music festivals
UK music festivals in August 2017
Escapist hedonism for grown­-ups – kids also welcome
It would be easy to write off Wilderness as a posh only playground, but the reality is much more magical. The thoughtfully programmed roster of acts from around the world has grown in calibre and breadth year on year, with Björk headlining in 2015. But it's the awe-­inspiring performance art, debates, and mouth­watering feasts that have firmly positioned Wilderness as a carnival for the senses, and much more than just a music festival. Just be aware that few of the luxurious activities are included in the base ticket price, and add­-ons can quickly add up.
Line-­up TBA
Cornbury Park, Oxfordshire. August 3-6. £168.50 (weekend).

Read more
Fed up of ropey soundsystems at outdoor festivals? Everything you hear at this intimate woodland party will be relayed through the finest soundsystems, having been chosen by long-standing Fabric resident Craig Richards, who curates the event. Richards has handpicked a killer cast of DJs, including some of the biggest and best names from house, techno, disco and more. There'll also be visual art and sculpture to engage the eyes as well as ears.
Line-up includes: Ricardo Villalobos, Nicolas Jaar, Floating Points, Seth Troxler, Andrew Weatherall, Ben UFO, Optimo, Joy Orbison, Cassy.
Read more
Leefest
Non-profit and DIY: a festival with a real difference
This intimate, independent festival was started by 16-year-old Lee Denny ten years ago in his back garden. It's now a very respectable non-profit boutique event, attracting some great bands that lean towards indie and electro. A new site and a solid line-up make this year's Leefest another masterclass in how you too could grow your own festival.
Line-­up TBA

Secret location near Tunbridge Wells, Kent. August 10-12. £104 (weekend).

Boardmasters
Five days of surfing and music in Cornwall
Instagram at the ready: hidden on the picturesque and (sometimes) sunny Cornish coast, Boardmasters is a British seaside adventure without the donkey rides and dodgy roller coasters. Every year the line­-up features hip hop, D&B, punk, rock and UK bass acts performing alongside the gnarliest surfers in the world, with pared­ down surf shack sessions and beachside performances providing some much needed chill time.
Line-­up TBA
Fistral Beach and Watergate Bay, Newquay. August 9-13. £144-£174.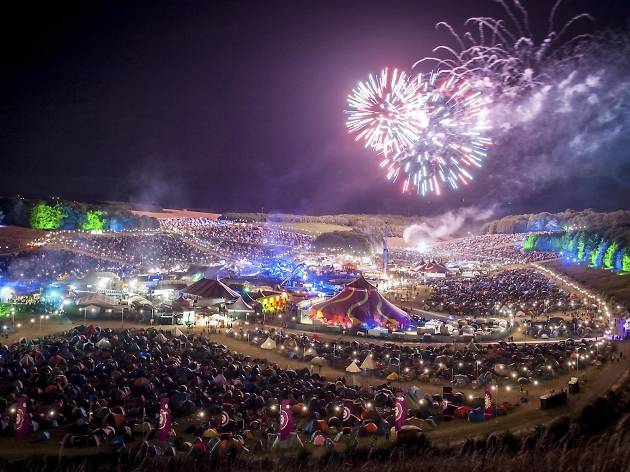 Boomtown Fair
The temporary town pops back up for another carnival weekend
This annual shindig is a pop-­up cathedral short of being a full­-blown city. Every year the Matterley Bowl estate becomes a magical town full of hypnotic basslines and mind­bending installations. Music ranges from the underground to outer space, and the roster of activities (which has matured in recent years) includes banqueting, craft and healing areas as well as Boomtown's traditional mutated 'art vehicles'. By day it's fairly family­-friendly, but after dark the caners come out to soak up enough beats, dub, ska and reggae to see them through until daybreak.
Line­-up TBA
Matterley Estate, Winchester, Hampshire. August 10-13. £202 (weekend), £177 (discounted for coach travellers).

Pop­tastic big names in Essex and Staffordshire
Thanks to its seemingly bottomless booking budget, V Festival always snags a staggering line­up of chart­chasing big names from the rock and pop worlds. After 22 years in the game they know their audience and focus on building a party atmosphere (and praying for sunshine). V Festival might not be sprinkled with fairy dust or set in enchanted mountain woodlands, but if you want to scream along to chart anthems then it's hard to beat.
Line-­up TBA
Weston Park, South Staffordshire and Hylands Park, Chelmsford. August 18-19.

Read more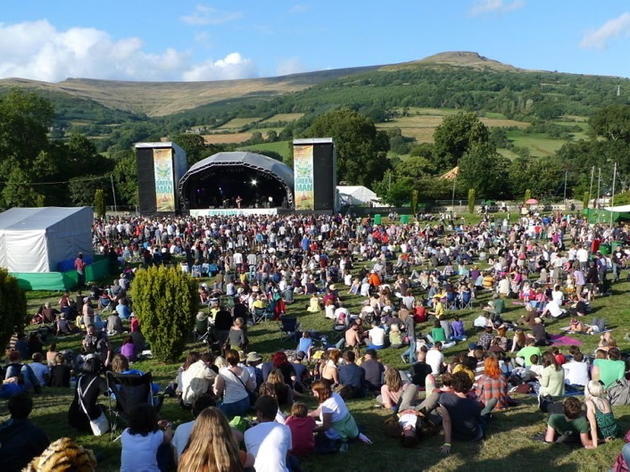 Green Man Festival
Lush indie sounds in the verdant Brecon Beacons
Green Man wins our unofficial prize for best festival setting: nestled in the Brecon Beacons, the Black Mountains are not usually open to the public, but for one weekend of the year they play host to bands and (civilised) bad behaviour. This stunning location accentuates the always­eclectic­never­dull line­up and eco­friendly focus. This year's line­up follows the Green Man tradition of left­leaning plugged­in bands and electronic DJs peppered with folk crooners.
Line-­up TBA

Brecon Beacons, Wales. August 17-20.

The Northern sister in the rock festival family
Not for the fainthearted, Reading's Yorkshire counterpart has a hard-earned reputation for torrential downpours and mud fights. But rain never dampens the spirits of the scores of tipsy teenagers gracing Bramham Park. Leeds and Reading put music first and provide a totally twee-free festival experience – no immersive theatre or gourmet cuisine in sight – much to the joy of the screaming crowds. Pro tip: leave the white skinny jeans at home.
Line­-up includes: Muse, Major Lazer, At The Drive In, Bastille, Andy C, Danny Brown.
Bramham Park, Leeds. August 25-27. £205 (weekend).

Read more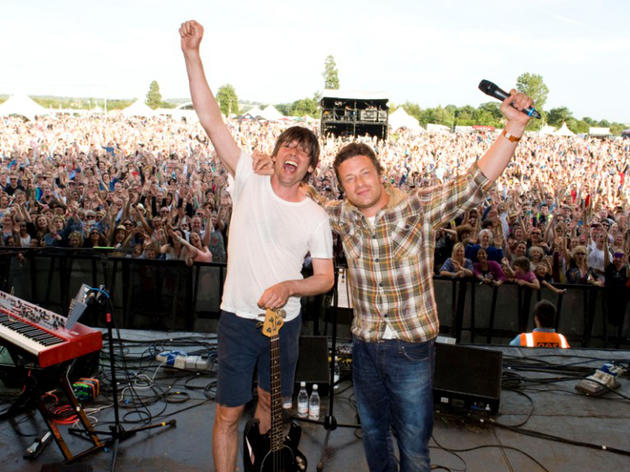 The Big Feastival
Want your rock 'n' roll with roquefort?
Everyone's favourite cheese pedlar and former Blur bassist Alex James once again teams up with celebrity chef/business overlord Jamie Oliver for a family-­friendly Cotswolds weekender. Fans of musical and actual gluttony can come together to enjoy cooking demos, markets, restaurant pop­-ups and a bit of rock 'n' roll for good measure. The marriage between music and food offers revellers the chance to get working on their dad bod and show it off on the dancefloor at the same time.
Line­-up includes: TBA.
Alex James's Farm, Kingham, The Cotswolds. August 25-27.

The Glastonbury of dance music – remember your wellies
Every year the Creamfields line­-up groans with heavyweight dance acts. The camping festival – expanded this year to four days – is an annual exploration that sees dance music fans up and down the country worship at the altar of DJ demi­gods, underground spin­masters and slinky house producers. With so much to two-­step to, you'd be forgiven for sloping back to the campsite and grabbing a warm beer to help you make it through to curfew on Sunday.
Line­-up includes: Deadmau5 and Eric Prydz, Seth Troxler, Goldie, Pendulum (DJ set), Chase & Status, Stormzy, Fat Boy Slim, Diplo, Loce Dice.
Daresbury, Cheshire. August 24-27. £200 (four day camping), £180 (three day camping), £69.50 (one day ticket).

Read more
Show more
London music festivals in August 2017
Sponsored listing
The Blues Kitchen Camden
This lively, contemporary bar-diner on the main Camden drag celebrates American musical heritage in song (live shows, DJs, free harmonica lessons), spirits and sustenance. The food is all-American in spirit and substance, with barbecue and burgers featuring prominently. Though you can, if you insist, order a 'superfood salad.'  There are around 50 bourbons in a variety of categories, some used as bases for cocktails. Rarer types (Blanton's Gold, Sazerac 18-Year-Old Rye, Woodford Reserve 1838 Sweet Mash) go for a tenner or more, but otherwise you'll be paying £3.50 to £6. 'America's native spirit' is how Kentucky bourbon is described, with Ancient Age and Evan Williams typical examples; Tennessee, 'the first cousin of Kentucky', is honoured with a full suit of Jack Daniel's labels.   
Venue says: "Free birthday bubbly for parties booking in for drinks at Blues Kitchen Camden on Friday nights. Get in touch for more details."