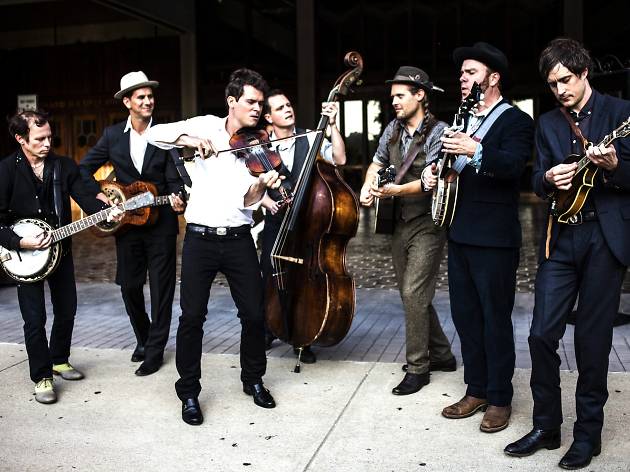 The alt country dudes from Nashville bring their eccentric Americana/bluegrass circus back into town.
OCMS's music has been variously described as old-time, alt country, bluegrass or Americana, but all you really need to know is that this ass-kickin' string band are one of the most exciting live acts currently playing anywhere this side of Tennessee.
'Aren't they like an American Mumford & Sons?' is the question an uninformed fool might ask. No, they're not. They may play banjos and fiddles, but there the similarity ends. These boys explode on stage as if driven by the Devil himself. Like a bunch of rocket-fuelled hillbilly whirling dervishes, they whip up a frenzy of bacchanalian joy as they tear through their beautifully crafted songs about sex, drugs and the modern South.
Frontman Ketch Secor exudes a hypnotic manic fervour, using his remarkable fiddle skills to snake-charm OCMS's increasingly bewitched and entranced audiences, but it's when the full band locks in that the magic truly happens. Harmonies hit you like a southbound train and the stomping rhythms infect you until you're a twitching, jumping, dancing, sweaty mess.
OCMS don't play this side of the pond that often, so this is a rare chance to hear bits from their fantastic new album 'Remedy', and hopefully a whole bag of their exquisitely ecstatic tunes – numbers like 'Wagon Wheel', 'Carry Me Back to Virginia' and, my personal favourite, 'Methamphetamine'. Camden, they are gonna rock you like a hurricane.