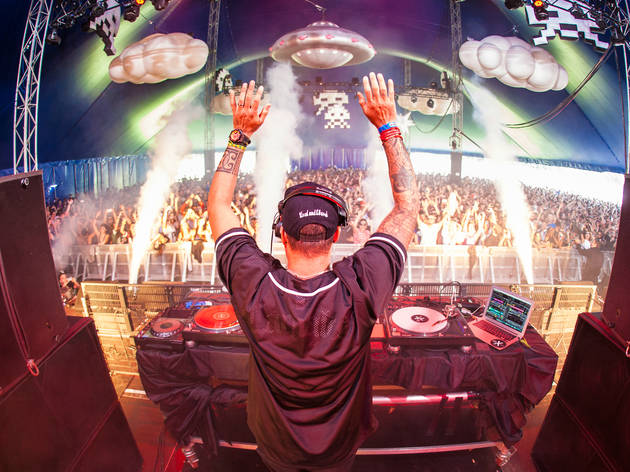 Our guide to South West Four and House of Common
Clapham Common has been home to eighteenth-century science experiments, gay cruising and, most important of all, some massive music moments. This bank holiday is no different
South West Four
Saturday
Being one of the last summer events in the city means long-running and dedicated dance-fest South West Four has the hedonistic buzz of those final moments of school summer holiday. We recommend kicking off Saturday by finding out exactly when special guest Dizzee Rascal is on – a mistimed drink or toilet run and you could miss the Rascal's only appearance at a London festival this year. Definitely dip into the RAM tent during the day. Last year's RAM Records takeover saw massive crowds spilling out from all sides and who wouldn't want to start the day off right with a blistering set from the mighty Roni Size? Garage house hitmakers Gorgon City are hosting the Kingdom stage and have blatantly just flicked through their sizeable contacts list: head there early for a set from Black Butter's Kidnap Kid. A sudden breeze will be felt moving across Clapham Common as the sun sets, don't worry, it's not a meteorological phenomenon – just Australian duo Knife Party over on the SW4 LIVE stage playing thumping, meaty EDM while literally riding a 40-foot crow whose giant wings flap and bulging eyes glow bright red. Oo-er! Round off the day with Rudimental who return to SW4's main stage, this time as headliners. The Hackney four-piece will no doubt slay a home crowd with their huge back catalogue of singalong hits that will be heard being hummed across the city as people head home.
Sunday
Wake up! It's time to do it all again. If you're in a proper Sunday mood and looking for a more relaxed, slower BPM, experience seek out Maribou State's early DJ set on the main stage and eclectic deep house producer Bakermat's special guest set at the Silver City arena. Not to be upstaged by the massive bird on Saturday, Chemical Brothers will be bringing their trademark epic visual stageshow including an army of hench 15-foot mechanical robots. And just as the last of the ticker tape falls over Clapham Common, take a deep breath, Eric Prydz and John Digweed are headlining the afterparties at Electric Brixton until way past sunrise.
SW4 takes place on Clapham Common on Sat Aug 27-Sun Aug 28.
House of Common
Monday
For years, the Monday following SW4 has seen Clapham Common left idle and gently recovering from two days of raving. But this year we welcome new one-dayer House of Common. The line-up is so strong you might just want to find a spot somewhere in between the two stages. BBC Radio 6's Craig Charles and Terry Farley kick off the positive vibes with some classic funk soul house. Get ready with your 'Dibby Dibby Dibby' and 'Dynamitee-tee-hee' shout outs to properly welcome iconic garage MC Ms Dynamite but save your voice to sing 'Happy Birthday' to musical pioneer and special guest Lee 'Scratch' Perry who turned 80 this year, joining the David Attenborough gang of octogenarians we should all bow down and salute. If the gods of programming show mercy, no one will have to choose between dub supergroup Congo Natty's UK All Stars and the group that actually built reggae: Toots And The Maytals. Finally, there's headliners Madness. Roll back the years and just enjoy the unabandoned joy of stomping about to 'Our House' and 'Baggy Trousers'. We defy you to not grab your imaginary braces.

House of Common takes place on Mon Aug 29.
Enjoy the last of the summer festivals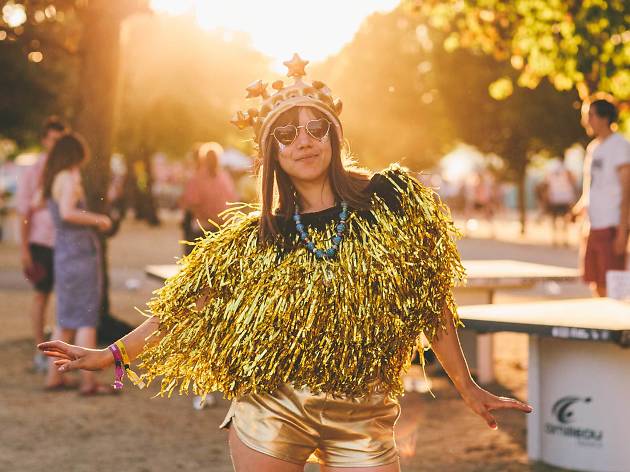 You lucky Londoner: you don't need a tent or even a pair of wellies to get the full music festival experience this summer. You've got some of the world's biggest acts and a whole world of fun a tube ride away, thanks to these incredible music festivals in London.