Somerset House Summer Series gigs
Check out the full line-up for Somerset House's summer concerts in 2017, which offer top live music in a beautiful setting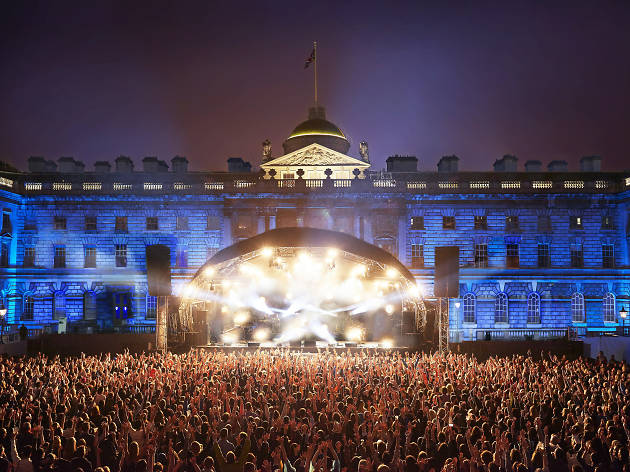 There's no secret to the success of Somerset House's annual gig series. Londoners love the venue for offering all the open-air excitement of a festival stage right in the centre of the capital, whilst artists enjoy playing to a captivated audience in a grand eighteenth-century courtyard by the Thames. The Summer Series has become a fixture of the London music calendar because of its reputation for booking spectacular live acts and 2017 doesn't disappoint.
Somerset House Summer Series 2017 line-up
The multiple Grammy Award-winning soul singer returned last year with her trademark loose, silken melodies wrapped around a more political stance.
Read more
An exciting time to catch the reggae don – after 11 years, Marley is on the cusp of releasing his highly anticipated fourth album 'Stony Hill' this spring.
Read more
This eclectic and shifting group create sublime, emotionally charged electronic jazz. Best seen live for near-celestial moments of improv.  
Read more
A genre-ducking pianist who produces fractured jazzy hip hop and whose artistry is often in high demand; he has worked with Kendrick Lamar, Anderson .Paak and Common.
Read more
This energetic, goodtime indie band have been locked away creating their third album for years. Rumours are their sound might be a lot darker. Chances are they will still be irrepressibly catchy.
Read more
Delicate, hazy and danceable electropop from the south-east London producer and songwriter who loves a collaboration.
Read more
Poetic Lebanese band perform their powerful, sweeping and often anti-establishment anthems.
Read more
Malian desert bluesmen, whose beautiful, spiraling tracks come to life with extra spit and fire live.
Read more
Discover more London music festivals
You lucky Londoner: you don't need a tent or even a pair of wellies to get the full music festival experience this summer. You've got some of the world's biggest acts and a whole world of fun a tube ride away, thanks to these incredible music festivals in London.
Read more
Sponsored listing
The Borderline
You haven't 'done' Soho until you've been to a gig at The Borderline, simple as. This much-loved venue with a loyal audience has given a platform to countless bands and artists throughout its long history – stretching back over 20 years – and is still going strong today, showcasing both new and revered talent. Head in for a gig on any given day and you could find yourself moshing to rock and metal, getting busy on the dancefloor at an indie club night or perhaps soaking up the sweet tone of a folk, blues or Americana singer-songwriter. It can get a little cramped when the 275-ish capacity fills up, but that's all the better for creating an intimate atmospherewhere between artist and audience, and means you won't have to worry about elbowing your way to the front past thousands of people. A Soho musical institution. We were there when The Borderline reopened in March 2017: