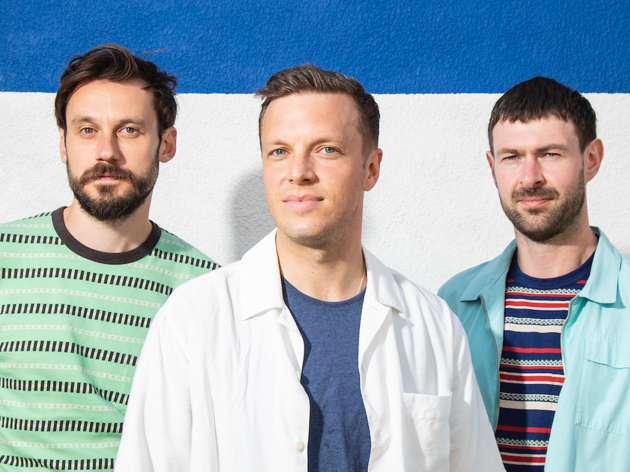 We spent a sunny day in Peckham with Friendly Fires
They're back, they're looking pretty damn sexy and they're ready to take dance-rock into a new era
As the indie-rock era of the noughties crumpled into today's shuffle-friendly smudge of house, pop, funk and global grooves, Friendly Fires seemed poised to dominate. The St Albans band's first two LPs were ahead of the curve, with an incandescent sound that took in Brazilian samba, New York dance-punk and Chicago house. Helpfully, it sounded as good on radio as it did in clubs.
But then the fun stopped. Lead singer Ed Macfarlane hit burnout. The big festival slots went to others like Todd Terje or Disclosure. Their sweaty floral shirts were retired. Having played around 300 gigs in the five years between 2007 and 2012, the trio played five in the next five years.
Yet following some low-key comeback shows to shake off the rust, a sold-out rave-up at Brixton Academy last year was the sign that Friendly Fires were back. Now, new album 'Inflorescent' beckons too.
When we meet on a sunny day in Peckham, the band looks every bit a unified front. Recent singles 'Heaven Let Me In' – which cleverly switches from insistent verses to a hushed, filter-swept chorus – and 'Lack of Love' – a cover of Charles B and Adonis's 1988 acid house classic – are racking up serious numbers online and delighting audiences in the flesh. The trio are bubbly and unguarded in conversation, giving the impression that they are, quite simply, relieved to have found a way to make it all click again…
You were flat out at a video shoot for 'Silhouettes' yesterday. Is this the first time you've done choreography that's not just…
Ed Macfarlane '… Me being an idiot? Yeah. I've definitely got a newfound respect for anyone that dances for a living.'
That energy release is more or less the band's calling card. Is it ingrained in you?
EM 'Yeah, we definitely prioritise that over playing things technically perfect. Our finest moments never come when I'm overthinking things. But I mean, I'd never dream of doing scissor-kicks in a club. No one likes a show-off. After our show at Glastonbury, I was dancing really reservedly and someone tapped my shoulder and started breakdancing at me. He pointed to the floor and said, "Let's see what you've got!" I just sort of complimented him and turned away… quickly.'
How easy is it to start all over again as a band?
Jack Savidge 'I think it's good to be ambitious, but we are essentially starting again.'
EM 'It's not very good for your mental state if you're viewing life through a frenzied "We've got to get back to the top!" lens. Smaller venues bring this slightly punkish element, being in the thick of the crowd, seeing the whites of people's eyes, maybe having a pint poured on my head or receiving some active distaste for what we are doing. I revel in that!'
Were you guys able to stay friends while the band was on hold?
Edd Gibson 'It took a period of decompression before becoming purely mates again – as opposed to a bunch of people that you see every day for nearly ten years.'
EM 'I needed a break from pop music and went completely the other way. I dropped a load of tour money on modular synths. It was a fun wormhole to fall down, but I missed music that was upbeat and celebratory. I had to break my ego, of wanting to be "challenging" and realise that what we do is important to lots of people.'
Did you feel you were treading on sacred ground by covering 'Lack
of Love'?
EM 'We struggled with it at first. Audience patience is totally different watching a band, they need more bombastic action, compared to house music. No one is going to notice a fucking filter tweak when we're up there playing.'
JS 'No one is expecting you to top the original so it's fun to actually engage with these songs that have been super special to us for so long.'
Do you loathe the way the indie press eats their young by building up bands, then knocking them down?
JS 'I don't mind the way it played out this time. I suppose because there was ambiguity, we have been welcomed back quite naturally. It feels like we've been welcomed back. Our Brixton shows, our biggest return, was really special and emotional.'
EM 'The crowds were probably the most clublike we've ever had. People weren't just looking at the stage, they were turning around with their friends and dancing and for some reason that felt really satisfying. It wasn't just all about us.'
Friendly Fires play the Roundhouse on Oct 30. 'Inflorescent' is out on Fri Aug 16. Check out more great gigs happening in London in October here.
Photographs by Andy Parsons. Mural by @katrinaradams (www.katrinarusselladams.com)
Support Time Out
We see you're using an ad-blocker. Ad revenue is Time Out's main source of income. The content you're reading is made by independent, expert local journalists.
Support Time Out directly today and help us champion the people and places which make the city tick. Cheers!
Donate now