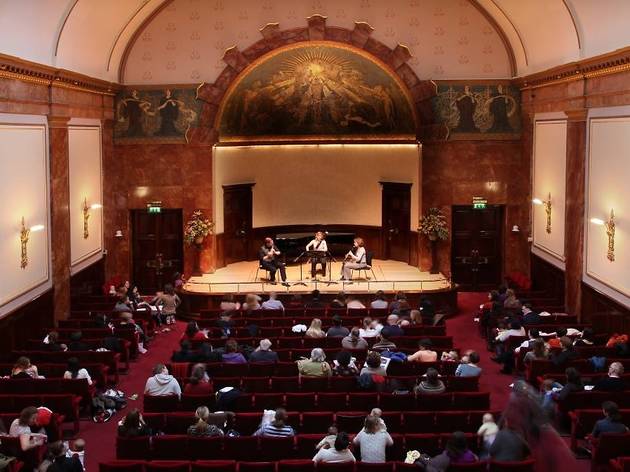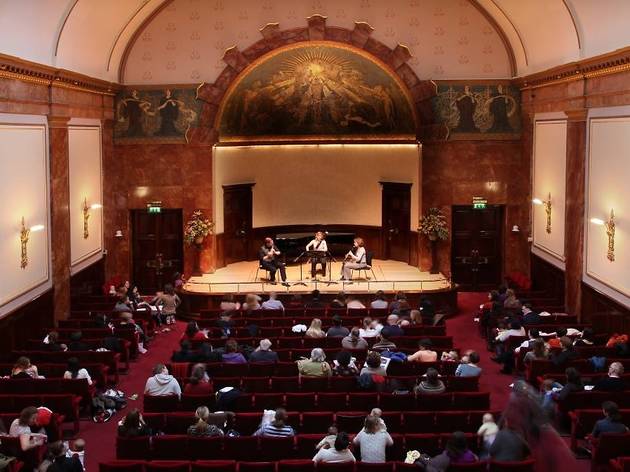 1/8
© Rob Greig
Music for babies at Wigmore Hall
2/8
Benjamin Ealovega
3/8
Benjamin Ealovega
Chamber Tots 30 November 2019 RESTRICTED USE. CONTACT LEARNING
4/8
Benjamin Ealovega
Butterfly Brain Concert RESTRICTED USE. CONTACT LEARNING
5/8
Wigmore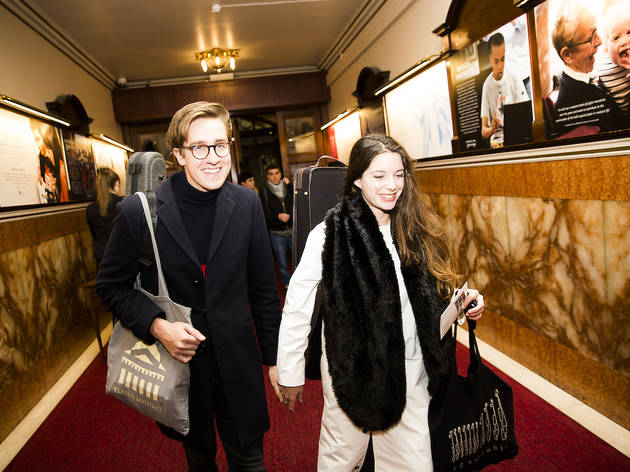 6/8
Simon Jay Price
Borodin Quartet at Wigmore Hall under 35s reception
7/8
Simon Jay Price
Borodin Quartet at Wigmore Hall under 35s reception
8/8
Simon Jay Price
Borodin Quartet at Wigmore Hall under 35s reception
Time Out says
Built in 1901 as the display hall for the German company Bechstein Pianos, the Wigmore Hall was seized as enemy property in WWI and sold at auction for a fraction of its value. These days, boasting perfect acoustics, art nouveau decor and an excellent basement restaurant, the 'Wiggy' is one of the world's top chamber music venues and currently hosts around 400 events a year. Programming leans on the classical and Romantic periods. The Monday lunchtime recitals, broadcast live on BBC Radio 3, are excellent value, as are the Sunday morning coffee concerts. Musical luminaries who have performed at the Wigmore Hall include Sergey Prokofiev, Shura Cherkassky, Paul Hindemith, Andrés Segovia, Benjamin Britten and Francis Poulenc. Tours of the auditorium, with its famous Art Nouveau mural, and other parts of the building take place during the Open House London event in September.
Wigmore Hall says
Wigmore Hall, one of the world's great concert halls, specialises in chamber and instrumental music, early music and song.

Having recently celebrated its 120th Birthday, Wigmore Hall is livelier than ever, offering music-making of outstanding quality and an array of activities in the broader community. With its infectious sense of adventure, it consistently captures the public imagination and broadens its audiences' horizons.

Wigmore Hall's focus is on great musical works, best experienced with a powerful sense of immediacy. The repertoire extends 250 years on either side of Beethoven (born 1770) – from the Renaissance to contemporary jazz and new commissions from today's most exciting composers.

Bringing this music to life are the world's most sought-after soloists and chamber musicians. Wigmore Hall also provides a showcase for exceptional young artists — some making their professional London debuts — and remains an essential platform as their careers flourish.
Discreetly nestled in Central London, the Hall – renowned for its intimacy, crystalline acoustic and beautiful interior complete with an Arts and Crafts cupola above the stage – has a capacity of 552 seats, but draws in audiences from far and wide through its enterprising use of digital media and its ambitious Learning programme; these go beyond concert audiences to embrace schools, nurseries, hospitals, community centres and care homes.
Details