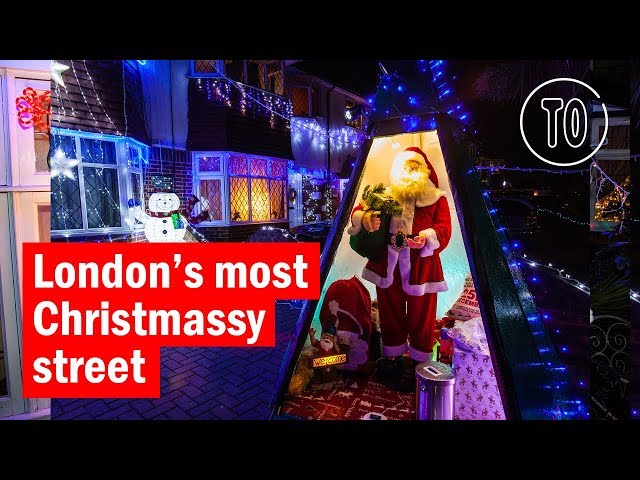 Want to feel festive? Take a stroll down Lower Morden Lane, where the residents have decked out their houses in OTT decorations for the last 20 years. Rosie Gizauskas meets the people who live on London's most Christmassy street.
Sylvia Queenborough
You started the tradition on Lower Morden Lane – how long have you been doing it?
'This is the twentieth year I've been doing it, since I moved in. Now estate agents actually advertise Lower Morden Lane as the "Christmas lights street". It's well known in the area and people have come all the way from Portsmouth to visit. They say it's better than going to Oxford Street.'
How did you come up with the idea?
'I've always liked to light up my house and garden for the children – they love it. When I moved here, I noticed a few houses were doing lights. I thought it was a nice idea. Then I went to St Raphael's Hospice, which is nearby, and said, "Can I help to raise money?" We got the idea to collect around Christmas, and to light up the road to do it.'
How much money have you raised?
'It's been £170,000 over the years for St Raphael's. And there's another £60,000 that we've raised for other charities, too.'
Does it take a lot of organisation?
'Not much. I put a flyer out, and it's up to people if they want to join in. Really, it's down to luck. It just works. Although these days the local Rotary club help with the fundraising aspect, which makes it a lot easier.'
Which have been the best lights you've ever seen?
'We used to have a man on the street called Tony, who sadly passed away. He was an engineer and he was so far advanced with his lighting you wouldn't believe. In 2000 he had a huge light-up glove that revolved in his front garden!'
Shannon Corcoran
How long have you lived on the road?
'My parents moved in around the year 2000. I've lived here all 17 years of my life – I've loved growing up here.'
When did you realise that not every street gets lit up like yours at Christmas?
'We'd go for Christmas dinner at my granny's house and the streets were bare compared to our lane. It made me realise how unique our street is.'
Did your friends come over to see the lights?
'When I was younger, I'd always ask my parents if my friends could come round at Christmas. None of my friends believed me when I said I had a six-foot penguin outside my house at Christmas. I loved seeing the surprise on their face when they saw Pingu our penguin.
Do you help to put up the lights?
'I do the indoor lights on the windows and my dad does the ones outside. It takes a whole weekend.'
What's the decoration you're most proud of?
'It has to be our penguin. It's lovely to see the little kids running over to get a picture with him. My dad bought him at a car boot sale six years ago and we've put him up every year since.'
David Clark
What's Christmas Eve like on the road?
'Thousands of people come to visit. We dress up, too, as that gives more impact when it comes to fundraising. But we can only have one Santa – otherwise it confuses the kids. People come in all sorts of silly costumes. I usually dress up as Captain Hook. It's good fun.'
Do you ever get any complaints?
'The only time people moan is when the traffic gets bad, as everyone drives through the road in their cars to have a look. It can be gridlock on Christmas Eve.'
What are your decorations like?
'This year I have a big Santa, who sings. I put him inside a wooden hut to keep him safe from the rain. Last year I had a loudspeaker next to Santa and I spoke through it to the kids walking past. They loved it. They can't believe it when they hear Santa speaking to them.'
Have you gone bigger and better this year?
'Yes, it took me ten days to set my lights up. I retired during the summer, so I have a bit more time now. I moved in 26 years ago and when
I was working I used to take the first week of December to set up. I've got a lot more lights this year – hundreds of them. I was born in Blackpool, so I know a lot about illuminations. I think it's in my blood.'
Photography: Andy Parsons
Lower Morden Lane, SM4. St Helier rail. Donate to St Raphael's Hospice at www.straphaels.org.uk via JustGiving.
Want to get into the Christmas spirit? Check out our ultimate guide to all things festive.