Once again, the Square Mile has been littered with public art. Sculpture In The City, the annual open-air exhibition of, you guessed it, sculptures in the City, is back for its twelfth edition. This time, it's spreading major artworks by 18 artists all around the squares, alcoves, doorways and streets of the UK's financial district.
London has a lot of sculpture trails and temporary public displays, but Sculpture In The City has maybe the highest calibre of artist of them all. The works selected for this year's exhibition are by some of the best young artists around, and some of the biggest established names too. If this was in a museum, you'd be impressed, so don't be put off by the fact you have to navigate people who work in finance just to see the art.
Here are our favourite works at Sculpture In The City 2023
Victor Lim Seaward, 'Nest Series'
Not enough art doubles up as animal accommodation, but Victor Lim Seaward's gloopy, weird, gorgeous 3D-printed enamel sculptures are also functional birds' nests. The inside is insulated, there's drainage, coconut hemp nesting material and each one has been designed to conform to RSPB guidelines. It's probably the only way you can live rent free in central London, you just have to be a bird.
Simeon Barclay, 'Pittu Pithu Pitoo'
One of the UK's smartest young conceptually-focused artists, Simeon Barclay's sculpture of a chicken on its own little mini-mountain is meant to symbolise being on the outside, the periphery, never managing to be accepted. Like a cock on a rock.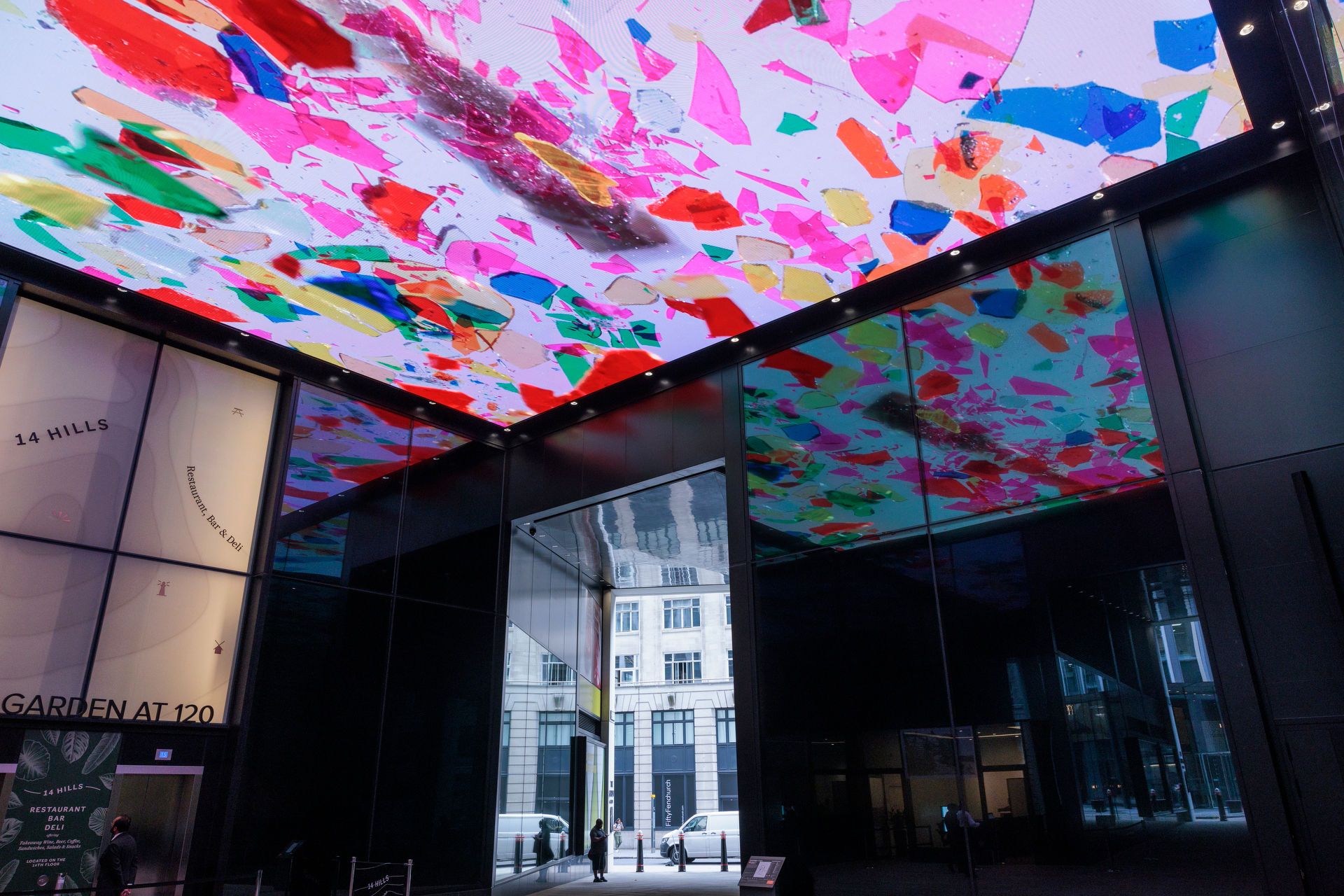 Mika Rottenberg, 'Untitled Ceiling Projection'
Mika Rottenberg's show at Goldsmith's CCA a few years back was great; a riot of surreal humour and hyper-colour, tech-focused, anti-capitalist weirdness. This installation on a ceiling-covering screen pushes her obsession with plastic tat to a new extreme.
Ugo Rondinone, 'summer moon'
Rondinone's made a name for himself with bold, colourful stacks of rocks. But there's nothing bold and colourful about this piece, a massive ashen, grey depiction of an ancient olive tray in white-painted olive tree. It's about how 'time can be experienced as a lived abstraction', apparently.
Larry Bell, 'Pacific Red (IV)'
Minimalist supremo Larry Bell knows a thing or two about messing with light. He's been making these huge glass sculptures since the late 1960s, and this recent iteration is a glowing, fiery sun trap/reflector that changes throughout the day as different kinds of light hit it. It does also look like a huge red nuclear button, just waiting to be pressed, which is worrying.
Sculpture In The City is open now. More details here.
Want more public art? Click right here.
Want indoor art? Well, here are the top ten exhibitions in London then.