Heads up! We're working hard to be accurate – but these are unusual times, so please always check before heading out.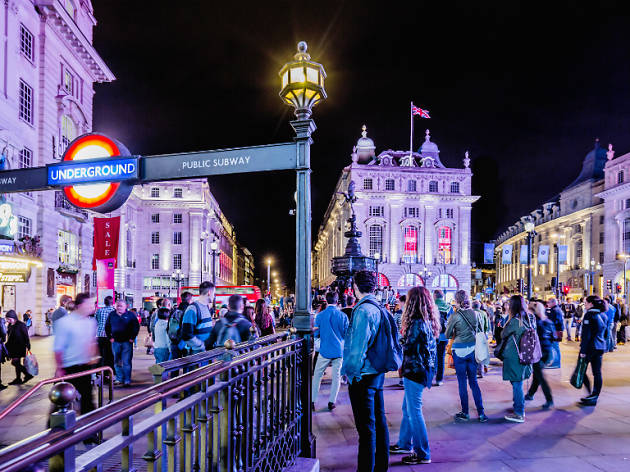 24 ways the 24-hour tube will change London
After delays, strikes and a whole lot of hype, the night tube is finally here. We consider what that means for our city
1. Let's start with the obvious one: people will stay out later because getting home will now involve a short tube ride rather than a long night bus ride.
2. …but people will also go home earlier as it'll put an end to 'waiting for the first tube'.
3. Now we've not got expensive cabs and slow buses holding us back, booty calls will be on the rise.
4. … but we'll no longer be able to use 'I've missed the last tube home, can I stay at yours?' as a way to get laid.
5. You'll be able to stay longer at house parties. Woo!
6. …but you won't be able to use 'catching the last tube' as an excuse, so we'll need better 'reasons' for leaving shitty social events.
7. Venues might make their last entry later as people will skip between places more easily.
8. Pubs might stay open later to catch the punters that no longer need to rush for the last tube.
9. There'll be no need for stag and hens to rent a hotel when they can just spend the night on the Central line. Same goes for tourists.
10. In fact, there will probably be a massive influx of Essex lads staying out all night because they can get back to Romford at 4am.
11. You'll rarely need to take a jacket out. RIP cloakrooms.
12. It'll be good for performers and bar staff (as well as people doing other night jobs at the weekend) as getting home from a shift will be easier.
13. Catching early flights will also be way easier.
14. There'll be a reconfiguring of what counts as the 'deep south'. Brixton will no longer be a problem. Peckham will still be a trek.
15. Club-hopping from Notting Hill to Bethnal Green will be as easy as going from Shoreditch to Dalston.
16. There'll be no need to spend 30 minutes in the rain drunk-directing your lost Uber driver so you don't get charged a fiver for cancelling.
17. Which means if your phone runs out of battery, you'll still be able to get home easily.
18. But you won't be able to use your Uber receipt to find out what time you got home last night.
19. Actually, you'll probably still get £15 minicabs home – they'll just be harder to justify.
20. Clubs will pop up near night tube stations in zones 2 and 3 where rents are cheaper.
21. The warehouse scenes in Manor House and Tottenham might become more popular. Or they might be totally ruined.
22. Places like Ealing Broadway could become hotspots.
23. There'll be a rise in off-grid clubbing in places not on the night tube. Edgy.
24. When you drunkenly wake up in Cockfosters, it'll no longer be the end of the world. Until, two hours later, you wake up in Cockfosters again.
Everything you need to know…
Find out all the info about London's new night tube service with Time Out's guide to 24-hour travel across London. Staying out late or getting up early just got a whole lot easier.