Apocalypse Meow: Crisis Is Born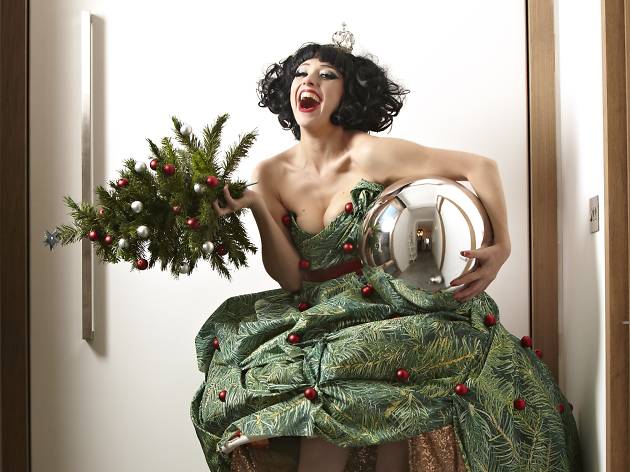 Mad, subversive, anti-festive brilliance from 'kamikaze cabaret' queen Meow Meow.
Australian-born cabaret star and singer Meow Meow returns to the South Bank with another belter of a show: like playing pass-the-parcel on a boozed-up, pill-popped Christmas Day at the end of the world, it's a mad, many-layered treat: the nativity theme is established early on when she complains wryly that there was no room at the Royal Festival Hall.

Clutching an inflatable donkey and an equally unlikely strap-on pregnancy, Meow Meow hits the stage like a glittery one-woman pile-up of Liz Taylor, Joan Collins and Shirley Bassey. Her hair alone could have its own show.

Meow Meow's humour is sharp, playful but also mournful. There's an undertow of real melancholy beneath her hilarious digs at hapless audience members and an edge of hysteria in her bursts of frustration that tinges our laughter with uncertainty.

Ably supported by David Coulter on percussion and Lance Horne on piano, Meow Meow puts her powerful voice to good use in songs that span Spanish and German and – in one instance – weaves a pretty terrifying vision of Santa into Nick Cave's 'Red Right Hand'.

With 'guest stars' that never show up (although there are some pretty big phoned-in cameos), the tone is that of a jacked-up Judy Garland Christmas special unravelling into a world of festive surrealism: wild, sad, jagged and feverish. 'Subversive' is too dry a word for a show that flings its arms around sex dolls and 'Oliver!'-style homeless kids singing carols. Meow Meow's genius is to keep up the mad fun while giving the strangest, starkest things real emotional heft. Describing it doesn't do it justice. Go and see it.
Find more Christmas shows in London
Rating Breakdown
5 star:

1

4 star:

0

3 star:

0

2 star:

0

1 star:

0
Oh yes, very clever. Act 1, she hooks you with her sassy, sexy cynicism. The problem with Christmas? Kids! Act 2, her she wears down your resistance with that disarming mix of grandiosity and vulnerability. What's the true meaning of Christmas? Hmmm... Act 3, she reels you in... and had this hard-nosed middle-aged geezer blubbing with tears of laughter, melancholy and gratitude. Very, very clever. Meow Meow's skilfully crafted chaos recalls Tommy Cooper, her fragile bluster Tony Hancock (and a certain visual gag Morecambe & Wise). And if she keeps this up it will be no exaggeration to place her alongside those greats. You'd better watch out, you'd better take care... coz being reconnected with the dreams and loss (the hopes and fears) of your inner child can be an unsettling experience... but you'll have the pleasure of saying "I saw her when...".