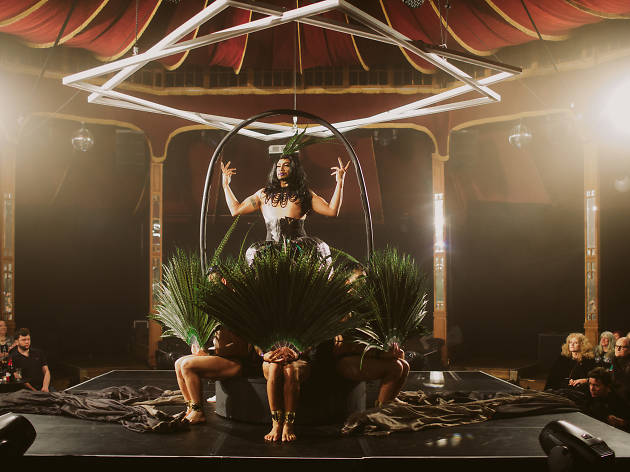 Time Out says
Aussie boylesque troupe 'Briefs' are back with another gloriously cheeky live show
'Briefs' comes to Christmas Leicester Square in November 2018. This review is from 2017.
Shivannah – the host-cum-ringmaster of racy cabaret-circus show 'Briefs' – is so engaging that even his pre-show request for us to turn our phones off is entertaining. And that sort of says it all, because from that moment of usually-nondescript-theatre-admin the 'Briefs' boys will have every speck of your attention.
In fact, even before the troupe emerge in their pastel morning suits – no shirts, obvs – the tent is in full-on celebration mode, with a party playlist blaring as the audience takes their seats. It's a welcome return to the South Bank for the Brisbane boys, who've sold out their London shows for the past three seasons.
With a raid-worthy wardrobe – there's feathers, lamé and huge beaded necklaces for everyone – this time their exhausting-sounding combo of comedy, drag, burlesque, contemporary dance and circus has a sci-fi spin. They've come to visit our grim present from the oh-so-glittery future to show us that things get better (thankfully without the use of a 'D:Ream' number) and how to get there (nice manners will help, apparently).
There are far-ranging references, going from 'Armageddon' to 'Alice in Wonderland', with a 'bunny rabbit' performing simple-seeming – but actually kind of mind-blowing – tricks with alarm clocks. Meanwhile, Mark 'Captain Kidd' Winmill has mouths agog as he flips and twists around in an awe-inspiring aerial display: his trapeze skills are matched only by his eye makeup. Rivalling him in the dizzying aerial displays is Thomas Worrell, who spins around in a man-sized bird cage. It's hold-your-breath-oh-my-god-what-if-he-falls levels of spectacular.
With all the energy of a hen party on acid, from beginning to end every member of the troupe will have your eyes glued to the stage, or the air – basically wherever they happen to be shimmering around at that moment. Go forth and be entertained by this close encounter of the fabulous kind.
Time Out called Briefs' last show 'fabulously sexy and seriously clever' - read our full review here.
Details
Average User Rating
4.7 / 5
Rating Breakdown
5 star:

18

4 star:

7

3 star:

1

2 star:

0

1 star:

0
Wow what can I say this was such a great night out, I loved every minute of it. The host was great and really ran the show, all of the acts were so different but all entertaining. Will definitely be watching this show again next time it's in town.
I had already been to one of the best burlesque shows in my life, at the underbelly on south bank. So when I was given the opportunity to see another, it definitely had a lot to live up to. I mean what's better than seeing fabulous, sassy and sexy ladies, strutting their stuff to and amazing soundtrack... watching a group of even more fabulous, even more sassy and well lets face it the finest specimens of manhood shake their stuff even better than those of my own gender. For the whole hour I was in awe, and also slightly jealous, of the acrobatics, the dance moves and the magnificent costumes. Besides making me realise my goal in life is to be half as fabulous as any one of these stunning gentlemen, it also made me want to dress my boyfriend up and teach him the ways of sass. Because let's face it what's not more awesome than a man with magnificent beard shaking his booty with the best of us.
This show was "sexcellent" - a new adjective that I intend to use at every opportunity and describes it so well. Funny, glittery, athletic and hot as hell!
The stunts and tricks were, at times, jaw dropping and I constantly found myself having to pick my mouth up off the floor - for the stunts or the beautiful bodies on stage, who can say?
The host and the rest of the dancers were funny and highly entertaining and made me laugh until I was crying at one point. They also found points to be particularly poignant and political but it wasn't overbearing!
I would highly, highly recommend taking EVERYONE to see this show, there is no one who it wouldn't appeal to. It is on until the end of September and I am already planning a trip to go see it with some of my gal pals before it is over this year.
Ps. Buy a raffle ticket- you wouldn't want to be "jealouss"
When I was trying to describe the show we were about to see to my Mum, I described it as:
"drag meets strippers with a hint of cabaret covered in glitter", and after seeing the show I think this is a good description.
Without giving too much away, you will board the Briefs ship and be transported to not another planet but another dimension. Your senses will be abused, in a good way, with fantastical sights and sounds ranging from beautiful aerial hoop displays to a mind boggling science themed juggling display. The compare was hilarious and beautifully dressed, making me very envious of his shoes.
The music was fantastic, making everyone feel in the party mood.
You will exit the theatre wondering if what you have really seen was real, but trust me, it was. Take a seat, sit back, relax and open your mind to the weird and wonderful show that is Briefs: Close Encounters.
My only criticism is it was felt to short! I wanted more! And a tip- get there early to get a good seat as they are not allocated. But don't worry, they know how to work the stage.