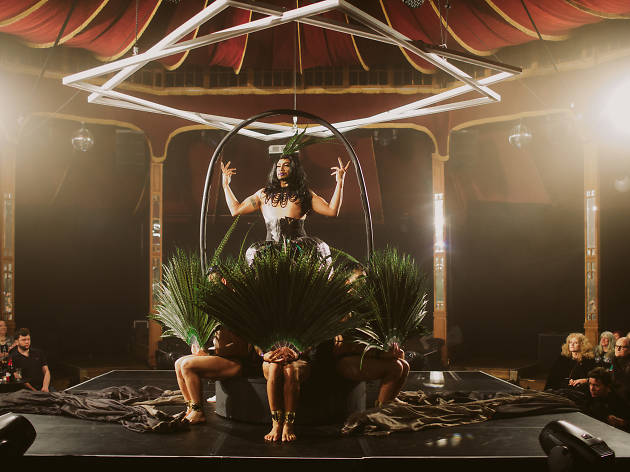 Time Out says
Friendly warning! We're working hard to be accurate. But these are unusual times, so please check that events are still happening.
Aussie boylesque troupe 'Briefs' are back with another gloriously cheeky live show
'Briefs' comes to Christmas Leicester Square in November 2018. This review is from 2017.
Shivannah – the host-cum-ringmaster of racy cabaret-circus show 'Briefs' – is so engaging that even his pre-show request for us to turn our phones off is entertaining. And that sort of says it all, because from that moment of usually-nondescript-theatre-admin the 'Briefs' boys will have every speck of your attention.
In fact, even before the troupe emerge in their pastel morning suits – no shirts, obvs – the tent is in full-on celebration mode, with a party playlist blaring as the audience takes their seats. It's a welcome return to the South Bank for the Brisbane boys, who've sold out their London shows for the past three seasons.
With a raid-worthy wardrobe – there's feathers, lamé and huge beaded necklaces for everyone – this time their exhausting-sounding combo of comedy, drag, burlesque, contemporary dance and circus has a sci-fi spin. They've come to visit our grim present from the oh-so-glittery future to show us that things get better (thankfully without the use of a 'D:Ream' number) and how to get there (nice manners will help, apparently).
There are far-ranging references, going from 'Armageddon' to 'Alice in Wonderland', with a 'bunny rabbit' performing simple-seeming – but actually kind of mind-blowing – tricks with alarm clocks. Meanwhile, Mark 'Captain Kidd' Winmill has mouths agog as he flips and twists around in an awe-inspiring aerial display: his trapeze skills are matched only by his eye makeup. Rivalling him in the dizzying aerial displays is Thomas Worrell, who spins around in a man-sized bird cage. It's hold-your-breath-oh-my-god-what-if-he-falls levels of spectacular.
With all the energy of a hen party on acid, from beginning to end every member of the troupe will have your eyes glued to the stage, or the air – basically wherever they happen to be shimmering around at that moment. Go forth and be entertained by this close encounter of the fabulous kind.
Time Out called Briefs' last show 'fabulously sexy and seriously clever' - read our full review here.
Details