CLF Art Cafe (Block A, Bussey Building)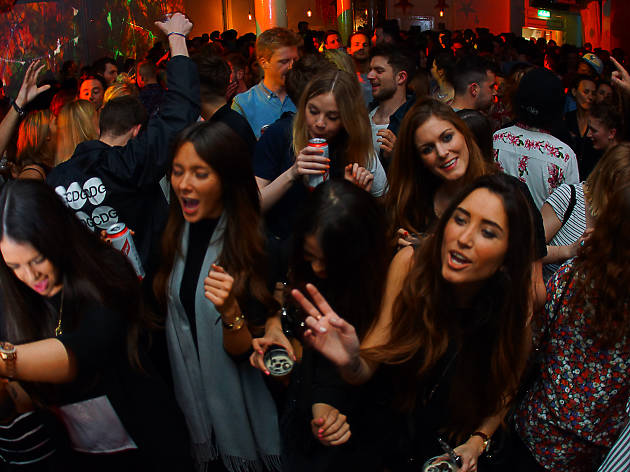 One of the many sources of Peckham pride, this incredible post-industrial building is simply one of London's best venues. Saved from demolition in 2007 by a dedicated team from community group Peckham Vision & The Chronic Love Foundation [CLF], the CLF Art Cafe (Block A, Bussey Building) is a multi-floored concrete block that has thrived as a warehouse-style club at night and a top arts venue during the day. Top promoters consistently bring in some of the best names on the cutting-edge, underground and alternative dance scenes, across pretty much any genre you care to name, but leaning primarily towards house, deep techno, garage and disco. The Bussey also hosts regular nights that offer more accessible sounds, including Zonk Disco and The South London Soul Train, making it one of the best venues in London for funk and soul club nights. All of which means that it's one hell of a draw the whole year round.
The building's theatre has links to the Royal Court and its admirable Theatre Local scheme, which helps the theatre dilute the effect of its rarefied Sloane Square address and reach out to more diverse audiences. But the multi-floored post-industrial space has become a dynamic arts centre in its own right, and now programmes everything from art installations and new plays to classics and opera.
Venue name:
CLF Art Cafe (Block A, Bussey Building)
Contact:
Address:
133 Rye Lane
London
SE15 4ST

Transport:
Peckham Rye Overground
Do you own this business?
Average User Rating
4.3 / 5
Rating Breakdown
5 star:

7

4 star:

3

3 star:

1

2 star:

0

1 star:

1
CLF Bussey Is So Good It Should Be Illegal
The South London Soul Train Prince 1 Year Birthday Special 22nd April 2017 had been in my diary for months – This fab venue just 15 minutes walk from my front door is one of my fave clubs in London - Mikey Jazzheadchronic is the key to all this - you have created a winning formula on about what five levels - of course the main event on clubbing nights is always in the main room but there is so much more to explore and my only frustration is that I often want to be in at least three rooms at once - Bussey is so good it should be illegal and to imagine if it was not for a MASSIVE community effort spearheaded by Mickey in 2015 one of the best clubs in London would have been no more - if luxury flats near the venue had been approved Bussey and so much more would have become a memory.
Despite breaking my right ankle in two places just two days before Christmas I managed to last for the duration until 5am.

Mickey has created something so special – often using live bands as part of events and the crowds love the combo. Brother Strut were a previous personal highlight.
At 58 no doubt I am usually what 20 years in advance of anyone - I just LOVE being with a young crowd, and wow does Bussey attract a young crowd - although my sexuality is quite obvious I have NEVER experienced ANY hostility.
A previous highlight was dancing to a Diana Ross Gay Anthem with a female couple who were very 'Out' and Proud – it was so heartwarming that nobody was bothered.

For me the benchmark for a great club is not 'is it gay or str8?' I am looking merely for a good all round vibe, and where security don't get hung up about Dress Code!

I previously responded to a negative review when allegedly a 'friend of a friend' was turned away because he looked 'too gay' – the REALITY is completely the OPPOSITE – I often feel more welcome in 'str8' rather than 'gay' venues. Sorry I hate using the terms but it helps explain the context.

Previously I have been barred THREE times from a well known gay venue that celebrates Disco every week – on the last occasion wearing a tank top and speedos I was instructed by security to 'cover up.'

Ironic that Disco was born by the gay underground movement in New York – hedonism was celebrated, and clothing often very optional – remember Studio 54!
The chemistry of the Bussey crowd is very special - everyone is just there to have a great time, without any attitude. Touch wood in the five years attending I have never seen a fight.
Also the staff and security team are brilliant.
Even though most events are at capacity there is always plenty of space with plenty of chill out areas and seats. This quirky venue has so much character and would fit like a glove in a city like Berlin.
I could go on so much more - but IF what I have shared encourages anyone who has never tried Bussey to GO FOR IT.
TIP 1: Get Early Bird tickets.
TIP 2: Arrive EARLY the Queues are legendary.
Bussey attracts big queues at weekends, so buy in advance and/or get down early. Massive space with nooks and crannys for chilling out/having a word with yourself. Go for South London Soul Train and wait till about 4am when a few dudes form a circle and start having a sort of dance off.
Really like this venue. Went there last Friday for one of the Memory Box parties where Darren Emerson was dj'ing. The club has got a good layout and the drinks are reasonably priced. The vibe is friendly and the soundsystem is good.
This club is not a good representation of the' real peckham'.it seems as if the more hipsters the more gentrification begins,peckham is a close knit community everyone knows everyone from the people working at peckhamplex to the store holders and it also has quite a diverse group of people there African Turkish Pakistani the list goes on and on and as you can see from this picture it is only Caucasians there whereas the market place is quite full with people of all different colors
The Bussey Building is a great asset to Peckham. It's a staple for culture, entrainment and just god dam good vibes. It has everything you can spend an extensive amount of time in there! I've been living in the area for 7 years and I've seen Peckham go through amazing changes. And there are definitely more amazing changes to come. I was in Peckham last night hanging out with my friends and the buzz is just electrifying! Everyone looked so him and trendy... I thought I was in Soho for a second. I ❤ Peckham...Always have... no place like it in London!
really nice place to go!!!!love it.I LOVE PECKHAM,we all fucking love peckham.
average to good. To be sure there are hundreds of worse places to go but swerve the hyperbole below that rates it as the best venue in London. Sound system is loud but the door is frequently overpriced. The bussey is often either rammed or empty.
Snap up exclusive discounts in London
Time Out's handpicked deals — hurry, they won't be around for long...