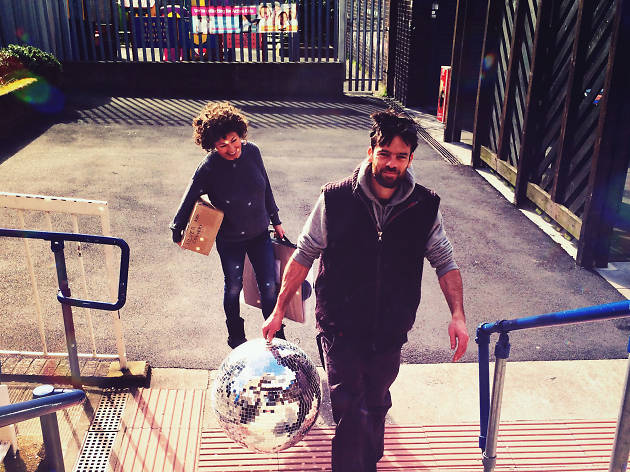 Lucky Cloud: the party with a heart
If you think the soul has gone out of London nightlife, you really should go to a Lucky Cloud party
On four Sundays a year, a group of spirited- yet-unpaid volunteers turn a humble community centre in N1 into a paradise.
At Lucky Cloud, a 'musical host' plays choice vinyl records all evening, through some of the most revered and fetishised sound equipment in the world. There's no mixing because, well, there's no mixer - having one would diminish the sound quality, so it's purged. Instead, records are played from start to finish. The space is decorated with love, lit with warm colours, and a buffet is served to keep energy levels high among the real stars of the evening: the dancers.
If the set-up sounds familiar, that's because it has a distinguished forerunner. Lucky Cloud is a direct descendant of The Loft, the party started in NYC by David Mancuso in 1970 which still runs today. One of the community is Colleen Murphy (DJ Cosmo), who used to play at The Loft before moving to London and spreading audiophilia through her Classic Album Sundays project.
But if this is all news to you, all you really need to know is that a party with spectacular heart and community spirit still exists in a city often condemned for being venal and bereft of nightlife. Like Notting Hill Carnival, Lucky Cloud demonstrates the extraordinary effort people will go to construct the perfect party for absolutely sod-all commercial gain. We spoke with Murphy to find out more about the elements that make Lucky Cloud so special.
The venue
'The Rose Lipman Building (above) is a big old estate building. We take over the main hall, while other rooms are used all week by artists and creative people. The ethos behind the centre is the same as what we're all about. We call it a party. It's not a gig or a club night - it's a party with a musical host. Via the music, the dancing and friendship, there's a journey. I guess it's all quite hippyish!'
The breezeblocks
'Carrying the breezeblocks is the job everyone hates doing the most! We build two towers with them to isolate the turntables. It's a very springy floor, so they could jump otherwise, plus it stops feedback coming through the floors. They're quite high as well - when you're cueing records by sight for seven hours, you can't be bending down all the time.'
The speakers
'We bought the system with David Mancuso's guidance. The speakers we use are Klipschorns, which were designed in 1946. They are three-way horn speakers, and they're really efficient - there's virtually no distortion. We don't play ear-piercingly loud. Its not about over doing the bass; its a very open sound.'
The Community
'It's a collective effort. What we're against is all the corporate DJ superstar bullshit out there. It's not about how many drinks we can sell. People donate their time just to come and be part of it. None of us get paid. We have a sound engineer who does stuff at a cut-price rate. He does huge concerts, but does our party as a labour of love. He's stayed on my couch before. There's two Japanese guys who kept coming for years and are now part of the team. There's others from France, Spain, America, a whole contingent from Italy. There are guys who have flown in from Australia and a guy from Hong Kong. It's about the community: that's how our team has built up over the years.'
The balloons
'They are a big part of David's parties. They're really good for the sound actually, as they make the ceiling a bit lower. Also, they make it feel like a kids' party - the balloons give a childlike spirit to things! There's a whole team that spend the entire day making balloon chains. We don't do a balloon drop every time. If people always expect it, it doesn't really work!'
The musical host
'I usually bring about three boxes of vinyl along. Because we don't use headphones, and you're using Koetsu cartridges that cost $6,000 each, you have to know your records inside and out. Since we only do four parties a year, I'm quite conscious of not repeating certain "classics". People think it's a retro disco party, but it's not. We play techno, house, psychedelic rock, jazz, soul. If you only stay in one place musically, there's something wrong! But because there's no mixing, the records have to be good from start to finish.'
Support Time Out
We see you're using an ad-blocker. Ad revenue is Time Out's main source of income. The content you're reading is made by independent, expert local journalists.
Support Time Out directly today and help us champion the people and places which make the city tick. Cheers!
Donate now