Heads up! We're working hard to be accurate – but these are unusual times, so please always check before heading out.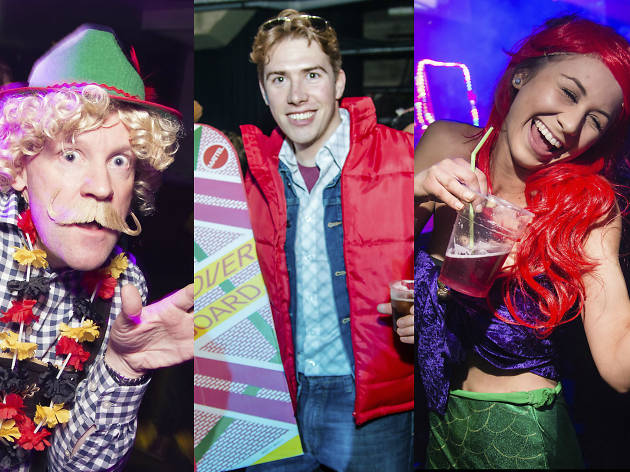 Say cheese! Here are the strongest looks from 10 years of Club de Fromage
We flick through the archives with the club's organisers to celebrate a decade of dressing up
London's clubbing scene may have changed a lot in the past 10 years, yet one place has not only endured but has also managed to thrive – the Islington-based anarchic, cheesy and very fun pop night Club de Fromage.
Since 2006, an estimated 300,000 people have entered the doors of Fromage, and co-founder Carl Hill (who goes by the name of Slow Alfie for Fromage purposes) has also taken the night everywhere from Glastonbury to Ally Pally to Margate.
Fancy dress is optional at Fromage – but very much encouraged. So, to commemorate their 10th birthday this month, we asked Slow Alfie to choose some of the strongest looks from all the Fromages over the years…
1.The Panini sticker lads
'Though they had come to our Wild and Western Night and hadn't exactly stuck to the theme, I made sure our photographer got a snap of them. I remember finding one of the boards at the end. Unsurprisingly, there's always a lot of costume bits left at the end of a night. I stuck my head through one of these and imagined I was John Bumstead, a Chelsea player everyone at my school had about 15 duplicates of.'
2.The Marty McFly guy
'Although we've had "Back to the Future" parties before, this night wasn't one of them. He did well to get his hover board in past security and the outfit was spot on, I was actually quite jealous. Had I been me aged 10, I probably would have taken him out the back and mugged him for it, but instead I could only look on in envy. We got him up on stage, but oddly his hover board didn't seem to want to fly in front of an audience.'
3. Mr. Lederhosen
'This is a lovely regular who used to come to Club de Fromage a lot. He ran a fancy dress club where him and his friends dressed up. They used to come down in some serious outfits. He really put some thought into this, although I'm not sure where the Hawaiian flowers came into it. People often come as they please, sometimes with no relation to the official theme, but we encourage that sort of thing as it all adds to the anarchy of the night.'
4. The banana in pyjamas
'Another terrifying outfit, based on kids show "Bananas in Pyjamas". Anyone who comes to my club and paints their face yellow is alright by me. I think this picture was taken a kids' TV themed night. We once had one of my childhood telly heroes, Face from "The A-Team", at Fromage. He was very grumpy in the car as he'd done loads of crap clubs before, but when he got in and saw the crowd's reaction, he was off like a spaniel with a bone.'
5. The shuttlecock girls
'This was during the 2012 Olympics. Other club nights were struggling, but Club de Fromage was buzzing. It seemed like the world had come to Fromage, people speaking different languages all begging to join in our onstage egg and spoon race. These ladies got stuck into our DIY ethic by stealing their mum's washing baskets and re-purposing them as shuttlecocks – a simple idea but executed with genius.'
6. The Pantone ladies
'Again, these women didn't really stick to the theme, but to be fair this was at was our Back to the Future Special where our celeb guest was Cheryl Fergison, aka Heather from Eastenders. No, I don't know the connection either but Fromage is never about logic. My main memory of this night is how great Cheryl was, she was game for anything and bounced around the stage like a woman possessed.'
7. The scary grey man
'This costume really showed some serious commitment – that bloke must have been hot as hell in that get up. This was taken on Halloween, which is always completely packed out, so wandering around in that all night must have lost him a few stone. I don't recall much about this one – Halloween's are massive for us ,so I have about 16 hours of running about before falling into bed and dreaming about demons in tutus.'
8. The pop art girls
'These ladies really went to town at one of our other Halloween specials. I'm not 100% sure if they were modelling themselves on Lady Gaga or Andy Warhol, but it doesn't matter - they looked fabulous. They were posing all night, and even brought along an old dial phone, which probably got better reception than my mobile. They were definitely refined and managed to look poised all night, something I can only aspire to.'
9. The Dutch girl
'Now this was a Prince vs Michael Jackson night, so what the lady from the Primula cheese tube was doing I have no idea – very Fromage. I recall that night being quite hard work as the Prince and MJ fans were pretty partisan - if it wasn't a MJ or Prince tune playing they got pretty angry. They weren't happy when I whipped out the Twister board (a regular feature of the club night), it was like I'd burned a photo of the two of them on stage.'
10. The Little Mermaid
'This is one of my favourite pictures from over the years. The outfit is not only ace, but the pose and the way she is looking at the fish fills me with joy every time I see it. It sums up Fromage for me in many ways - daft, joyous and fun. Though I really can't pick a number one costume from all time, I did like the woman who came with a full sized pigeon head on her bonce. I've got no idea what it was all about, but it was very London.'
And finally: many many wallies...
A collage of all the different Where's Wally tribes to have passed through Club de Fromage over the last ten years. See if you can spot yourself or the Dolly Parton we added...
Club de Fromage takes place every Saturday at the O2 Academy Islington. Tickets for their New Year's Eve party at the Eventim Apollo Hammersmith are on sale now.
Support Time Out
We see you're using an ad-blocker. Ad revenue is Time Out's main source of income. The content you're reading is made by independent, expert local journalists.
Support Time Out directly today and help us champion the people and places which make the city tick. Cheers!
Donate now