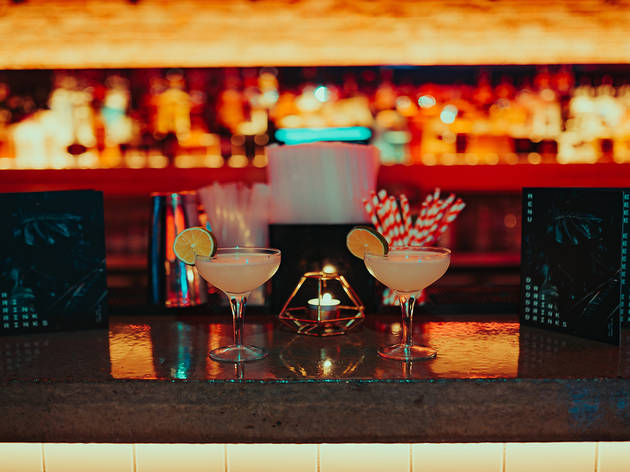 1/6
2/6
3/6
4/6
5/6
6/6
Time Out says
With central London nightlife venues on a serious downer (RIP Astoria, Metro and Madame Jojos), The Roxy is a welcome constant. The cheap drinks and made-for-the-masses anthems attract students in their droves, but that doesn't detract from the fun. On various nights the music ranges from old school hip hop, grime, drum & bass and reggae, to indie, electro, pop and punk.
The Roxy says
The Roxy is BACK, bringing the heat and the beats to the London streets…
The Roxy's interior is inspired by downtown New York whilst the lighting echoes the sleek, effortless style of Tokyo nights.
Incorporating the historical punk venue of old with the popular, contemporary RnB scene and flashes of the Hacienda Rave culture, the Roxy provides a night to be reckoned with…
Our new and improved drinks menu is based around the deliriously, delicious daiquiri untouchably excellent cocktails close at hand. Simple, stylish and sumptuous with a wide selection of the finest spirits.
One thing you can be sure of at The Roxy, other than a guaranteed great experience, is that there is something for everyone…we have worked hard to make sure of that.
Details
Address:
3-5 Rathbone Place
London
W1T 1HJ

Transport:
Tube: Tottenham Court Rd
Contact:
Do you own this business?
Average User Rating
3.4 / 5
Rating Breakdown
5 star:

0

4 star:

4

3 star:

0

2 star:

0

1 star:

1
Having read some of the other reviews on the Roxy I've realised the incredibly negative experience I had last night with a group of friends was not an isolated one. Me and a group of friends arrived at the Roxy around 12am on a Tuesday night and were queuing for half an hour. Whilst queuing, people around us in the queue and the people I was with noticed how rude and aggressive the bouncer monitoring the queue was. A group of three boys in front of us voluntarily left the queue because of this. We also saw other people being taken out from the queue for being "too drunk" although they were clearly not. After half an hour we reached the front of the queue where we were told that one of the people I was with was too drunk and to go get her some coffee and come back later. The Roxy was our first stop of the night and we had only had a couple of drinks at home, we were by no means in any way drunk especially not to the extent to be refused entry.
We disputed the bouncer who refused us entry but he was not interested in listening and he also seemed very smug and enjoying having the control to refuse entry to a group of young women. We felt he behaved in a very unprofessional way and when we asked his name he refused to tell us it and he also covered his name tag on his uniform the entire time. We felt he did this because he was aware of how unjustified and unprofessional he was behaving. We repeatedly asked to speak to the manager but the security staff would not cooperate. We asked people we had spoken to in the queue who were now in the smoking area to get the manager and they came back and told us she had said she was too busy. These same people were also warned not to speak to us by the bouncer who refused us entry which seemed completely unreasonable, after another half an hour finally the manager came out to speak to us, we asked her name which she said was Beth, at this point the doorman we had dealt with finally told us his name was Damian. Beth agreed that we did not seem drunk but despite this we were still refused entry and she clearly did not care at all, so we left.
The next day we rang up the Roxy to make a complaint. The man we spoke to, Simon, claimed to be the general manager. I am not someone who usually makes complaints about places but I found him incredibly unreasonable and unhelpful. Despite not being present on the night we were discussing, he made assumptions that we were very drunk and that Damian's behaviour was justified. He gave very generic excuses and insinuated our experience was an isolated one despite the numerous reviews I have read of people who've experienced something similar. We asked him to contact us by email with what he was going to do about our complaint and he refused to take our e-mail address. Since the venue refused to take our complaint seriously I have been forced to leave a poor review.
Would NOT recommend the Roxy unless you want to be victimised and unfairly treated by security who are on a power trip.
I went here in a group of 10 people on a Saturday night. It's very small and simple, but we ended up dancing until 3:30am - great night! And the mojito pitchers were very tasty :)