Heads up! We're working hard to be accurate – but these are unusual times, so please always check before heading out.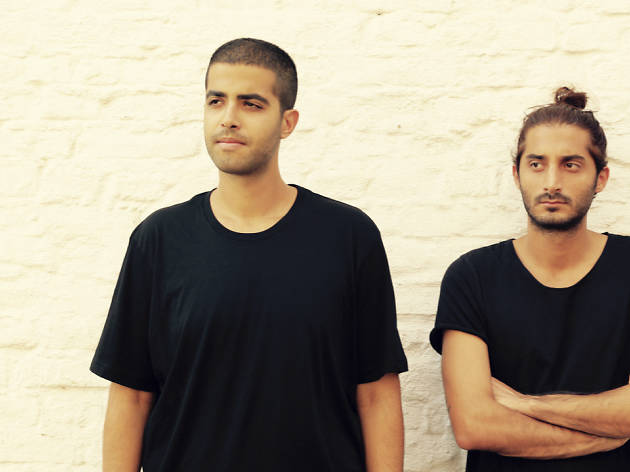 These men escaped Iran to DJ in London
What does it take to get a gig at Village Underground? For two Iranian DJs, it took two years in a Swiss refugee camp
Arash Shadram and Anoosh Rakizade, aka Blade&Beard, are the focus of 'Raving Iran': an excellent new documentary about the underground party scene in Iran. The dude-ish best bros spent years making music and putting on underground raves in Tehran – all under a strict regime where Western music is illegal. Last year, 30 Iranian students were given 99 lashes each for 'dancing and jubilating' in the country.
'Many people were scared of going to jail, but they were also hungry for partying.'
The pair – whose name was inspired by the difficulties of getting a job in Iran if you don't have a beard – tell me they first got into electronic music ten years ago after a friend living in the US brought them John Digweed's Kiss 100 CDs. Inspired by the techno of Steve Lawler and Mathew Jonson, they started putting on their own parties. 'We had to manage everything ourselves, from paying off the police to making sure everybody was safe,' the pair told me over email. 'Many people were scared of going to jail, but they were also hungry for partying. They didn't have the opportunity to dance, discover music or be together with the opposite sex.'
After the film details events such as the pair hosting an audacious desert rave (where female attendees were told to keep a hijab ready in case they were raided), the most powerful part of 'Raving Iran' is watching the boys get booked for a gig at Zurich's Street Parade festival, fighting to get the necessary visas and then deciding whether to risk staying in Switzerland and claiming political asylum. We hear one of the lads' mums tell them: 'We don't want you to come back – live your life.' It's a pertinent statement about the importance of cultural freedom – but while the doc ends there, it's not the end of Blade&Beard's story.
Shadram and Rakizade told me that claiming political asylum in Switzerland meant spending a difficult couple of years at a refugee camp in the Swiss mountains alongside other refugees from Syria and Iraq. 'It was very difficult to get asylum,' they explain. 'After the first interview they sent us to a different refugee camp. We had no communication with people on the outside as we were in this very small village outside of Zurich.' Thankfully though, the DJs were not only granted asylum in Switzerland, they've subsequently been booked for gigs in Berlin and Rome.
Now, Arash and Anoosh will be playing a DJ set as their London debut –prefaced by a screening of 'Raving Iran' at Village Underground this week. It's a huge moment for the two artists, who left their homes, families and friends to pursue their art. 'Being invited to Europe's capital city of nightlife shows that we are moving ahead,' they say. 'It's a milestone.'
Blade&Beard play Village Underground on Thu Apr 27 from 11pm-2am, with a screening beforehand.
Meet music's hardest working icon - The Black Madonna
It's hard to think of a DJ more loved across music right now as The Black Madonna – aka Chicagoan Marea Stamper. She's an exceptional DJ, able to keep a dancefloor peaking by deftly mixing between the worlds of disco, house and techno. Controversially, she also looks like she's having fun when she does it.