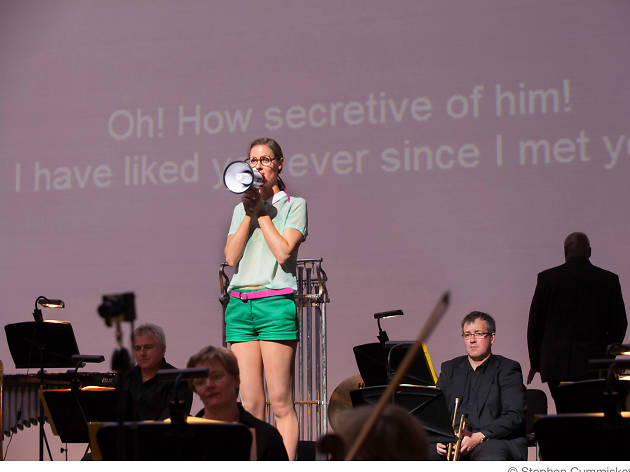 A first revival for Gerald Barry's excellent modern opera
This review is of 'The Importance of Being Earnest's 2013 run at the Royal Opera House
It is rare to attend what is clearly a contemporary musical masterpiece – a startlingly original and genuinely amusing modern opera, given here by a talented cast of singers and musicians. Even the music is funny – megaphones, smashing plates, a pastiche of twentieth-century avant-garde styles, including ridiculous vocal intervals and faux serialism – all from the brilliantly inventive mind of Irish composer Gerald Barry.
Of course, Oscar Wilde had a hand in it too, but the laughs in this opera lie in the dislocated, absurdist take on the original play – Wilde's definitive drawing-room-based comedy of manners. Not only does the score contain impromptu vocal variations on Beethoven's 'Ode to Joy' and the recurring theme of 'Auld Lang Syne', but Barry's script-editing deliberately leaves certain sentences unfinished.
Such an ironic take on the original, however, is also the problem with the piece. Barry's treatment renders the opera incomprehensible to those unfamiliar with the play. And surely such a madcap, modern scoring deserves to be balanced by a more grounded production to point up the disparity between the effete and formal Victoriana, on which it is based, and the actual reductio ad absurdum of its remake. But with the minimal designs by Ben Clark – a gently rising, stage-wide flight of low steps bearing vases of flowers – and harsh lighting, it is hard to see what Barry is sending up in director Ramin Gray's production. It is a case not helped by the cast dressed in modern casuals waiting their turn in the front row; even the obvious cross-dressing gag of Lady Bracknell in the shape of hilarious bass Alan Ewing is undermined by his wearing a man's pin-striped suit.
The small cast, though, was on top form, notably Hilary Summers (Miss Prism), Stephanie Marshall (Gwendolen) and Ida Falk Winland (Cecily), with strong turns from Paul Curievici (John Worthing), Benedict Nelson (Algernon Moncrieff) and Simon Wilding (Lane/Merriman). Occupying stage left, the Britten Sinfonia give a spirited performance under Tim Murray, playing, singing and even stamping their feet.
Clearly this breathtaking romp is not irreverence towards Wilde on the part of Barry, but rather a playful examination of the absurd and trivial world that Wilde created. But surely it requires a more traditional production to give the flights of fancy a context. So, a bit more Wilde next time, please. After all, it is his play.