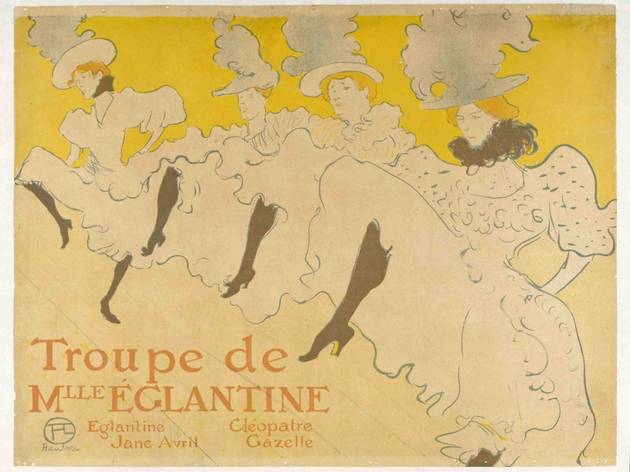 The Moulin Rouge was a ridiculous upstart on the Parisian scene when it opened in 1889, adorned by a fake windmill on its roof and a twice lifesize model elephant in the garden. There was already a successful club on the Champs-Elysées called the Jardin de Paris that boasted a puppet theatre, a fairground and a hall of mirrors in addition to its concert and music hall. But still the dancing girls and paying punters would gravitate uptown to the seedier delights of the 'Red Mill'.
There was no more dedicated a follower of the Moulin Rouge than Henri de Toulouse-Lautrec, whose pictures lined the walls and the poster hoardings outside. The era's star-turn and highest-paid dancer, Louise Weber (nicknamed 'La Goulue' or The Glutton, for her habit of eating and drinking off everyone's tables), was not Lautrec's favoured attraction, though, as is plain to see from his pinched, cross-eyed portrait of her from 1891. She even insisted the canvas was taken down from the lobby else she would not perform.
Instead of La Goulue's brazen high kicks and low-cut dresses, Lautrec was captivated by the fragile, waif-like figure of undercard performer Jane Avril, whose nickname was 'La Mélinite' after a brand of dynamite. She too hated this nightclub caricature because her sobriquet referred not only to her explosive skills as a dancer – which included bursts of feverish, awkward movements and deliriously flailing limbs – but to her time spent in a mental institution called La Salpêtrière, which was formerly better known as an arsenal.
Lautrec painted Avril often – mid can-can on the greasy boards, both on her way to and from the Moulin Rouge, or seated in her finery, chatting among the top hats and updos (she's the flame-haired lady seated with her back to the viewer, next to a diminutive Lautrec, in his atmospheric 'At the Moulin Rouge' of 1892-93, pictured above). While the painter undoubtedly respected Avril enough to place her in such polite company or in elegant off-duty mode, he also painted her as a sad and vulnerable character with gaunt features and hunched shoulders. This unflattering light was at least partly accurate, given that she was often referred to as puny and childlike in appearance, or even as a wounded, hopping bird. Yet the Courtauld's superb little show, 'Toulouse-Lautrec and Jane Avril: Beyond the Moulin Rouge', reveals far more than just a mutual bond of pity and admiration between two lonely ships passing in the night, suggesting that artist and muse were somehow kindred spirits, despite their very different backgrounds and fortunes in life.
Unkind accounts describe the aristocratic Lautrec as a drunken, disease-riddled dwarf who dragged his stumpy pegs behind him with the aid of a cane. Such snide observations weren't without some truth: his legs stopped growing after breaking both femurs as a boy, but he also suffered from a genetic bone disorder, as well as various bouts of venereal disease and chronic alcoholism – all of which hastened his early death in 1901.
Avril also had a rare physical condition known as Sydenham's Chorea that caused her to fit and twitch nervously, hence her hospitalisation at the old munitions factory turned mental institution. There she would take part in the annual 'Bal des Folles' or Ball of the Madwomen – a photograph of which here shows the poor patients dressed up as half-witted harlequins and blank-faced Pierrots. Evidently Avril's jerky, unconventional moves were down to this disposition (also referred to as 'St Vitus's Dance'), as one commentator noted: 'These feet, which she hurled out to all quarters about her, seemed as though they were held by only a string to her rubber body. She drew all the art of her pirouettes from instinct [and] would often still be dancing once the orchestra had stopped.'
Applying a ghostly green pallette to the pallor of many a sitter made Lautrec's subjects look notoriously ill and deformed, but perhaps he found a true mirror of his own ailments in Avril's wobbly frame and 'sickly grace'. Through the haze of drinks and danseuses that engulfed him at the Moulin Rouge, Lautrec zeroed in on this melancholic figure as if to reconnect with a reality that was rapidly slipping away from him. A few weeks before suffering a major breakdown in 1899, Lautrec drew Avril in the throes of a snake's embrace, writhing as if in ecstasy or, perhaps, in pain. He died two years later aged 36, only a decade after his beloved Moulin Rouge opened its doors. In short, this exhibition presents a few of the most heartbreaking works of a sometime staggering genius.