Heads up! We're working hard to be accurate – but these are unusual times, so please always check before heading out.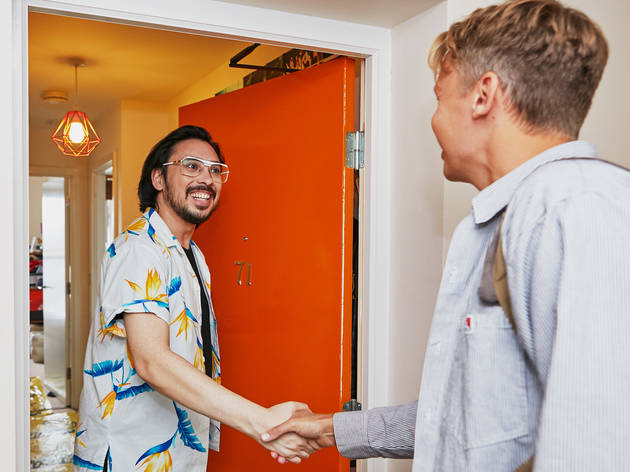 Five great reasons to list your home on Airbnb
A bit of extra holiday dosh isn't the only reason to welcome visitors into your home. Here's a quick overview of the many benefits of being a host on Airbnb
Every Londoner knows that Airbnb is the perfect way to explore a new place. Staying in someone else's home means you get to live like a local, and spend your trip exploring your host's favourite places, rather than dodgy tourist traps. But if you've never considered being on the other side of the equation and being an Airbnb host, you're missing out, big-time.
Uslan lives in Hoxton, and began listing his flat on Airbnb after using the site while travelling. Here's what he had to say about the benefits of being a host.
You get to be the local expert
London's eclectic neighbourhoods mean it can be an intimidating city to visit. Your recommendations as an Airbnb host mean you're guaranteeing your guests get the most out of their trip, which means bags of travel karma for you. 'I really enjoy meeting the guests and sharing my local knowledge.' says Uslan. 'I'm a born an bred Londoner and have a real connection with the area I live in. Being able to share a couple of those hidden gems to guests wanting to explore the areas is genuinely pleasing.'
The money helps too, of course...
Warm 'n' fuzzies are all well and good, but one of the brilliant things about being an Airbnb host is that someone else's trip basically pays for yours. London hosts on Airbnb earnt an average of £3,000 last year, so you needn't be Rain Man to work out that hosting your home for a week whilst on holiday could take a big chunk out of the cost of your trip. 'The money has made life more enjoyable, coming in useful for things like travelling or football tickets,' says Uslan. 'Actually, considering the latter it's probably added more stress and despair to my life!'
It makes you more house proud
There's nothing like the imminent arrival of an excited traveller to motivate you into keeping your place looking spick and span. 'My place is a representation of me,' says Uslan. 'I guess I want those staying to have a good impression of what I'm about, in addition to having a comfortable stay.' Just make sure the habit sticks until the next time you bring a date home.
It's safer than leaving your place empty while you're away
Ever been struck by that feeling – as soon as the captain switches on the seatbelt sign – that you left the patio doors unlocked? With someone else in your home, there's no need to panic. Airbnb hosts and guests can communicate easily through the app to iron out any issues. Thankfully, for Uslan, any such drama has been minimal. 'I think guests have far more mundane questions than I imagined, which is actually rather nice,' he says. 'Although attempting to explain how to turn on my TV to guests via text messages can be bizarrely tricky!'
Proper reviews mean stress-free letting
Worried that nice-looking middle-aged couple might be planning a thrash metal party at your gaff? All Airbnb hosts have the option to pre-approve who they let their place out to, with reviews from past hosts helping you to make an informed decision. And if someone does get a bit squiffy and spill some vino on your rug, you can make a claim for the cost under Airbnb's Host Guarantee. So, once they're booked in, how does Uslan prepare for guests? 'Panic! No, in all seriousness, I get my place in order and make sure I've packed my own bags. Oh yeah, I also make sure there's a pint of milk and the tea and coffee is well stocked – I'm not sure I can cope without a cuppa, I'm just going to assume my guests feel the same!'
How to get started as a host on Airbnb

1. Create your listing
All you need is a few words about your home, some good photos of the space (remember to have a tidy-up first!) and you're ready to go. What you charge is up to you, and Airbnb's pricing tool can help give you a ballpark to get started.
2. Choose when you want to host
With Airbnb, you're in complete control of your home – just mark on the calendar when you're open to guests and wait for the bookings to come in. Airbnb even has guides to help you get your place guest-ready (you'll have to do the washing up yourself, though).
3. Get paid!
Time for some sweet, sweet moolah. Airbnb takes a 3 percent service fee, but the rest is all yours, and you can choose how you want to get paid. Don't have time to check your guests in? There's always the option to enlist the services of a third-party host management company to make sure things go smoothly.
To find out more and to start hosting go to airbnb.co.uk/host