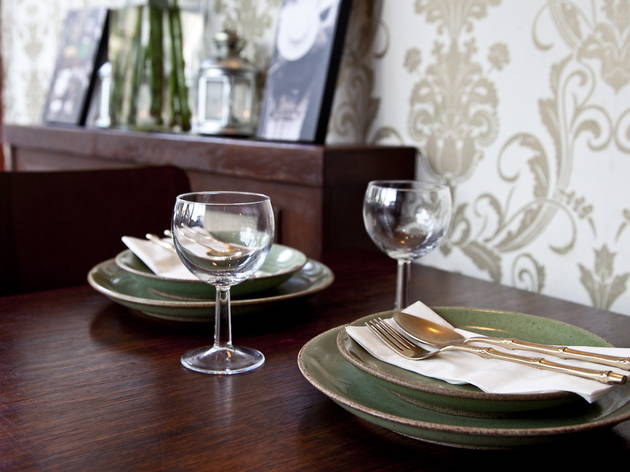 This informal Earlsfield restaurant - right across from the station on Garrett Lane - bills itself as a café, which is just about right. The food here focuses on Thai and Indochinese crowd pleasers.
Expect, then, dishes ranging from duck springs rolls, dim sum, Thai beef salads and roasted fillet of cod with tamarind and chilli jam to beef panang, Thai red curry, pad Thai, hot drunken noodles, laksa and tom yum. Regional set menus are also on offer - all named after areas of Thailand that send backpackers giddy.
A well-informed wine list features bottles from big-hitting wine regions from across the globe, with each bottle given decent tasting notes. The Amaranth specials such as ginger beer with lemongrass and chilli, and Thai iced tea with milk sound good.
Venue name:
Amaranth
Contact:
Address:
346-348 Garratt Lane
London
SW18 4ES

Opening hours:
Dinner served 6.30-10.30pm Mon-Sat
Transport:
Tube: Earlsfield rail or bus 44, 77, 270
Price:
Main courses £8-£10. Set dinner £16.50-£22 3 courses. Unlicensed. Corkage (wine) £2.75
Menu:
View Menu
Do you own this business?
You may be interested in:
Average User Rating
4.3 / 5
Rating Breakdown
5 star:

8

4 star:

3

3 star:

0

2 star:

2

1 star:

0
Hadn't been to Amaranth for a few years and was really pleased to return. It's smarter than before, there's no BYO and the prices have gone up a bit however the food was superb, it's still very good value and we had really excellent service (friendly and efficient). Took some friends who live in Thailand and feeling from all of us was that it was really good quality with authentic ingredients and wide-ranging menu. Will be going back as soon as possible.
We come here at least once a month. Not only is the food full of flavour, very good sized portions and well presented it is very, very well priced. You will need to boom in advance as it is consistently busy. It's a quaint and small restaurant but the food really is great! BYOB is a massive benefit. The rice portions look small but they really fill you up especially as the size of the meat/veg dishes are quite large. Service is always good and the people that work there are very happy to help!
Two stars is about right, this is Thai food for western people rather than Thai food for Thai people. I came here once, a few years ago and the food was only so so. The only redeeming dish was the spicy fish. We asked for two rice and was brought rice in a small canteen, the staff saying it was a two person serving. I looked around and other diners has a small canteen one to themselves. I wasnt that happy that I was charged £5 for one small portion of rice. I felt duped. One good thing is the BYOB, by the time you have drunk 6 beers, you dint really care that the food is only ok.
Amaranth is the best for quality / price. The place is small but nicely decorated. It is better to book in advance because it is always busy. Recently they opened the new take away shop down the road. They do not serve wine or beer so you have to bring your own one. The food is really good and the set menus for 2 give you a taste of 8 different things, starting for just £16. The only downpart is the ugly toilet ;)
Aside from the admittedly excellent value, I can't quite fathom the popularity of this place. It's by no means bad and is fine for a cheap and quick midweek bite, but after quite a few visits I've found it very hit and miss. With the exception of some decent starters & curries, I've eaten a lot of pretty bland food in here - the pad thai referred to in the review being one such example. Another big gripe though is the 'get em in and get em out' service. It's impressed upon you as soon as you walk in that you need to be out by x time. We've ordered mains that have been delivered to the table within a couple of minutes. There was also the memorable occasion the waitress tried to take away our plates three times whilst we were still eating. On her third attempt my girlfriend succumbed and just let her have it. All this nowehere near our exit deadline by the way. I appreciate it's cheap and a place like this depends on a high turnover of custom but Amaranth sometimes pushes it to a point where the meal ceases to be a pleasurable experience. As I said, ok for a cheap, no frills dinner in a hurry but really not a great (5 star!?!) restaurant. For better food and a more relaxed and enjoyable evening head to the excellent Ka-Chi (Korean) about two minutes up the road.
Only ever had takeaway and it's really one of the best (and now the only) Thai place I'll get from and I live in the Earlsfield area. I just wish it was open on Sundays, I always forget :-( Everyone deserves a day off though!
Don't let this review sway you - see for yourself why the place is full pretty much every night and why people go back again and again. We frequently order their canapes for dinner parties at home and they are truly exceptional. I live in Thailand a lot of the time myself and have pretty strong opinions on Thai food. The fact that the reviewer was ordering Pad Thai and Som Tam together raises immediate questions about their knowledge of Thai food, flavours and what dishes go with what. Maybe 2 stars was what this restaurant needed to make the real customers spring up in defence! Thai food is always a matter of personal taste. If you sit around any table in Thailand it is likely that most people will have their own opinion about the best balance of flavours for any of the dishes above. To stand up as an 'expert' requires some real self-belief. Don't listen to reviews - taste their food and decide for yourself. Restaurants like this don't thrive for as long as they have for no reason.
2 stars? Really?! Great food, reasonable prices and BYO. A great local restaurant in Earlsfield that deserves 4 stars at least. Don't be mislead by the 2 stars given by timeout!!!
I've loved this restaurant being a local to the area for the past 10 years. Conveniently located next to Earlsfield station it offers a delicious range of Thai treats. Yummy green curry!
Absolutely amazing Thai food. Defintely the best I have tasted, period. Cheap and great service. Will be going back again and trying the take-away menu. Well worth popping into the take-away next door as it sells the meals as frozen and lots of other essential Thai cooking ingredients.