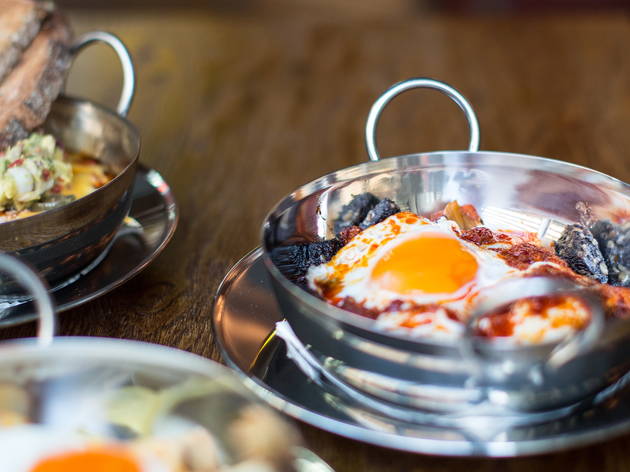 1/6
© Helen Cathcart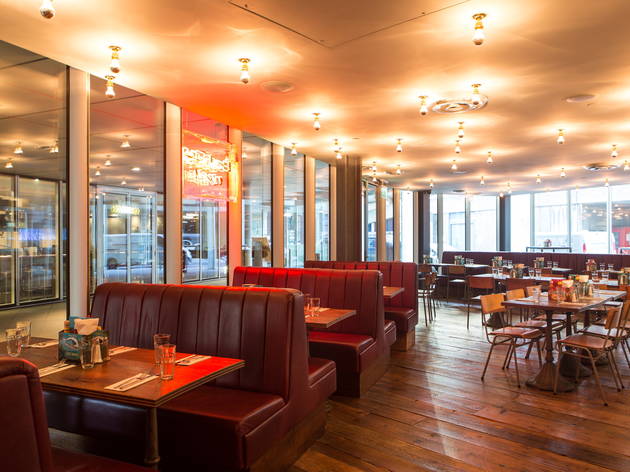 2/6
© Helen Cathcart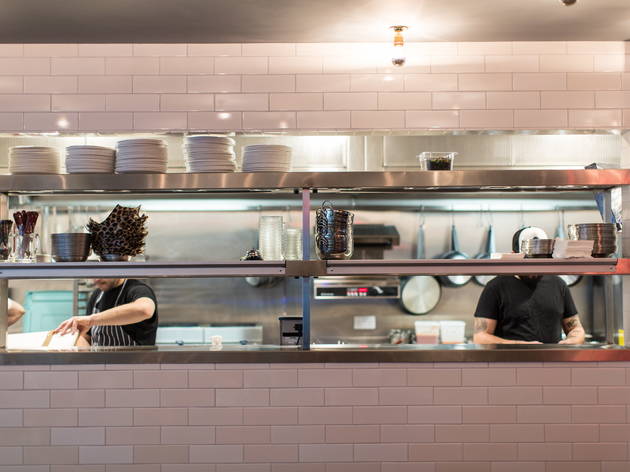 3/6
© Helen Cathcart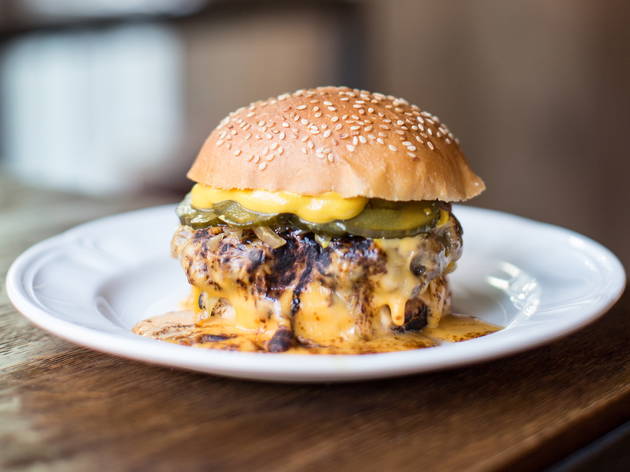 4/6
© Helen Cathcart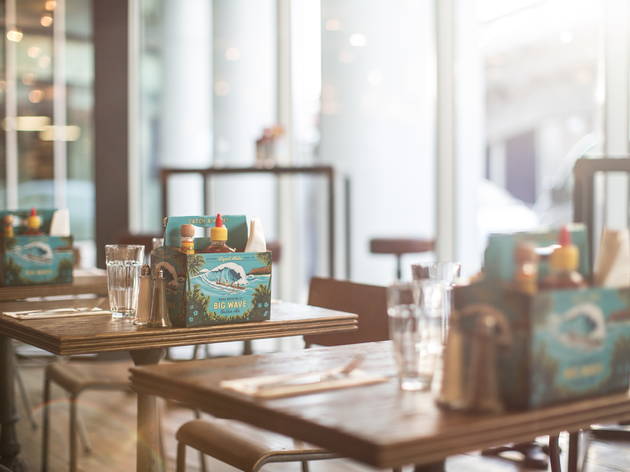 5/6
© Helen Cathcart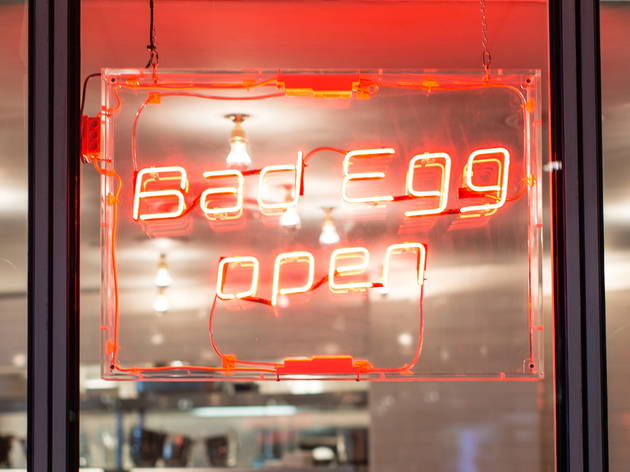 6/6
© Helen Cathcart
Time Out says
A City brunch spot with a diner feel.
Sat in the brutalist shadow of the Barbican, Bad Egg's an idiosyncratic little brunch spot. Run by London 'barbecue king' Neil Rankin – his CV a where's where of ace meat joints, Pitt Cue, Temper and Smokehouse among 'em – it's a 'permanent pop-up' (their words) turned actually permanent. Long occupying the premises of the suity Little Smoke restaurant on Saturdays and Sundays, it's now taken over proper. It's maniacally popular: waiting lists are weeks long despite the location, this part of the City an eerie dead zone on the weekends. That's all for good reason, though, as the food is fabulous. A mash-up of Tex-Mex diner-style grub (nachos, tacos, buffalo rib tips, sandwiches et al) and more modish plates (guacamole, pulled pork and kimchi on toast, 'macanchini' balls and so on) the menu is a relentless parade of fiery, funky hits. Clean eating this is not.
Famished/hungover types should hit the bottomless brunch: endless booze or softies (no mimosas for me, but the coffee was fine) plus three plates per person. Eggs abound. As do head-sweltering chipotle-infused bits and synthetic cheese. A bowl of 'Bad Ass nachos', slathered in green salsa and topped with a fried egg, was a cobweb-blasting treat; as was the little pot of crusty, chewy buffalo rib tips, coolly tempered with a blue cheese mayo. A deconstructed cheeseburger hash was a mess of meat and melt, with all the humming unctuousness you'd expect from a Rankin dish. 'Nduja cheese covered fries? A no-brainer. The scrambled egg and guacamole breakfast tacos seemed positively restrained in comparison. This is unrepentantly filthy stuff. Make the schlep and wallow away: being bad never tasted so good.

Details
Address:
Unit 1B, City Point
1 Ropemaker Street
London
EC2Y 9AW

Transport:
Tube: Moorgate
Price:
Brunch for two with drinks and service: around £80.
Contact:
Do you own this business?
Average User Rating
3.5 / 5
Rating Breakdown
5 star:

9

4 star:

9

3 star:

8

2 star:

5

1 star:

2
I booked the Christmas Crunch at Bad Egg weeks in advance as it sounded like a fun and novelty xmas experience. However, the evening was a bit overpriced (for the food) and flat all round. With a cool vibe when you walk through the door, I had high expectations but they didn't quite seem to follow through. The food was a bit blah with my burger sticking to the bottom of the dish as if it had been microwaved in cheese sauce. The salad side tasted weird and we had to constantly bargain with the staff for bottomless top ups while they were focusing on the larger Xmas party tables. Without sounding like a Granny, we eventually got moved to a sit down table after being on bar stools because it was so noisy I couldn't hear my friend speak. This was just OK but not the best service or food and wouldn't think about returning when there are so many better organised bottomless options in the city.
I booked bad egg for my birthday after reading excellent reviews of it in timeout magazine. I did some research and 3 courses for £35 seemed like very good value. I paid an £130 deposit on the understanding that this was the deal I was getting. However, when we arrived we saw that it was now only 2 courses for 35, suddenly not such good value for money. I had several conversations with the resturant prior to coming, confirmed twice and at no point did they mention this change.
The service wasnt particularly good, they repeatedly messed up our orders and made mistakes. One of my friends wanted the a la carte menu and was told she couldn't have that on a table that was doing the Bottomless brunch, despite me ringing up the day before and being told she would be able to.
We felt pressured into paying a large service charge despite not being happy with the service. Although the food we had was nice I felt making us pay more for less was poor form.
Service was excellent, booze was excellent, food tasted good but there was BARELY ANY OF IT! Tiny portions! I've been to ALOT of bottomless brunches, and had way more food of the same quality for less money than Bad Egg offers! A had a lovely time, but would choose an alternative place for my future brunching needs!
What a lovely restaurant, good food and service and atmosphere, definately hope to go back. The roasties were YUMMY!!!
Great food all of the prosecco and a great vibe!
Went to Bad Egg with a group of friends for bottomless brunch.
It's fairy good value for 35 pounds, but I thought the three dishes were very small and not that exciting. The granola was nothing special and the pancake with maple syrup tasted like something I could have made at home. The mac and cheese arancini were by far my best plate. The service was great and we definitely drank enough prosecco to make the whole thing worth it. I would go back again, but be aware the three plates are very small.
Went there yesterday with friends. The service leaves a lot to be desired as does the food which I found quite bland. You're essentially paying £30 for 3 starters and cheap plonk which is fine if you stay the two hours and get your money's worth. Got very annoying when the waiters have to be called every time you're ready to order your next round. They just don't bother to check on the tables they're waiting on. Not even a 'goodbye, thanks for coming'. Not sure I'll bother to go back again.
Brilliant food.. well priced with great attentive staff