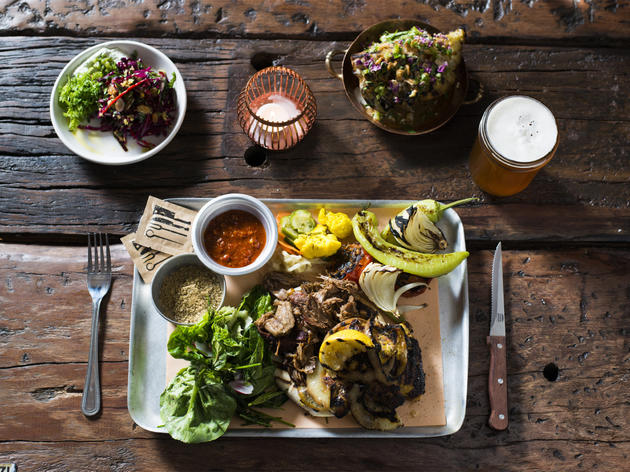 1/8
© Jamie Lau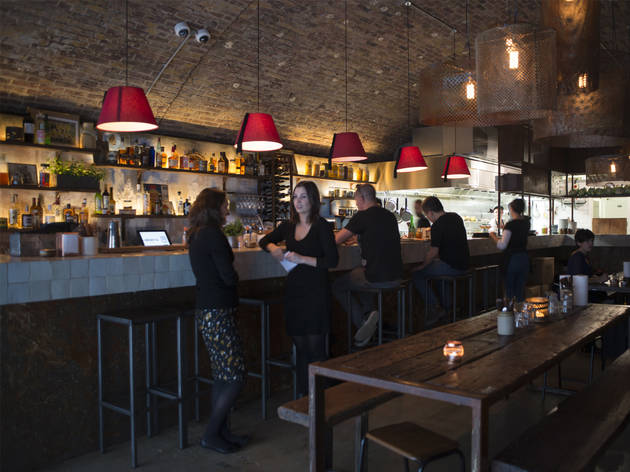 2/8
© Jamie Lau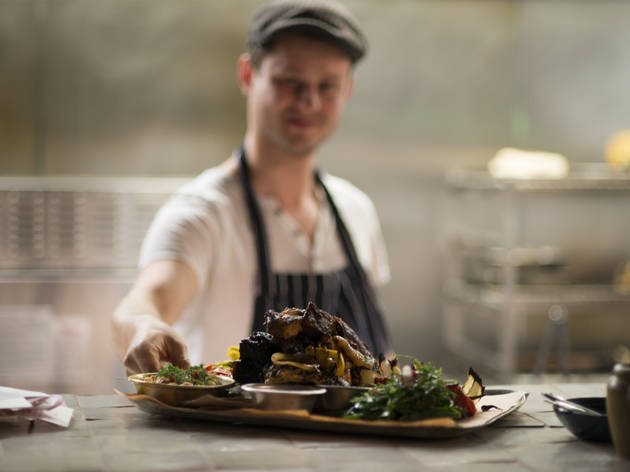 3/8
© Jamie Lau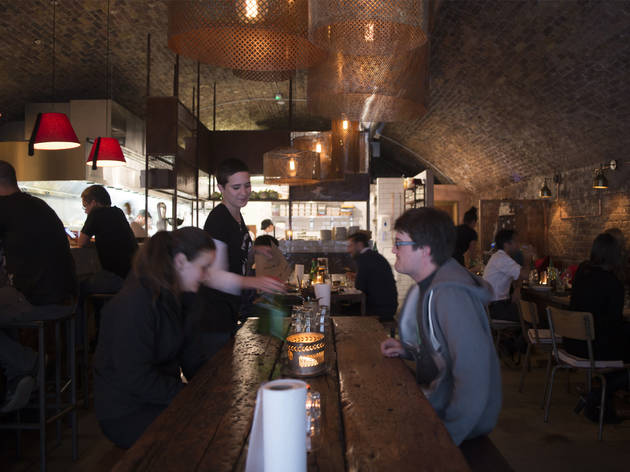 4/8
© Jamie Lau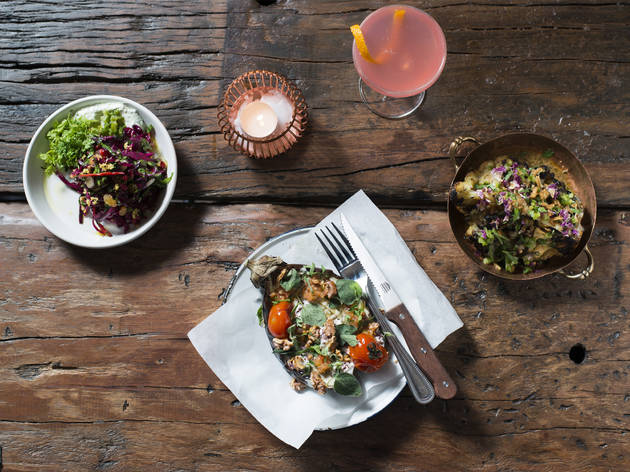 5/8
© Jamie Lau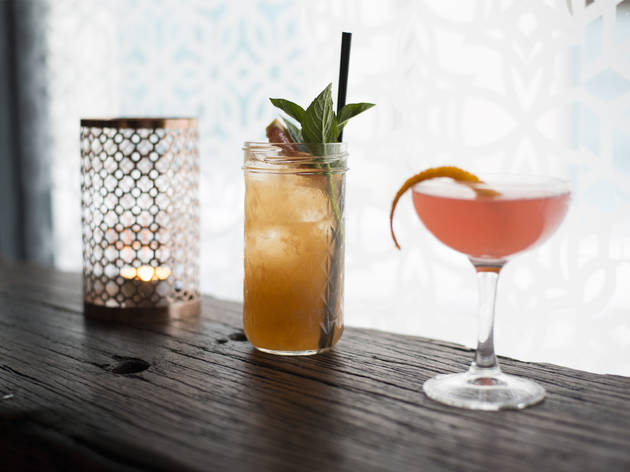 6/8
© Jamie Lau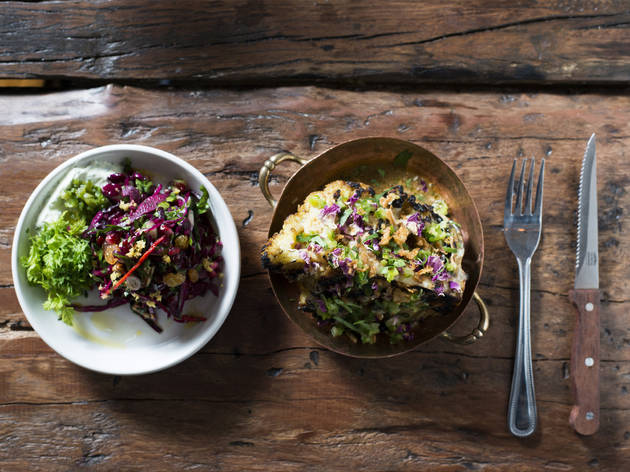 7/8
© Jamie Lau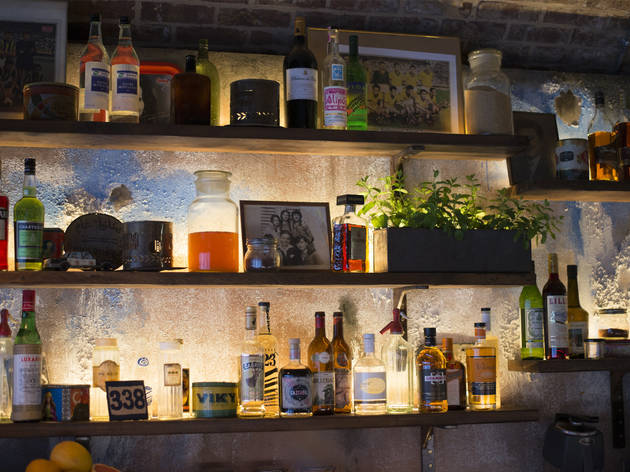 8/8
© Jamie Lau
Time Out says
A hip Middle Eastern and North African grill house in Haggerston from former Ottolenghi and Galvin chef Josh Katz.
If Fred Flintstone opened a dinosaur steakhouse, he'd do it in Dalston. This north-east nexus already has more places to eat great hunks of meat than Bedrock, yet there always seems to be room for more. Perhaps it's this safety in numbers, surrounded by London's densest concentration of Turkish barbecue restaurants, that led chef Josh Katz to open a Middle Eastern grillhouse on the southern fringe of Dalston, where yet another pall of smoke is unlikely to attract attention. But that's cool for Katz, because the cool factor and quality of Berber & Q still marks it out from the crowds.
B&Q's tucked away in a cave-like railway arch in a back street. Dance music hits you on crossing the threshold. The vibe's like a bar or nightclub, except that here the staff greet you like old friends and guide you to a low-lit table. Their uncontrived charm is sustained for your entire visit.
As at many of Haggerston's other eateries, a Turkish mangal (charcoal grill) is central to the kitchen for searing meats and many veg. But Katz's magic carpet has visited many places in search of inspiration. Joojeh, the Iranian dish of saffron- and lemon-marinated chicken, is served alongside shredded spit-roasted lamb, inspired by the Moroccan dish mechoui. That's as close as the menu brushes to the simple rustic food that typifies Berber cooking, before it then flirts with more sophisticated Lebanese, Egyptian, and Sephardic Jewish dishes. You could describe the kitchen as 'Arabesque', but Arabian it ain't.
As at many barbecues, the pickles, sides and vegetables are more interesting than the meat. Chunks of beetroot are served on whipped feta and garnished with candied orange; grilled asparagus is served with toum, the Levantine version of aioli, then garnished with mustard seeds. Dill, coriander leaves and pomegranate arils are used as garnishes.
The music ramped up at 9.30pm to deep house, and – hell yeah – that drinks list beckons. If you don't fancy a growler, or sucking down an Israeli or Moroccan lager, there's a deeply unusual list of wines from Turkey, Morocco, even Georgia. We suggest sticking with the cocktails, which are well made for £8. By the time you've had a couple of these, you'll be ready to yell 'Yabba dabba doo!'.
Details
Address:
Arch 338
Acton Mews
London
E8 4EA

Transport:
Haggerston Overground.
Price:
Meal for two with drinks and service: around £70.
Contact:
Opening hours:
Tue-Fri 6-11pm; Sat 11am-3pm; Sun 11am-3pm, 6-10pm.
Do you own this business?
Average User Rating
4.2 / 5
Rating Breakdown
5 star:

8

4 star:

7

3 star:

2

2 star:

0

1 star:

1
Berber & Q is something else!! The most delicious food I have had in a long time .
Just superb. Have now been 4x times and sampled most of the menu. Grilled meats perfectly cooked and all the veg dishes great also. We have several vegetarian friends who love it.
The place has a great laid backed vibe and service is v friendly.
The queues can be long on Fri/Sat night but they let you put your name down and drink elsewhere or go on a Sunday night if you don't like queueing
Try and order as much as you can! It's extremely satisfying being served a tray worth of delicious food. A great mix of dishes that has something for everyone and enough on it so you still want to come back to try something different. Already been there twice and not sure where this rumour of load music comes from!? Both times it just felt like a lively / bustling restaurant in a railway arch. Make sure you get your soft boiled egg on your hummus! I'll be going back again.
Went there a few weeks back and had the best time, returned last night and bitterly disappointed. Might have been the early arrival but the cauliflower tasted like it had been doused in lighter fuel, the wine was caustic, a serving of mixed pickles was little more than a tablespoon and only consisted of gherkins and a bit of cabbage and the chilli sauce on the side was barely enough for one mouthful of food.
To top it off we had to sit through heavy hip hop instead of the excellent house music they usually play and had been a real draw factor for me. It was little better than a a good Turkish kebab house last night rather than the top restaurant it claims to be with the high prices to match - felt very annoyed at paying so much for what was no better than my local Turkish. Really shame as I had been craving the cauliflower since my last visit - clearly a hit & miss place or trying to cut back I so won't be back.
Can you book? No (but the wait is pleasant and not too long)
Food: 10/10
Atmosphere: 8/10
Price paid per person: £40
I emailed Berber & Q a few weeks before going to ask if they would consider bending their 'no reservations' policy, for no real reason other than fear of being turned away and sulking all the way home. They said no, but in a very friendly way, so we made it our business to get there early last Saturday evening and arrived just before 7pm. It isn't a large restaurant, there are two sharing tables running along the centre, another five or so smaller tables against the wall and a few seats at the bar. We were told the wait could be up to an hour so put our names on the list and were advised to enjoy a cocktail either at the bar or either of the next door bars but to stay close as we would receive a call.
We opted for Draughts on the left, London's first board game cafe, serving cocktails strong enough to get even the tamest gamers into the competitive spirit, but only two rounds in to a game of "put random items in chronological order by year of invention" we got the call, dropped our cards and ran. It's questionable whether it was the call or choice of game that made me run.
The menu isn't massive but when there's only two of you and you both want to try everything, it feels big. I should say at this point that my keenness was down to the chef Josh Katz, previously at Made in Camden and Zest, the kosher restaurant in JW3 of which I'm a big fan (note Berber & Q is not kosher). Anyway, who wouldn't be tempted by this mission statement:
"Grilled & smoked meats cooked over charcoal
Mezze from the East, music from the West
Beer by the growler, cocktails, pickles & pita"
I enjoyed a 'top shelf' (bourbon, cider brandy, maple syrup, egg white and baharat) whilst deciding and people watching. The crowd was late twenties/early thirties and trendy. There was fairly loud house music playing that gave off Saturday night vibes, but interestingly they had completely different music in the toilets, much calmer traditional Middle Eastern music.
With the help of our charming waitress we ordered a generous selection of meat and sides, specifically the hand-pulled fore-quarter of lamb (Mechoui), joojeh chicken thighs, smoked short-rib beef in date syrup glaze, mixed pickles, aubergine, beets with whipped feta, cauliflower shawarma in tahini and smoked beans with lamb neck.
All the meat was fantastic, my only niggle was that the lamb was a tad too salty. The aubergine was a little on the boring side, but the other sides more than made up for it, especially the cauliflower shawarma that had crispy baked ends and the smoked beans with lamb that was like jazzed upcholent. I really enjoyed the festal nature of serving everything on one big informal platter. Not only does it lend itself to sharing but the flavours all mix together and underneath it all you have deliciously meat-juice-soaked pita with which to capture stray pieces of meat.
After a substantial break in proceedings, we took a look at the dessert menu and couldn't resist the chocolate and cardamom mousse and two Turkish coffees. The bottom layer of rich dark chocolate was deliciously offset by a little cardamom flavoured sour cream on top.
We ordered more than enough and had cocktails so it wasn't cheap but it's completely worthwhile. The atmosphere is great and the food is extremely impressive.
Snap up exclusive discounts in London
Time Out's handpicked deals — hurry, they won't be around for long...