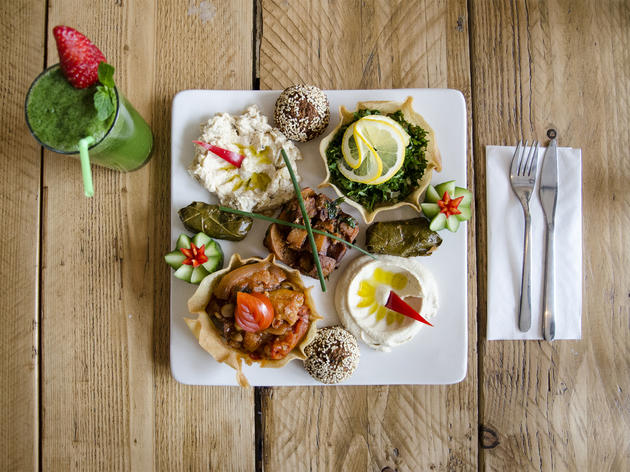 Beirut comes to Balham at this friendly Lebanese joint, where you'll find a repertoire of Middle Eastern mezes, grills and stews.
You may fear you're walking through a building site when entering Beyrouths – with its bright lights, rough-hewn woods and huge metal scaffolding poles (a deliberate design element) – but this branch of the Lebanese mini-chain is a surprisingly polished operation. The food of Beirut is the kitchen's forte. Friendly, efficient staff dish out a roll-call of crowd-pleasers: from well-made houmous (garnished with virgin olive oil and fresh pomegranate seeds) to juicy pieces of grilled lamb and deliciously smoky baba ganoush. Vegetarian stews, such as okra served with vermicelli rice and garlic yoghurt, are also worth a punt – especially given the decent portion sizes.
Venue name:
Beyrouths
Contact:
Address:
73 Bedford Hill
London
SW12 9HA

Opening hours:
Open 11am-10pm Mon-Fri; 10am-10pm Sat, Sun.
Transport:
Tube: Balham; Rail: Balham
Do you own this business?
You may be interested in:
Average User Rating
3.6 / 5
Rating Breakdown
5 star:

6

4 star:

3

3 star:

1

2 star:

2

1 star:

2
This place used to be super. I used to live it. However the chef has changed and thry have just changed the menu again. I will never return now. They have gone all stingey with their portion sizes and offerings. The portions we're reduced and the quality of the meat was inferior to what it used to be. They also have revamped the menu to the point that nothing comes with the meal platters which were previously competitively priced but are now overpriced. Apparently they ran out of garlic sauce which is a very standard accompaniment to Lebanese food during the middle of the Saturday service. They cou easily have ducked to the sainsbury's (which is next door) to get some more garlic etc to make the sauce. This place is unfortunately a place that was excellent but now is crap. Sack your current chef and bring back the old chef and the. Decent affordable menu
I brought my mother in law here for her birthday along with the rest of my family. An expected pleasant lunch turned into being there nearly 3 hours for 2 courses. The table wasn't even ready and I had booked the day before. 2 of the meals were cold and 1 undercooked. They had 4 things missing from the menu. My sister found a fruit sticker in her smoothie and the waitress didn't even bat an eyelid.
All in all a bad lunch :( Very disappointed. So I wrote to them to see if they could redeem themselves and offer us something before writing this review - sadly a week later no response. Am I surprised? No......
Delicious food, great juice options and consistent every time I've been. The decor is a bit bare and chairs are a bit uncomfortable but both are forgivable
Great lebanese food and BYO. Corkage is reasonable
Absolutely fresh food. I have eaten in Lebanese restaurants before but there is something very different about this place. A small cosy and un-intimidating. Our food was great and the Chicken cubes were the best I have ever had, juicy and full of flavour. The best part of the evening was taking our favourite bottle of wine and paying just £2 corkage, it's a steal. I highly recommend this place if you are not in a hurry for food as everything is cooked to order.
Disappointing, disgusting and quite honestly horrific dining experience at Beyrouth's Balham on Tuesday night.
My parents and I brought guests (one of which was from overseas) to the Balham restaurant with the promise of a lovely meal with good service, that night however this was not the case. We all ordered lemonade, however less than half way through my lemonade I came across a something hard in my drink. I pulled the piece out of my mouth and to my absolute horror it was a finger nail! I dread to think what I had already consumed before making this discovery, there are no words to describe my absolute disgust. I proceeded by showing the waitress and asked her what she thought it was, after she looked at it for a while she looked up, smiled and said 'I think it's a nail', I was left in disbelief at her reaction! She offered to replace my lemonade, however I opted for the safer option of water. I feel sick to the stomach now knowing that someone else's finger nail was in my mouth!
As we had already ordered at this point, we decided to give the restaurant the benefit of the doubt and stayed for food even though I had completely lost my appetite. The 5 mezze we ordered as starters came out fine however on problems occurred with the mains. On placing the order for mains, I asked for 3 lamb dishes to which the waitress advised a platter would be better to which I agreed, I then ordered 3 x vegetarian mains as well. The waitress nodded and left, she did not write the order down neither did repeat the order back to us. So when the mains arrived we only received a meat platter, after 10 minutes I asked a different waitress when the rest of the food was coming, after checking she informed me that it would be 2 minutes. After a little while the waitress brought out a side salad we had ordered. After another 5 minutes I asked our waitress where the vegetarian mains were and she looked at me puzzled and said, you cancelled them. This was definitely not the case, how could she have got it so wrong there were 5 other people at my table that had heard everything I had ordered, also would general common sense not tell her that a medium meat platter was not enough to feed a table of 6 people as a main? She did take responsibility for her mistake, we asked to speak directly to the branch manager but were told he was not there. At this point our evening was completely ruined so we opted to pay our bill and leave… hungry!!
I understand that mistakes happen but I find this to be beyond ridiculous! I was left embarrassed and humiliated in front of all my guests after this experience. I am frustrated that we even paid over £66.00 when all the diners left the establishment hungry.
I emailed the Beyrouth's privately to give them the opportunity to look into the above and come back to with something, over 24 hours later I haven't heard anything back form them not even an apology with the promise of further investigation! Clearly they do not care about health, hygiene or customer service standards!
I can honestly say that this is the worst dining experience of my life!
The interior design at Beyrouths is school of bombed-out chic – all paint-splattered scaffolding, exposed ducting, black-and-white photos of dusty streets and rough-hewn tables and benches. It's a small place and on a windy day there was a bit of a gale every time the door opened. Grilled salmon and sea bass were fine but nothing special, a chicken shish was moist and delicious. Accompanying vermicelli rice was fluffy and buttery and so tasty you could eat it on its own. There are a few reasonably priced wines by the glass or you can take your own bottle (corkage is £2). The humus is so creamy and tahini-rich you'll want to polish it off with a finger if the bread runs out. Best thing on the menu, though, is the green lemonade, fragrant with masses and masses of chopped mint. It's worth going just for that.
Thank you TimeOut. This place is really cool it looks rough like a building site but it is cosy and relaxed atmosphere. Girlfriend and I enjoyed our evening last night. Food took a little time but it was fresh and tasty worth the extra 5 mins wait. Best thing I loved was the BYOB for £1.50 corkage. There wasn't much in the sweet section but overall great night. Definitely worth a visit.
Beyrouths still rocks. I had eaten in Streatham when they first opened but I wasn't aware of the Balham branch. Just had an amazing lunch, flavour and freshness in everything we ordered, and the punch line is that like for like, its not much more expensive than fast food.The pink lemonade is perfect for a warm day like today. Next time I'm going to try the new Wimbledon branch.
I didn' realise there were branches in Balham & WImbledon. I usually go to the one on Streatham Hill (20-21 The High Parade Streatham High Road London SW16 1EX). Food is extremely good and very reasonably priced, service excellent and friendly.. The starters are filling and they never stint on main course portion sizes so beware not to over-order. Highly recommended!
Had a great meal tonight at this eccentric looking place, I loved the century old newspapers on the wall. Food was all fresh and tasty but there is a distinct flavour in the grilled meat which I haven't tasted anywhere else. Pink lemonade is most certainly to die for. Service was good and we thoroughly enjoyed the experience. Definitely going back.
A quirky little restaurant hidden in the heart of Balham. The decor is trendy and modern (and metal) but also an intimate setting with very friendly staff. The baba ganoush starter was deliciously smokey and aubergine stew definitely one to write home about. One to remember for a good value, tasty meal and did I mention BYOB? Already planning my next visit