Bubba Gump Shrimp Company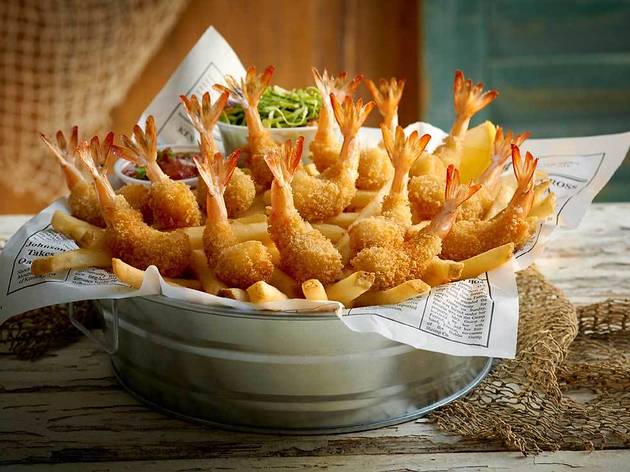 1/3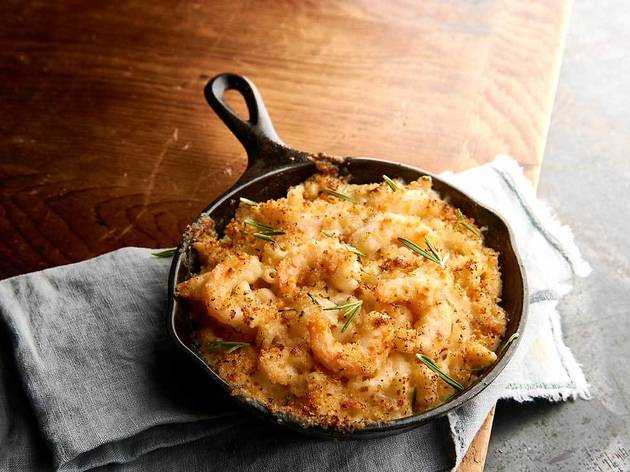 2/3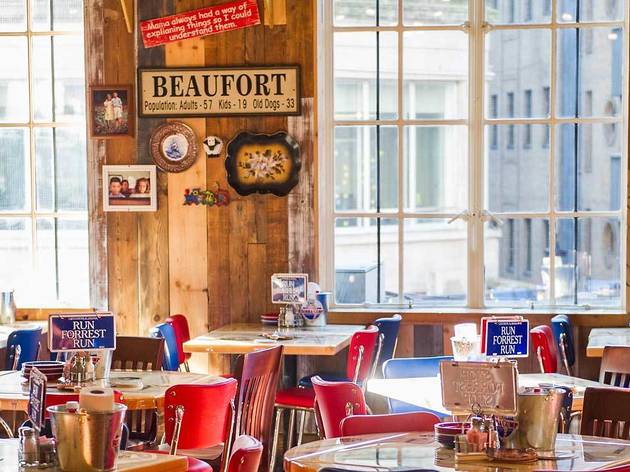 3/3
Time Out says
This is the London branch of the American chain themed with characters from the 1994 film Forrest Gump.
When is a cone of fries not a cone of fries? When it's really a cone of shredded raw cabbage, lined 5/6 of the way, with only the top inch or so filled with what you ordered. This is how they roll at Bubba Gump. On the menu, a glossy picture of the 'shrimper's heaven' selection (£19.95) implied four brimming cones, with three kinds of shrimp, and one of fries. But when they arrived, the cones were all deep-filled with cabbage; the advertised ingredient a decorative garnish. Doing this with costly shrimp is one thing, but with cheap-as-chips fries? That's just mean.
A huge theme diner based on fictional movie character 'Forrest Gump', Bubba Gump's Texas-based owners operate franchises across the US, plus in locations including Tokyo and Kuala Lumpur. Now it's London's turn. True to form, they've found the most unavoidable tourist-trap location (the NYC outpost is in Times Square) and have positioned themselves in the vast Trocadero Centre site which once housed Planet Hollywood, moments from Leicester Square. You even have to enter via a gift shop, where you can buy slogan T-shirts and other Gumpian memorabilia.
Once you get over cone-gate, the food is okay. Over-priced, sure, and often over-seasoned, leaving you gasping for one of the selection of overpriced sugary drinks they try to sell you. But if you like your food breaded and deep-fried to within an inch of its life, you're in the right place. Our seafood 'hush pups' (breaded nuggets of shrimp, white fish and corn) were not bad. Dips, unfortunately, taste as if they've come straight from a catering pack, and are best avoided.
The most upsetting thing about eating here, though, is the service. Well-meaning is better than aloof, but in this case, the over-eager staff, themselves drafted in from every nation, were like wasps at a picnic. Trained to be 'US-style' friendly, they were constantly intruding to ask 'how we were doing' ('fine, if you'd only go away and stop interrupting'), annoying us with snippets of Gumpian trivia, and quizzing us on our own Gump-based knowledge, 'because it's fun, isn't it?' (It isn't.)
Even on its opening day, Americana-by-numbers Bubba Gump was already filled with hapless international visitors. For this, we have to thank it – it'll keep the tourist hordes out of our favourite restaurants, leaving more space for the rest of us.
By Tania Ballantine
Details
Address:
Trocadero
7-14 Coventry St
London
W1D 7DH

Transport:
Tube: Piccadilly Circus
Price:
Meal for two with drinks and service: around £70.
Opening hours:
Meals served 11am-11pm Mon-Thu, Sun; 11am-midnight Fri-Sat
Do you own this business?
Average User Rating
2.8 / 5
Rating Breakdown
5 star:

3

4 star:

5

3 star:

5

2 star:

1

1 star:

7
I went and I had an amazing time...... if you have been to a BG anywhere in the states you will know that the quiz and the friendly staff are part of the experience. I think that here in the U.K (and I am a Londoner born and bred) too many restaurant staff are miserable, stuck up, unfriendly, inattentive and down right boring to be honest! When I go out for a decent meal I want to have fun and feel like I am a valued customer. That's what I love so much about this place and others such as the Cheesecake factory/Margaritaville/Hard Rock Cafe etc. I went to the London Gump anticipating the same type of service as I got in the U.S.A and I was not disappointed. I think that the staff who served me (who were from London themselves) were slightly shocked by my enthusiasm for the place but I'm in no doubt that people who like me have waited for this opening for so long, or have a Bubba Gump in their home nation will be so glad that London have not dulled it all down for the reserved and conservative British. Maybe if you had flipped over to your Run Forrest Run sign then you might not have been interrupted quite so much.
I have to agree that finding cones half filled with cabbage was a bit of a let down but I realise that it must cost a fortune to ship Shrimp over to the UK in the proportions necessary for this restaurant to function and keep the prices reasonable. My husband has had the shrimpers heaven in maybe 4 other BG restaurants and none of them were stuffed full with shrimp - they all had some cabbage in the bottom. Even with his gargantuan appetite he told me he would struggle to eat all those shrimp after a shared starter and before the to-die-for dessert. The fries though I have to concede could do with a bit less cabbage & more potato!!!! I was so glad to see so many of the same dishes as those available in the U.S and that the place is decorated to the same high standard.
I love BG and will be going back. Don't go expecting posh food (i.e two carrot sticks on a plate with a small medallion and some potatoes with a fancy name) - if you want to feel warm inside, really comfortable and welcome and enjoy decent food and a good time then put it on your to do list right now! If you can't stand themed restaurants, a fun atmosphere and attentive staff then my advice is quite clear.............go elsewhere!
So glad this has come over from New York: I've missed the coconut shrimp!
So much fun, great service, loads of food (too much even)
Everyone complaining about cabbage in the bottom of the cones is being SUPREMELY GREEDY. There is no way that anyone code finish all that shrimp if it was full. Myself and two friends visited yesterday our server Ilias was so helpful, recommended some great drinks and dishes. The flip sign they have to alert servers is a fun system and actually works (we didnt get quizzed on the film).
Prices are definitely on the steep end but it should be taken into account this is a seafood restaurant they're never exactly cheap and its obvious the main aim is for tourists.
The crab legs are offered at market price so the cost can vary I pad £22.50 and it was more than worth it. It was a struggle to finish and didn't know fish sweats existed until I tried to single handedly finish a pot of crab legs and rice and garlic bread and mashed potato!
My two friend were very upset as they were too full to eat any desserts!
Being huge fans of the film and having dined in 6 USA branches me and my partner was very excited to see after a long wait we now have one in London. After reading all the terrible reviews we thought it was gonna be nothing like what we have always experienced in the states. We were wrong, it was exactly the same, huge portions, tasty, great service, it made us feel we were back on our holiday in the states, ignore all the petty bad reviews on all these sites, and believe me, if you want fun themed dinning this is the best you will get in the uk! I've posted my review on all these sites as I can't believe how bitter and horrible some people are on here, yes it's not Burger King prices but you pay for the whole experience and it's central london at the end of the day. Go there, enjoy the forest gump theme decor, have fun with the friendly staff that quiz you on the film, eat some great southern cooking and just had a dam good time, it's great :-)
Avoid! Absolutely terrible! I have been to their restaurants in the US and they were good fun - this one is just inexcusably bad.
There were 3 people on our table and 2 of us had to pick a different main as they did not have any left. I can deal with this, but we then later waited for 45 minutes after ordering to be told that they did not have key lime pie either... You only have 5 desserts - how can you run out? And 45 minutes to tell us?
The food was incredibly poor. How hard is it to make fries? They were so salty they were inedible and even the coconut shrimp was tasteless.
At least whilst enjoying my average food and terrible service you could leave me in peace - but instead I have to make the effort to speak to an over-enthusiastic american man with bad body odour giving me a trivia quiz on forest gump.
Note to the manager: maybe reduce the time spent training staff on forest gump facts and a increase training on personal hygiene and waiting tables?
Oh and everything is grossly overpriced. £22 for some over-salted chips and deep fried prawns. Never again.
This is a one trick pony & you gotta love shrimps to get excited about the food here. It's a US chain based on the Forest Gump film which is a bit of a flimsy concept. The food was ok - 2 stars but the extra star is for the genius concept of Corona-Rita's - a margarita cocktail with a Corona beer mixer. They are sooo good & mean I will be back!!
We went there for dinner this evening and we were quite disappointed with the service in particular!
Our server did not ask us once if we needed anything or if everything was OK. He passed by us several times and even when our meal was completed, did he ask us how it was or if we would like dessert. When we asked if we could get a different drinking glass (glasses were complimentary with the drinks we ordered) he said yes. (after he took 15 minutes to take our dirty plates and give us our bill)
We then went downstairs to retrieve our glasses and the very rude store clerk told us that only the plastic cups were complimentary
Coming from Canada where we do not have any Bubba Gump Shrimp restraunts, we are doubly disappointed.
The chicken, shrimp, fried onions and French fries did taste good.
Signed,
Disappointed from Canada
It is not often that i would take the effort to complain about a restaurant or offer however on this occasion i was so shocked at how appalling the food served was that i felt that i had to.
I signed up for the Time out offer for the Bubba Gump afternoon tea for two costing £26.00 which in the description and picture looked like a good deal. We were aware that Bubba Gump was a gimmicky place and not normally the type of place we would go to but we wanted to give it a go and thought that this offer was cost effective way of doing it and getting to try a variety of dishes
WELL - we thought wrong!
We arrived with our 16 month in tow, we were shown to our seat and the waiter muttered something to us about red and blue sign and then walked away. We sat down and sorted ourselves out when the waiter came back and plonked the menus down with 2 crayons for our daughter - two crayons and no paper (useful) he also put all the knifes and forks right in front of her which might sound like a petty annoying mum comment but come on its common sense do not put sharp objects within reach of a toddler!
We told them we had the time out voucher and waited for our food. What was shortly served was NOT what we were expecting. We were give a platter of mini burgers with packaged sliced cheese on them. The burgers were thin and floppy yet burnt on the edges which is pretty impressive! They made Iceland burgers look gourmet. Also on the platter was some dry limp undressed salad and some of their prawns which were dripping in oil and tasted of fat! This was also accompanied by some crispy greasy 'onion rings' most of which were just batter and had not onion in them and some macaroni cheese which actually tasted of nothing. We felt obliged to eat at least some of the food because it had cost us £26 but it was so utterly revolting that we had to leave most of it. Thankfully i had brought our toddler a pack lunch - there was no way i would let her eat any other the rubbish served to us.
Our pathetic main was followed by a very sorry trio of desserts which again were all revolting and topped with spray cream - these were also hardly eaten
So all in all our bubba gump experience was a pretty disappointing and crappy one and one that will NEVER be repeated. We both left feeling sick and had horrendous heartburn for the rest of the weekend
If you are thinking of going there then dont bother - there are 101 better places within 5 minutes walk of this place so dont waste you time, money or tummy on this one
Posted by a very disappointed family
How do you review Bubba Gump ? If you want great fish you go to J Sheekey or Scotts. but if you want fun you come to a place like this. I read some of the reviews below and am pleased to say Cabbage did not feature for me. I had something called Net Catch and it came loaded with shrimp. I chose the spicy Cajun version and can honestly say it was both tasty and filling. I don't remember anything about Forest Gump so the theme and the trivia quiz at the table was totally lost on me. However, the bright colours, the fun staff and the fact the kids loved it, all made for quite a good time just a stones throw away from Piccadilly Circus.
Appalling.
I love(d) BG in the USA. Particularly the zesty shrimp cocktail, with its cilantro and lime dressing, crispy lettuce and light fresh taste.
Forget that here in London. The menu has been changed for our palates. Instead, this is served in some sort of red sauce... Anyway, the minestrone soup to start, was lukewarm and tasteless. 3 of our party had the New Orleans shrimp for main course. It was also lukewarm, the shrimps were overcooked, and the sauce was like something that had run off a car engine, brown, sour and dreadful. It came with what appeared to be garlic bread although it was so was cold and congealed it was difficult to tell.
The other person had Jambalaya. It was kind of edible, and hot in the middle, although very heavily put together with a smoky sauce of some kind.
It was truly truly dreadful. Add to this, the wait for a table. Stated to be 45 mins, in fact 1 and a half hours. And in a chilly downstairs area that is the shop selling Bubba Gump stuff, nowhere to sit... sad sad sad. We all HATED it. How very different to the lovely memories of the Bubba Gumps in America.
I have never posted a review for a restaurant, but this was so terrible, and such a rip off (£100 for the pleasure. 4 of us, no alcohol, no desserts.) that you should be warned. Of course, they are in a position where they don't have to rely on people going back twice. Just as well.
Worse experience ever. I try to give it benefit of the doubt after reading the below views but I should of listened. I had to go through 3 different people to seat us. When we got seated the customer in the next booth was walking out because they messed up his order. It took 20 minutes for us to wait and give our order. When they brought us our smoothie the waiter finally decided to tell us he don't recommend smoothies because they fill you up quickly. I don't know why he didn't tell us this before we were ordering them.
When they brought the food to us the waiter knock the smoothie all over my friends clothes. I do accept accidents happen but she didn't even apologise and she rushed to push the food on our table with no care. The manager had to come an apologise . The manager did offer us to pay for the dry cleaning but it ruined our whole evening plans to go out.
After that bad situation we tried our food which was the deep fried Shrimp basket and the forest Gump basket and the deep fried Shrimp and chicken was stone cold. Also the portion size they gave us which was in cones was very small because they filled most of the cone with lettuce.
When we told the waiter he started bad mouthing his own staff. I thought this was not very professional.
At the end we spoke to the manager and they didn't charge us for the food but let us pay for the drinks which I accept. overall the whole dining experience was one of the worse and the place was only a quarter full. Big Easy and burger & lobster dining experience beats this place by far.
i havent been to the london one yet but surely the point of the waiters is to be friendly and the theme is forrest gump the trivia is a fun part of the experience

I think that u was a tiny bit harsh... i had the the mamas homemade fried chicken dish and ive never actually tasted the most tendered breast chicken on the inside and real crispy on the outside. The sweetcorn was the sweetest corn ive come across too.
With service I think you just had a bad experience because our waiter was on point he didnt hassle us he let us enjoy our experience and the hostesses were very nice too.
The Trivia was fun.. i do like a bit of a challenge. The movie Forest Gump was even on TV a few days ago, I didnt win anything which is a bit of a bummer but I think it just wasnt as bad as you described it to be. Two things i do agree with you though is the whole U.S dandy service a wee bit too much that it can come across quite cheesy. And the drinks, yes most of them are sweet. Being a bartender myself from a 5 star hotel bar I go bar hopping when im free and londons bars and cocktails are very much more modern in a simple but elegant in an edgy way. No longer layers of colours and the use of Grenadine I very much strongly believe it should be band!
I would rate everything from food to service and price 3 and ahalf stars. Its obviously never going to be 5 stars but everyone is entitled to there own opinion I guess.
I got food poisoning and was sick all night:(( even after my complaint they did not take it of the order so i ended up paying £16 plus service charge for the dish that made me sick all night! The manager was useless and stuff not well trained.
The restaurant itself looks cheap and tacky, like a cheap fast food American style. I will never come back there! I don't recommend it!
Food below avarage, finished only cause we were hungry, but came back home with upset stomachs... Never again!

Snap up exclusive discounts in London
Time Out's handpicked deals — hurry, they won't be around for long...