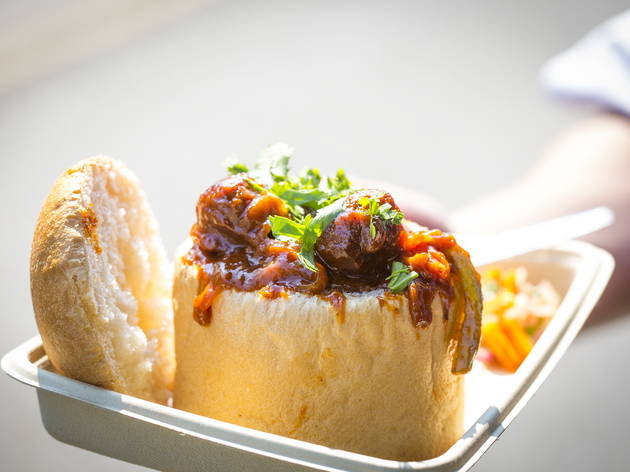 Time Out says
Please note, Bunnychow has now closed. Time Out Food editors, JANUARY 2020.
Picture, for a moment, Durban in South Africa. With its sandy beaches, sweltering street markets, iridescent colours and intense sunlight, the city couldn't be more different from the duffle-coat grey of London's wintry skies and streets. As it's home to 1.3m people of South Asian ancestry, Durban's also the home of 'bunnychows' – hollowed-out loaves filled with chilli-laden curries.
This London namesake has given the African Asian fast food a makeover. After selling bunnies from a food truck in Brixton, owner Atholl Milton has now secured an indoor pitch at Boxpark in Shoreditch.
Housed in reclaimed shipping containers, Boxpark has communal tables, beanbags and wi-fi. Joining a cluster of pop-up shops and global street food haunts, Bunnychow celebrates the improvised vibe – its narrow space is furnished with little more than a few tables, stools and a counter. Bunnies are the draw, with flatbread sandwiches and salads playing second fiddle.
Bunnychows started off in the 1940s as 'sugar bean curries' (made using borlotti-style dried beans), portable food for Indian labourers. Later, bunnychows included meaty masalas. Unlike in South Africa where bunnies are bought by the quarter, half or whole loaf, these ones arrive as individual round loaves. The idea is to eat them with or without cutlery, dipping the crust into the sauce and scooping up the filling as you go. The bottom crust is prized because it absorbs the saucy goodness.
The fillings served here are at the wilder end of the spectrum – few folk from Durbs would recognise the Boston baked beans or pulled pork. The more familiar mutton (cooked on the bone) and vegetable curries stay closer to familiar flavours.
The traditional mutton bunny was unavailable on our visit so we plumped for lamb meatballs cloaked in monkeygland sauce (it involves no monkey – it's a jokey name for a tangy fruit sauce). Tender mini meatballs simmered in onion-garlic masala sweetened with mango chutney were robustly spiced with toasted cumin, turmeric and red chillies – resulting in a tease of rich warming flavours without a fierce chilli kick.
The masalas here are spot on – thick enough to seep into the doughy loaf, but without melding into the crust. A Cape Malay spin on chicken bunny scored top marks for zesty pungency. Meaty morsels and diced butternut squash, slow-cooked in a thickened broth of lemongrass, chilli and ginger, were finished with crunchy stir-fried vegetables. This rustic stew, with its marvellous mash-up of Southeast Asian flavours, worked a treat with the absorbent crumb of its bread casing.
How bunnies evolved is the stuff of legends, but whatever their past, this Bunnychow looks set to earn its crust.
Details
Address:
Boxpark Shoreditch
Unit 55, 2-4 Bethnal Green Road
London
E1 6GY

Transport:
Rail: Shoreditch High Street Overground
Do you own this business?
Best selling Time Out Offers