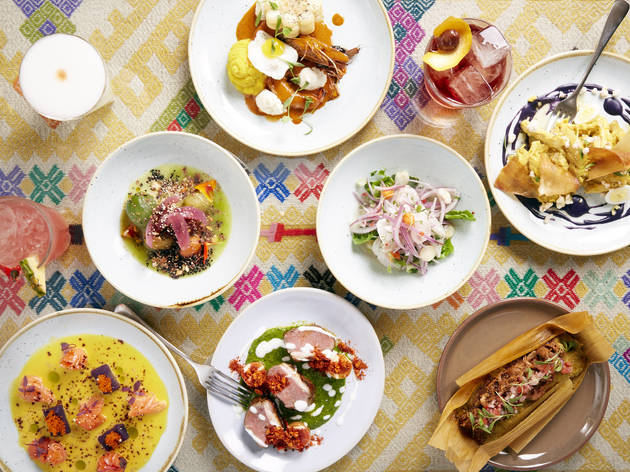 1/6
2/6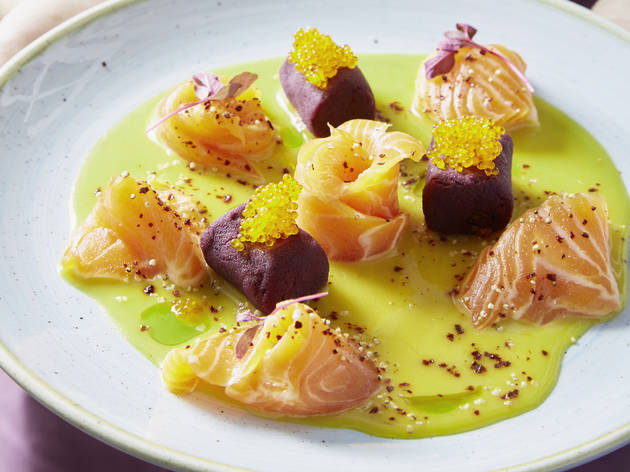 3/6
4/6
5/6
6/6
Time Out says
A homely Soho townhouse from the people behind Ceviche and Andina.
Just in case your GCSE Spanish is a little rusty, 'casita' means 'little house'. And Casita Andina is just that: a little house. Specifically, one of those Georgian townhouses in Soho, where the rooms are small, the windows tall and the floors all stacked on top of each another. Being from the same people that gave us Ceviche and Andina, it's got a laidback, Latin kinda vibe. By day, it's serene and relaxed, with the best seats on the first floor (high ceilings, heaps of natural light). By night, there are no bad seats. The ground floor melts from buzzy (up front) into intimate (at the back), while the shindigs sit on the vibrant first floor. This is also the entrance to what is officially my favourite new 'hidden' spot: a tiny, three-table terrace with turquoise-painted walls, atmospheric lighting and fronds of swishy potted plants. All under the cover of a practical, retractable awning, because, let's face it, we're still in London, not Lima.
As for the menu, you can't mistake its parents: it's a little bit Ceviche (cold cured fish) and a little bit Andina (wholesome superfoods). I have a particular soft spot for the signature 'ceviche casita': a pretty tumble of glistening seabass with avocado, red onion, sweet potato and the crunch of toasted corn, all offset by its zingy 'tiger's milk' marinade, this is a summer holiday of a dish that you could eat whatever the weather.
From the 'hot kitchen' came the warmer-uppers: a trio of fat, juicy king prawns luxuriating in their own spiced seafood stew; a daringly pink stack of lamb medallions. But if it's comfort you're after, you have to try the pork tamal. This is essentially a steamed corn 'dumpling' in the shape of a giant, squidgy sausage. The starchy outer has a sweet, subtle flavour; slice it open to reveal its meaty, fiery, tender pork middle. It's ugly, yet strangely beautiful.
But it's not always fiesta time in this casita. On the night of my visit, the kitchen's use of powdered panca chilli (with its low-heat but high-intensity 'roasted chilli' flavour) was heavy-handed, overwhelming the otherwise delicate flavours in a vegan dish of crunchy cauliflower, sweet potato and broad beans, or a bowl of battered avocado chunks. More attentive service would be nice, too: my drink wasn't refilled once.
Then puds arrived and I forgave them instantly. There's intriguing whipped avocado (think of it as a substitute for cream), served in a glass with strawberries and spindly sticks of sugary meringue. Or the must-try 'choco-sauco'. A rich, decadent sphere of chocolate mousse, it comes with intense elderberry gel, crunchy cereals and popping candy. Forget ending things with a bang: what you want is crackle-crackle-crackle.
Details
Address:
31 Great Windmill Street
London
W1D 7LP

Transport:
Tube: Piccadilly Circus
Price:
Dinner for two with drinks and service: around £95.
Contact:
Opening hours:
Mon-Fri 11am-midnight; Sat & Sun 10am-midnight
Do you own this business?
Average User Rating
3.8 / 5
Rating Breakdown
5 star:

6

4 star:

6

3 star:

5

2 star:

2

1 star:

0
Stop by for lunch, service was ok as was the food, but I don't, nothing seems to say wow, don't get me wrong everything was ok but just ok. I would say more but the meal and experience didn't last in my mind
I've been to other restaurants in the chain and thought they were great but really disappointed with this branch. As soon as they caught sight of our timeout offers voucher they treated us like crap! They suddenly decided we could only sit in the front area when we'd already waited 40mins for a table, so we had to wait even longer until a table there became free. This wasn't specified on the voucher. Nor was the fact you could only order three specific ceviches so no choice. These were smaller portions than the normal menu but still great value for this and a pisco sour for a tenner. I would have recommended the voucher if we had not been treated like cheap skates by the staff for using it! They should not sign up for Time Out offers if they do not want people to use them or at least include all their terms and conditions to manage people's expectations.
If you were to ask me what Peruvian food tasted like about six months ago, I wouldn't have had a clue! But I am so glad i've discovered its excellence and that it was at Casita Andina. I don't have anything bad to say about this cute, cosy and downright delicious Peruvian in Soho. Being pescetarian, it makes for the perfect selection of fish and veggies, as well as being nutritious and absolutely packed with superfoods. The ceviche (cold cured fish) is fresh, bursting with flavour and absolutely beautiful to behold. I've already booked to revisit again soon. If you're lucky enough to pay this place a visit, don't leave without trying at least one Pisco sour - Peru's national cocktail.
A nice and cosy restaurant, with lovely and very accommodating staff.
The menu makes you want to go for everything, and it's a good thing as it suggests to order 3 to 4 dishes per person. We went for a mix of cold and hot dishes and a couple of desserts too because... why not! The cold fish dishes were as colourful as their taste was sharp. The hot meat dishes were absolutely fantastic, especially the pork belly - I recommend 100%.
Chocolatey desserts were also very good and surprising with a sort of corn-chocolate sticky pudding or fizzing souffle rice.
An unusual and interesting experience in Soho, Peru - suitable for all occasions!
Tried Casita for the first time on Thursday evening with a small group friends. We had several dishes to share and they all tasted delicious, the Tamal, Ceviche Casita and croquetas with chilli jam were our favourites. Cocktails were not second to the food though and if you like a drink with a 'kick' the Peru Bravo is a must. Relaxed service, not pushy but attentive. I can't wait to go back.
Loved the watermelon salad, chicken and lamb mains where delicious. But the fireworks came with the desserts, the chocolate was stunning and the avocado was a revelation, just delicious. Will be back soon.
Visited three times since opening and we love it. Fresh food packed with flavour. Cool atmosphere this is a must.
I went with my girlfriend on a Saturday night and the place was buzzing. We love sharing plates so this concept really appealed. Everything was really fresh and flavoursome and even though it was super tasty it felt like it was healthy and good for you. The décor was really cool with lots of bits of quirky art and the team felt like they were really enjoying working there. We will definitely be back
I heard great things about this restaurant so I took my husband a couple of days ago and it was fantastic. What a beautiful place. We had the avocado fritters and croquetas to start with, both really really good. The Ceviche Casita was superb, one of the best ceviches I've had in London. We also tried the maca lamb, chupe seco and my favourite the aji de gallina. The star of the night was the dessert though, the chocolate one was just delicious.