Heads up! We're working hard to be accurate – but these are unusual times, so please always check before heading out.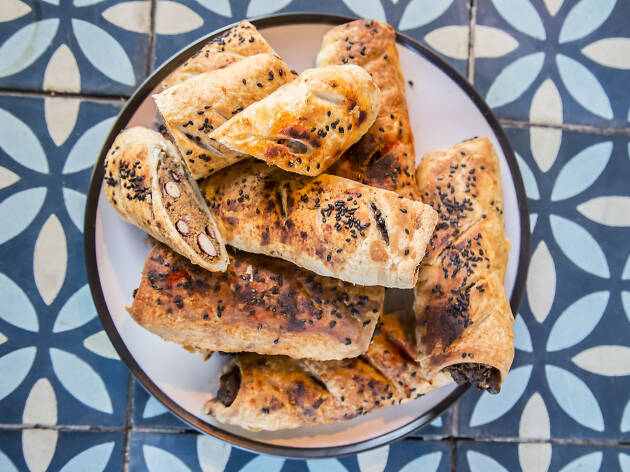 Chefs reveal how they make London's most creative vegan dishes
From jackfruit wingz to banana blossom 'cod', vegan food is getting increasingly creative. The chefs behind London's most innovative dishes  tell us how they make them
There are a staggering 750,000 vegans in the UK. For these increasingly discerning legume-lovers, tired portobello mushroom burgers and soggy lentil loaves simply won't cut the mustard. That's why London has seen an explosion of plucky independent eateries offering indulgent meat alternatives like fish-free fillets and burgers dripping with 'cheeze'. The capital's most inventive kitchen wizards are using creative methods to spice up traditional whole foods, or putting lesser-known Asian and Caribbean ingredients front and centre on their menus. But how does a jackfruit become a vegan chicken wing, or a banana blossom a bit of battered cod? In fact, what actually is a jackfruit? We spoke to four of the capital's most innovative vegan chefs to get the inside (dairy-free) scoop.
Seitan chick'n burgers
Rebecca McGuinness, co-founder, Temple of Seitan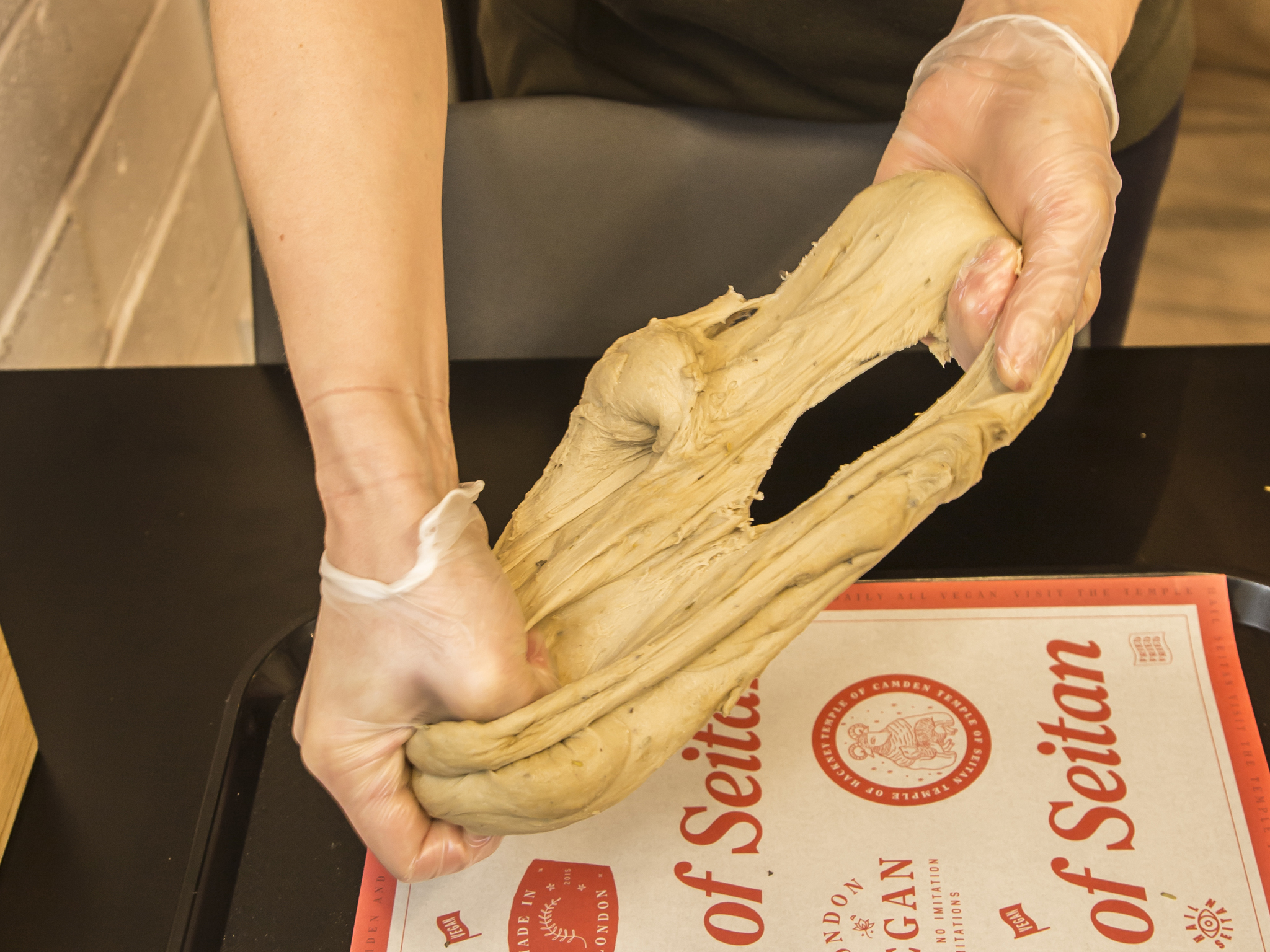 'I worked at KFC when I was a teenager and the chicken was the one thing that I missed after I went vegan. Four years ago, there weren't a lot of vegan junk food options in London, so my husband Pat and I started making it ourselves at home. There were lots of seitan recipes online and in cookbooks, and so we started by making those. Then we'd try ones with our own flavourings. We'd get home from work and do ten batches, and every batch would have a little bit more or less of something. It was about getting the right flavour profile, texture and juiciness. Gluten flour is the main ingredient in seitan: we mix that with liquid ingredients and dry herbs as well as soy to give it a light colour. Then, we knead it until we find the elasticity that we want. It's all about those fibres — with seitan, you're able to replicate those meaty strands and get a juiciness which you wouldn't really get from tofu or tempeh.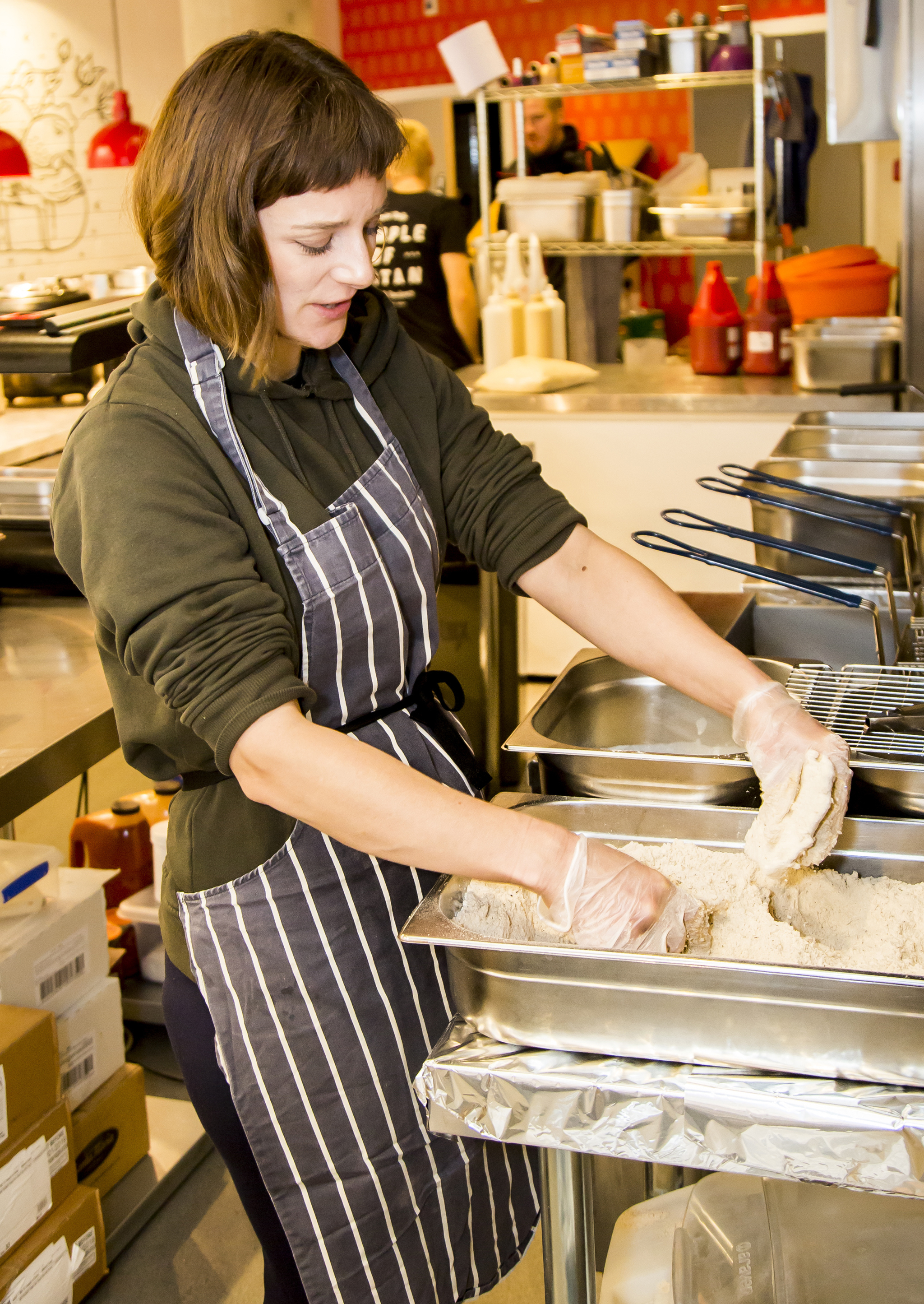 'We cut the fillet from the seitan and dip it in our own soy buttermilk, a special breading, and deep fry it. The buns for our chick'n fillet burgers have a potato component, so they've got that fluffy brioche-y thing. We make the seitan bacon, as well as the ranch mayonnaise with dill and chives. I think we were the first place to be styled as a solely vegan chicken shop. We've definitely got our regulars, and on the weekends there can be queues of people waiting up to half an hour. We even catered a wedding once!'
10 Morning Lane. Hackney Central Overground. 103a Camley St. Tube: Mornington Crescent.
Battered cod made from banana blossoms
Danny Sutton, owner, Sutton & Sons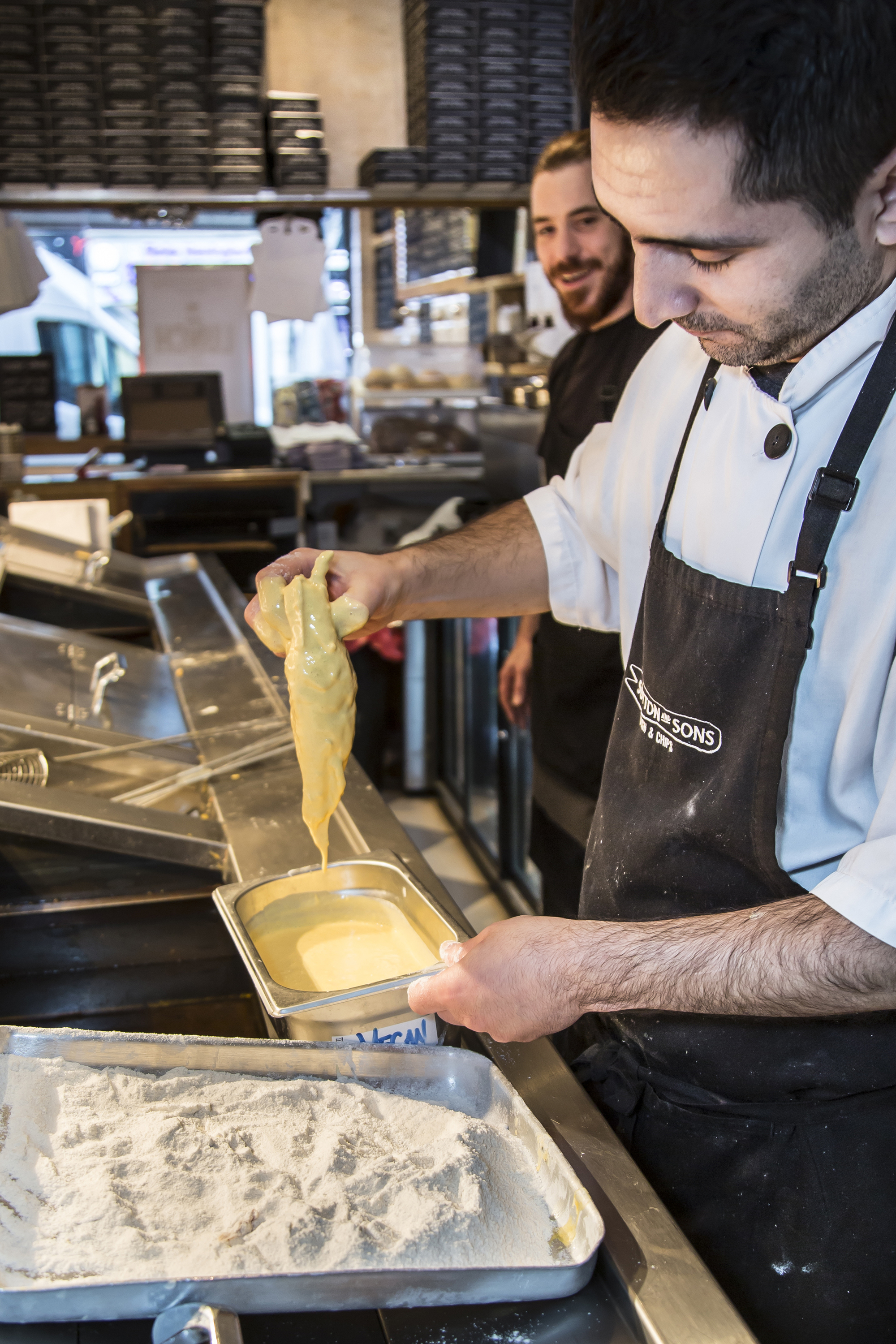 'In Veganuary last January, I wanted to jump on the bandwagon for vegan cuisine. Everyone's done "tofish", made from tofu, but I tried it and it didn't have any flavour. A friend of mine down the road has a Vietnamese restaurant, and he recommended banana blossoms. They grow on banana trees, like normal tree blossoms, and they've got a similar flavour to fish. My friend fries them with chilli and garlic in a rice dish, but I started messing about with them. We import them from Thailand and add the flavour of the sea with samphire, seaweed pepper and seaweed salt. It plays with your mind and makes you think that you're eating fish.'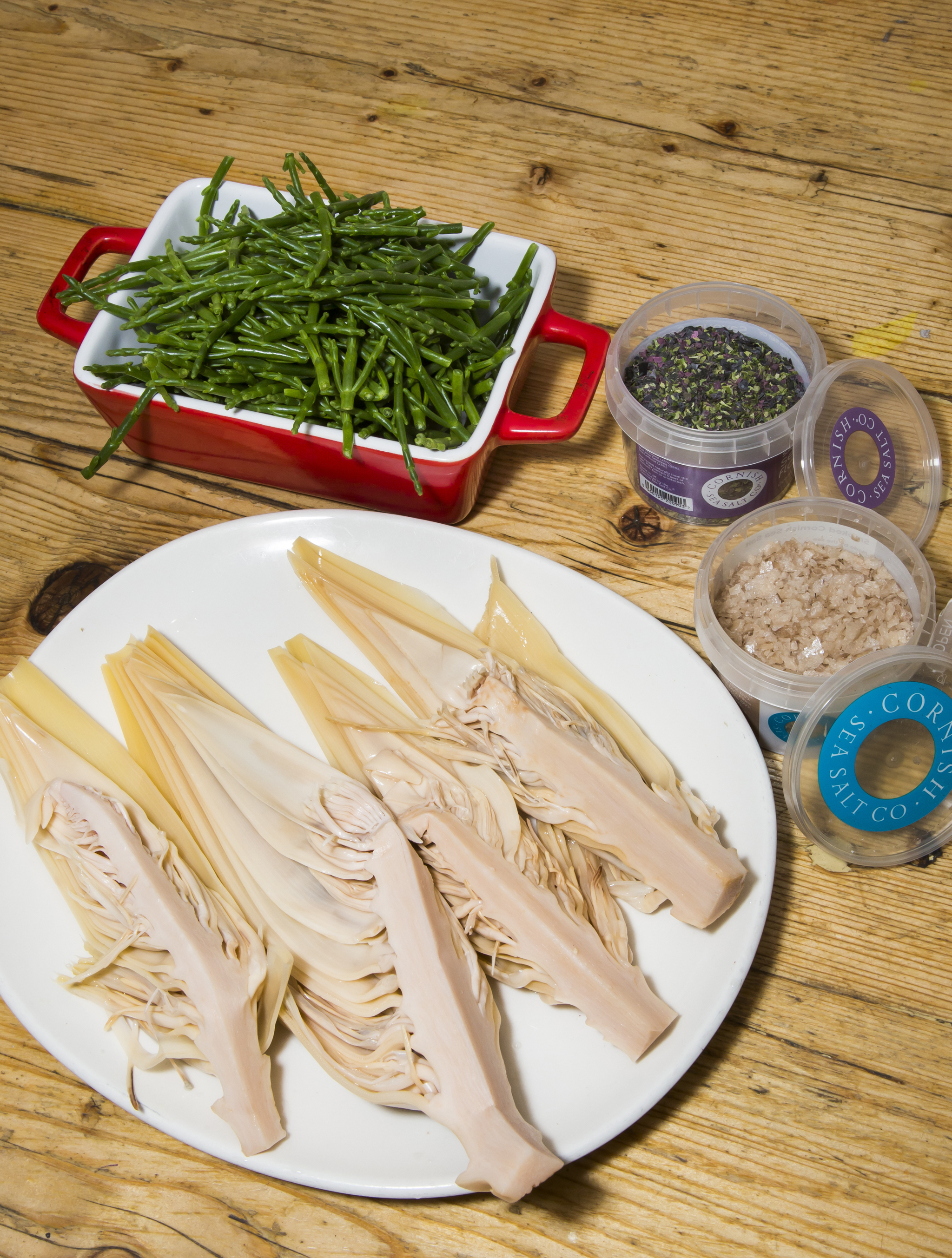 'There's a couple of other things that I put in there, but we'll keep that on the hush otherwise everyone will be doing it. It's proven so popular that we opened a vegan shop in Hackney at the beginning of November: Britain's first vegan chip shop. That got massive press. We were in 110 different publications in one day. Now people come from all over the world to try it. Someone's even come from Australia!'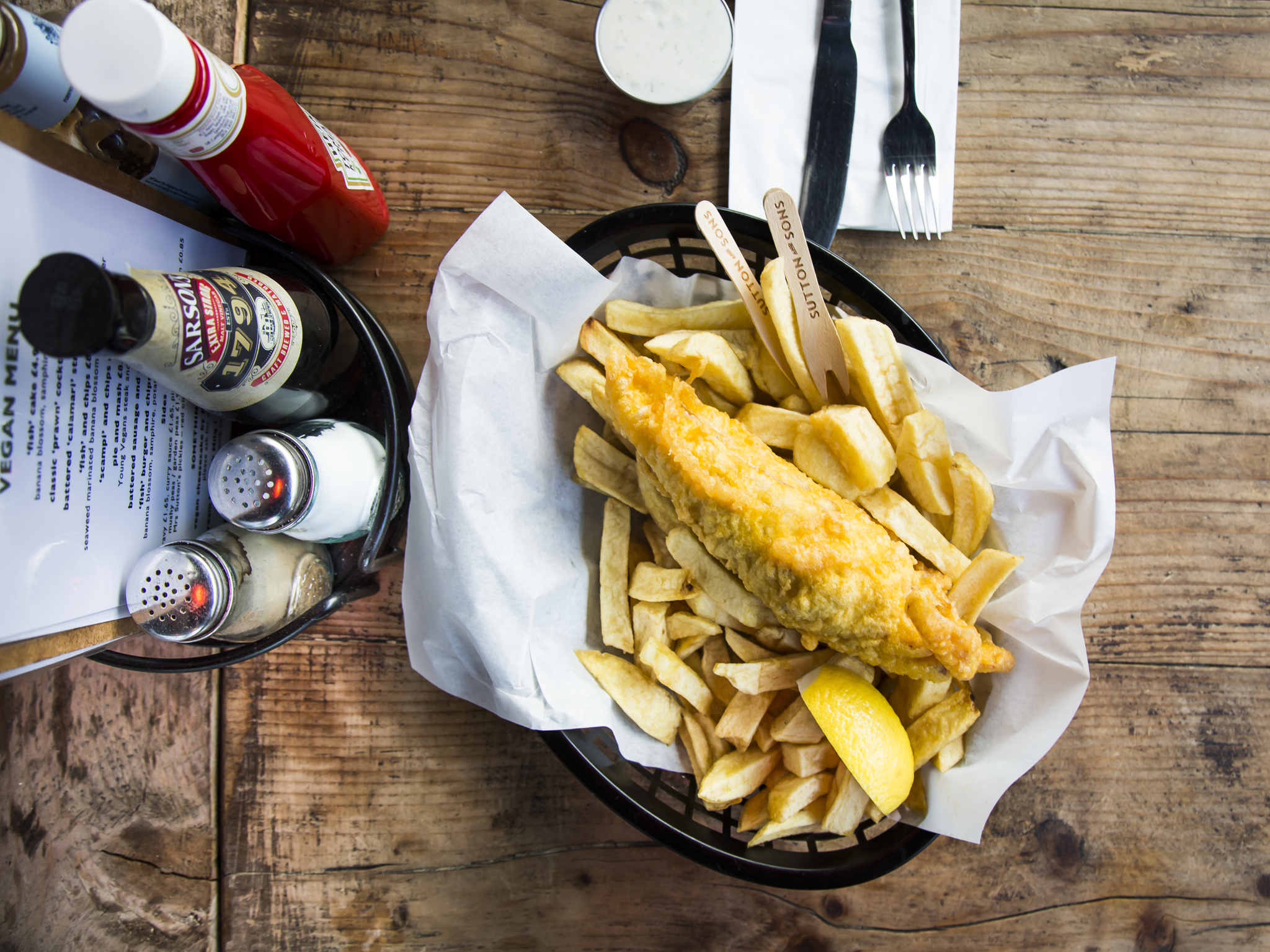 240 Graham Rd. Hackney Central Overground.
'Chorizo' rolls
Andy Barnes, Head of Food, The Fields Beneath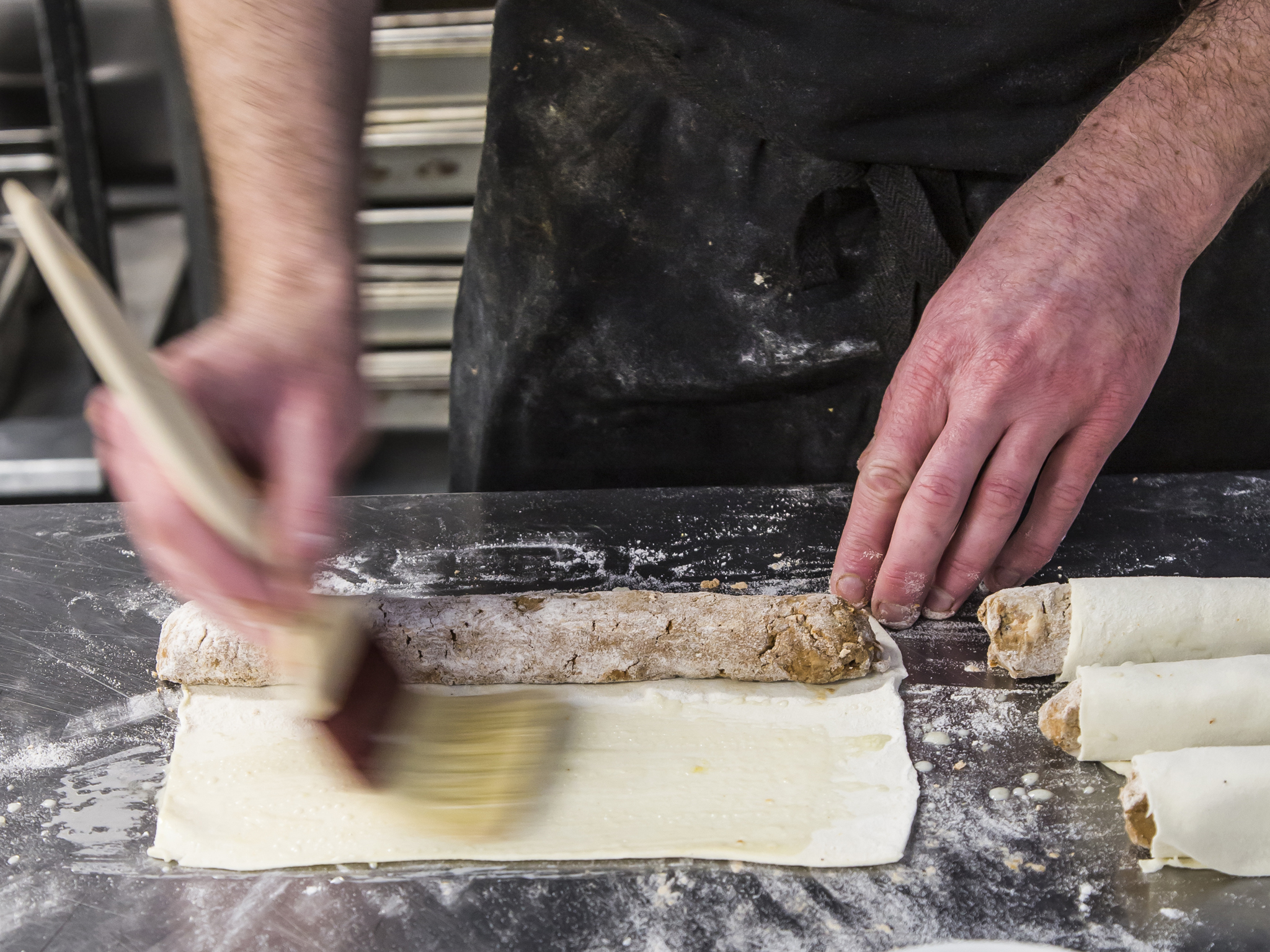 'We wanted to avoid seitan. It can be heavy on people's stomachs, and it's nutritionally void. We go the wholefoods way for our chorizo and sausage rolls. To make our sausage base we use whole kidney beans that we pulse with rice flour, chestnut mushrooms, onion and garlic, and a spice mix using ingredients like smoked paprika and fennel. (The fennel works really nicely – it's a unique, strong aniseed flavour.) We also add liquid smoke, which is made from smoking wood and bottling the condensation. You need that for anything with a smoked flavour. We then split the base off into a spiced sausage for our chorizo and a mix for the regular sausage rolls. But the recipe's always evolving. Right now we're trying out some using fava bean paste, which is like an English version of miso.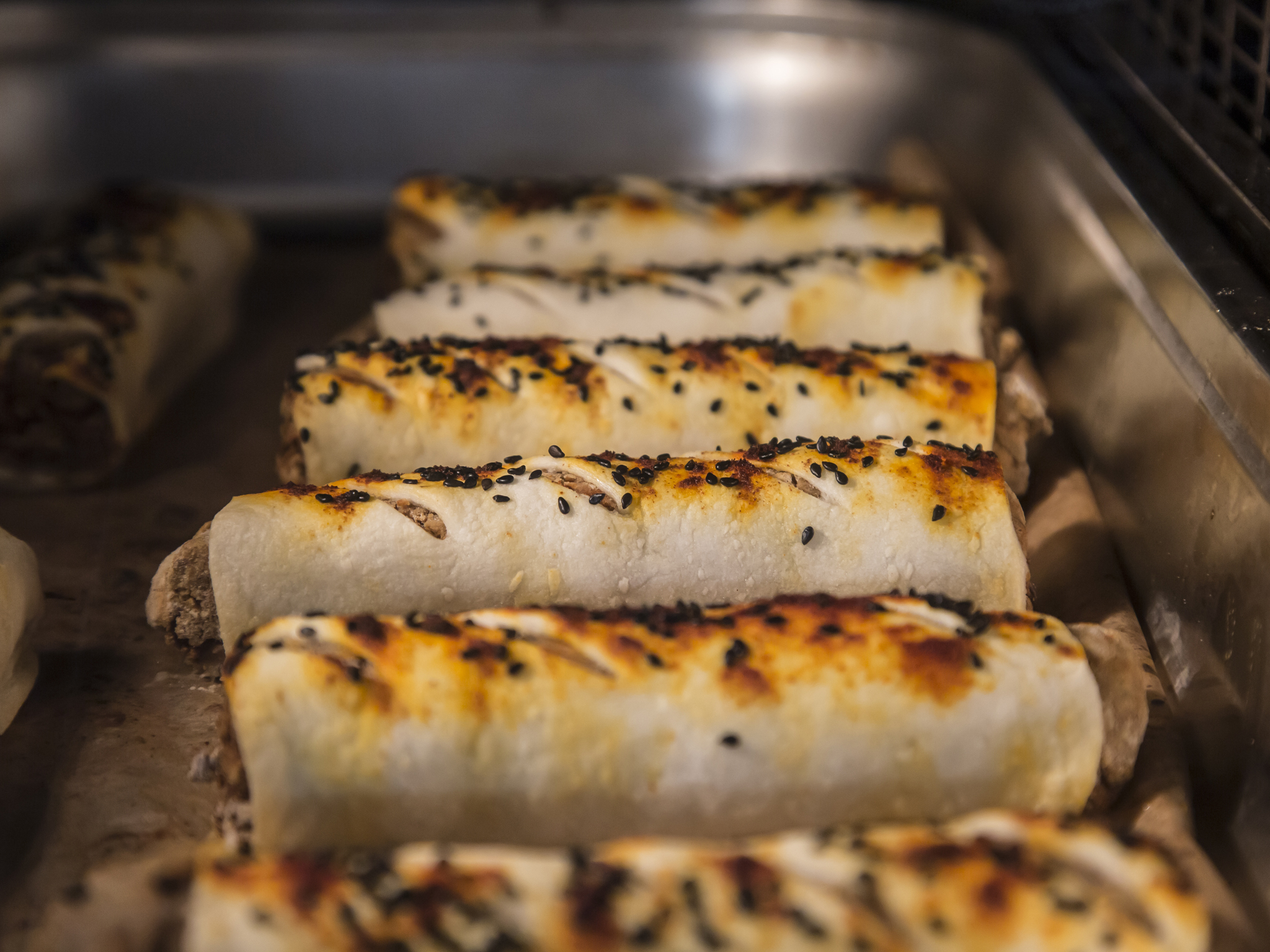 'A lot of people ask, "Why would you want to replicate the texture of meat?" But a sausage roll is a sausage roll, whether it's meat or not. You have to use binding agents to make it firm, it has to sit in pastry nicely, and it has to have an earthy, flavourful [feel]. The spices are the same, so you still get that same taste. Our customers are our taste test. If they want it spicier, if they want it juicier, or if they want it wetter, we just adapt it. I think people are starting to respect vegetables and pulses more and apply as much care to them as they would do a meat dish.'
52a Prince of Wales Rd. Kentish Town West overground.
Jackfruit wingz
Biff Burrows, co-founder, Biff's Jack Shack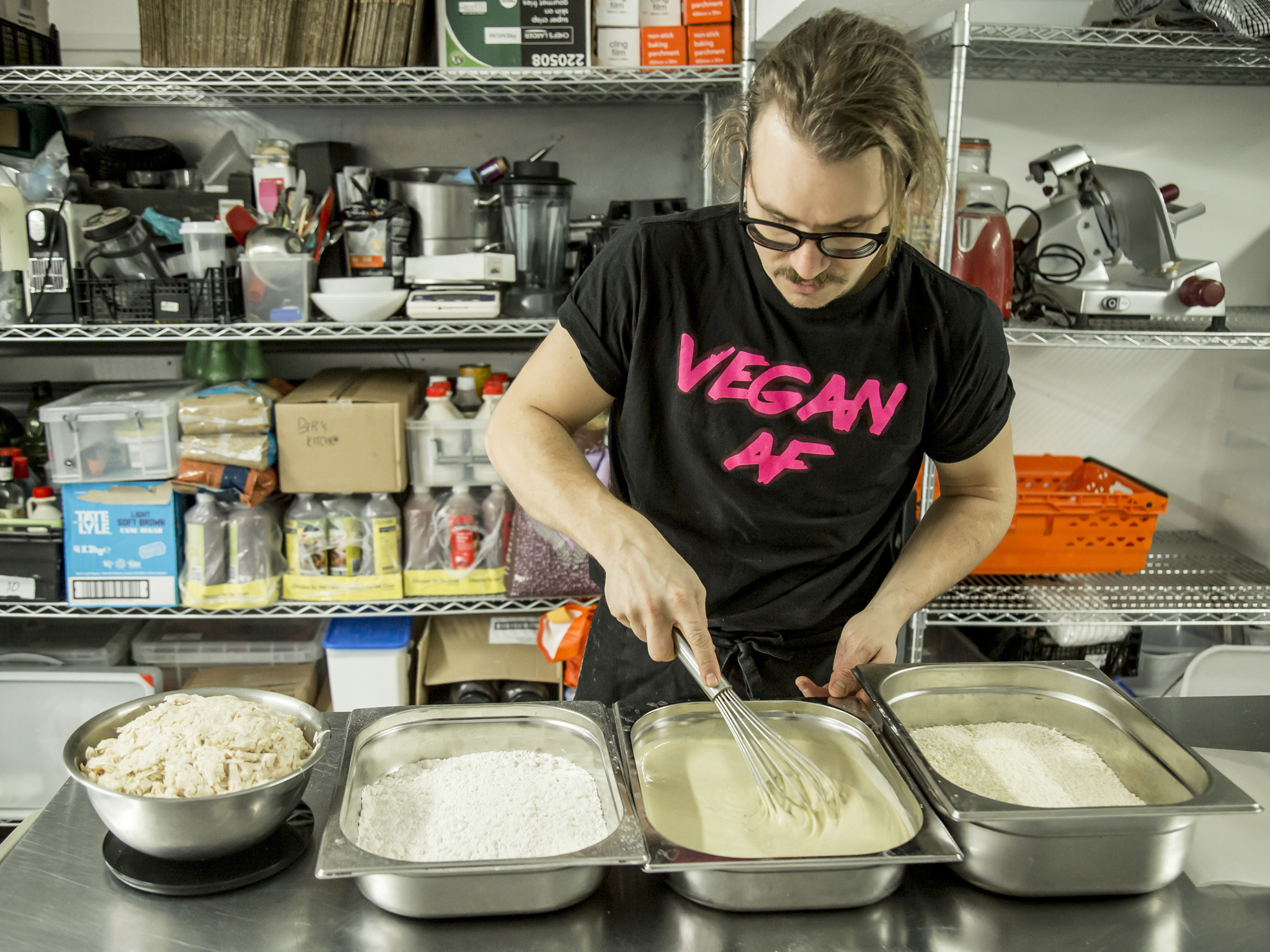 'The ethos with all of our food is that there's no compromise on taste, it's complete indulgence. I used to be a meat eater and I loved wings. I was always a cook, and when me and my fiancée Christa found jackfruit, we thought, "that is the best meat replacement we can see". Jackfruit is the size of a football and it grows anywhere in the tropics, from south-east Asia to the Caribbean. It's actually considered a nuisance – it falls off trees and hits cars and stuff. We use young, green jackfruit. It's not heavy like meat. It's actually a fruit; it's one of your five a day.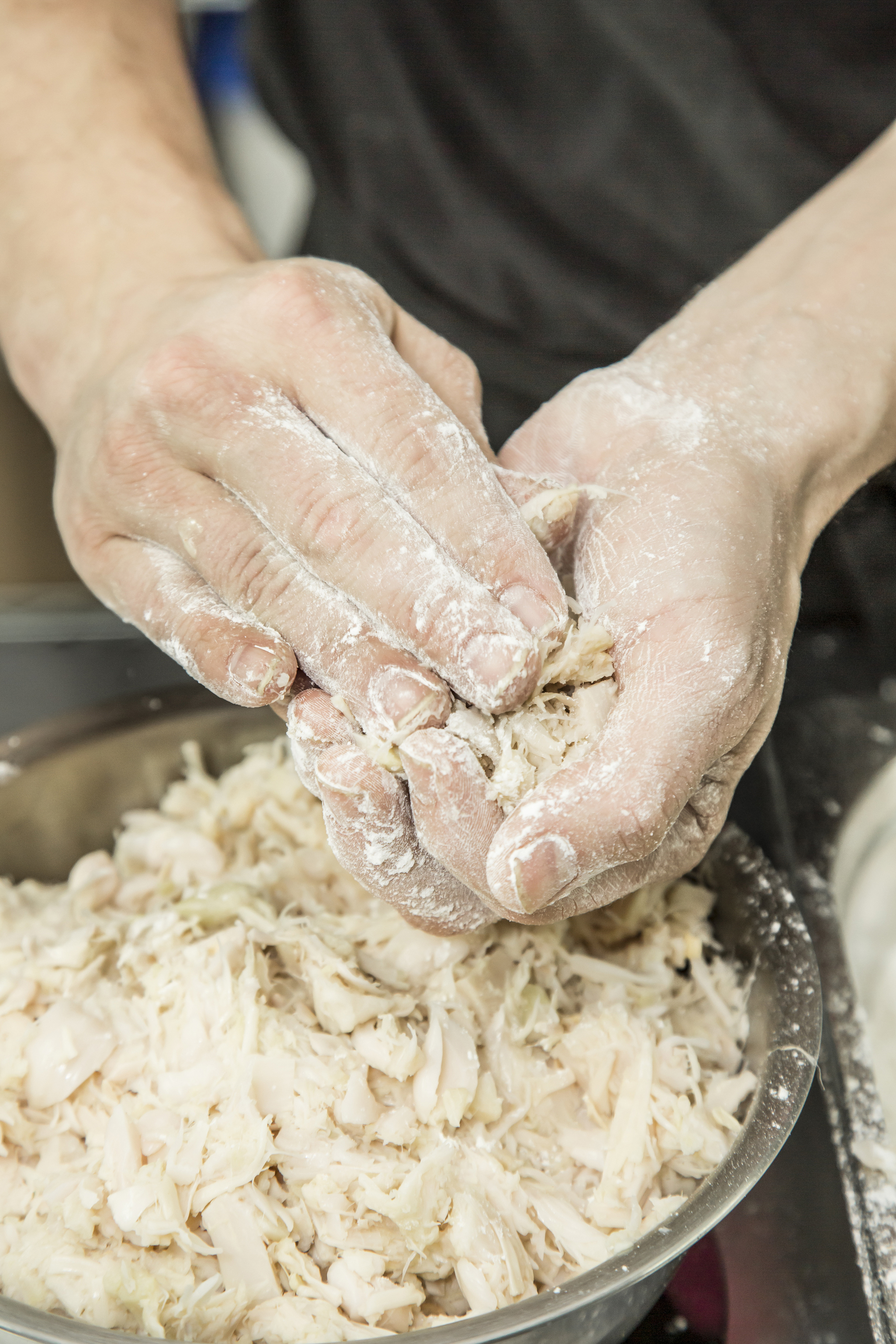 'Jackfruit is very fibrous and has a neutral flavour, so you can cook into it. When you split it in half, you have to take the pods out, and then you braise them which softens them up. I'd say it took us three months to get the recipe right for the wingz — we'd try different herb and spice blends with the jackfruit, different types of stock, and different thicknesses of the crispy batter. One of our most popular dishes is the Bang Bang Wingz. They've got a bit of a kick, with cinnamon-infused sweet chilli and a miso-blended mayo to give them that salty, unctuous, moreish flavour. On National Chicken Wing Day last year we had the world's first vegan wing-eating competition. People made placards, and a vegan bodybuilder called Steph ate ten with really hot sauce in four and a half minutes. Since we opened 18 months ago we haven't seen anyone else doing jackfruit wingz. It's definitely our signature, especially with the sugar cane bone. We don't serve them with forks, they come with serviettes. We say "get messy"… because food should be fun, right?'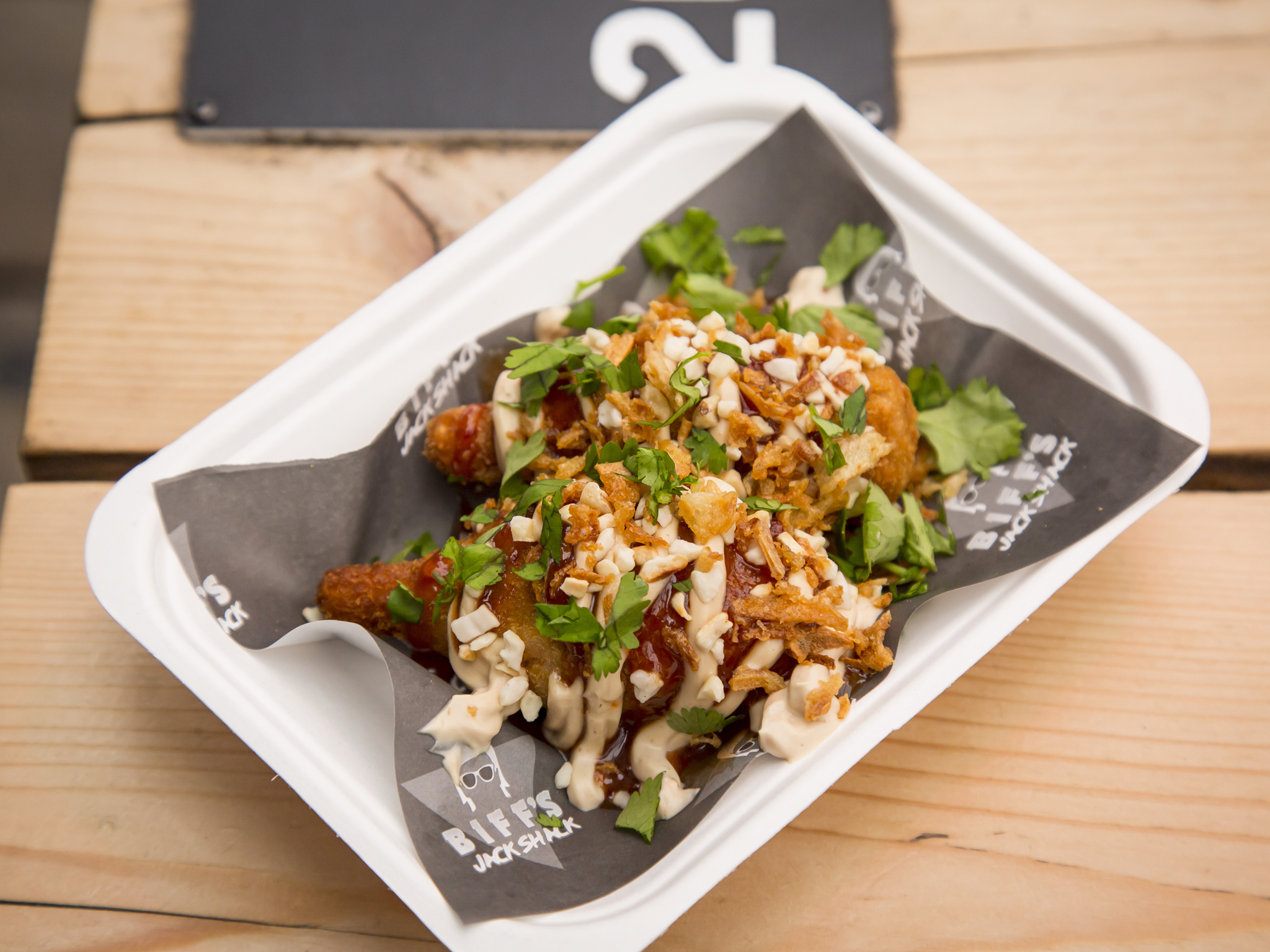 Boxpark Shoreditch. Shoreditch High St Overground.
Hungry? Check out London's best vegan junk food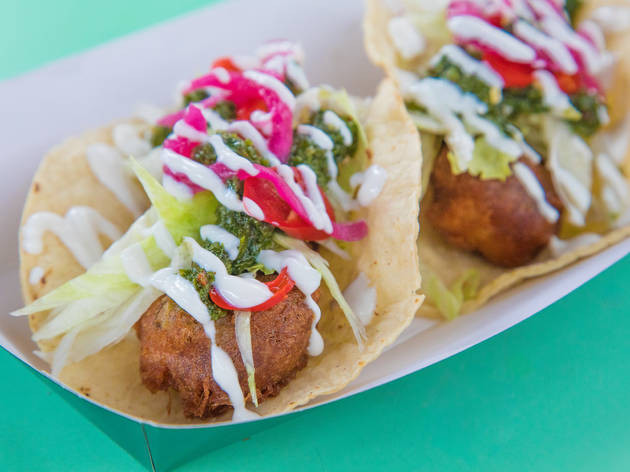 Forget bland mung beans and dry mushroom burgers, we've searched the city to find London's most decadent vegan junk food.