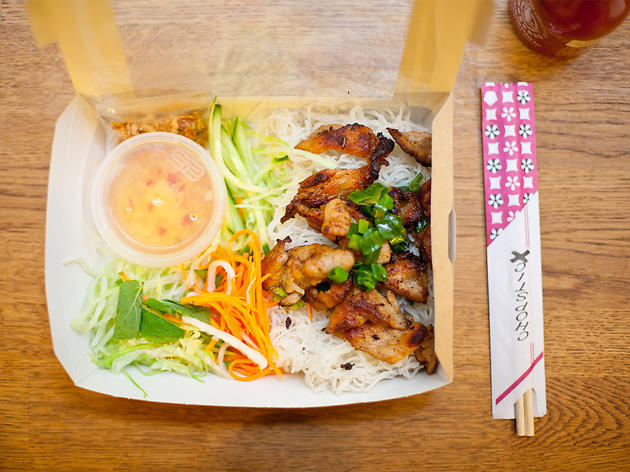 Time Out says
Spiced soups, banh mi, summer rolls and noodle salads fly out of the door of this City venue – and prices won't break the bank.
Long before you see this charming little Vietnamese café, you'll smell some enticing aromas wafting down the street. At lunchtime, you can expect to see a line of City workers at the door; staff are calmly efficient, so don't baulk at the length of the queue – it disappears in no time.
The menu is easy to follow. Choose from lightly spiced noodle soups (bun hue or pho), Vietnamese baguettes (banh mi), vermicelli salads, jasmine rice dishes and spring rolls. Most options are available with beef, pork, chicken or tofu – and there's a prawn soup. The 'classic pork' banh mi comes with a succulent cold cut of pork, earthy liver pâté, fiery chilli, crunchy veg and fresh coriander, all in a light crispy baguette. Vegetarian rice-paper summer rolls, with a hint of lemongrass, are delicate and refreshing.
Seating in the bright, modern interior is limited, so City Càphê is not the place for a long and lingering lunch, but it's perfect for a quick bite or a tasty takeaway.
Details
Address:
17 Ironmonger Lane
London
EC2V 8EY

Transport:
Tube: Bank tube/DLR
Contact:
Do you own this business?
Average User Rating
4.2 / 5
Rating Breakdown
5 star:

9

4 star:

5

3 star:

0

2 star:

3

1 star:

0
I really liked the pho, worth the queue. Fresh and tasty!
This is an incredibly popular little place, with City workers queuing out the door at busy times, and it is worth the queue. The fresh and flavoursome noodle salads are fab and the banh mi baguettes the best I have found in London so far, not skimping on the meat! (There's nothing worse than a bad meat to baguette ratio). Looking forward to going back and trying out more from their menu!
Great service - After a while the lady serving will remember your name and order which is a great touch. The Spicy Beef Noodle Soup is the best I've every tasted. If you love hot food, add in the extra chilli sauce, be careful though because it is hot and I mean hot.
The queues say it all. They start at midday and don't calm down until 2pm, lunch hour rush for the best Vietnamese food in the area. No one even minds the queues, it's not deterent as they're quick and the food is worth the wait. Pho is by far the most popular dish in our office - fresh, healthy, authentic - a treat!
I love vietnamese food and have been to various places around London, but City Caphe really is top of the bunch for me for quality food. One of the staff told me that they use all organic ingredients, and it really shows in the freshness and taste. A little more expensive than your Pret's and EATs, but totally worth it! weekly staple for me too :)
The vegetarian pho is fantastic, it's become a weekly staple for me.
Nothing special - banh mi weren't great, bread was a bit stale and not very substantial. Seafood rolls were only ok.
Lovely food, good place to feed my desire for hot spicy lunches in the city but... I ordered the pho without noodles and the prawn roll expecting the summer roll with prawns, got to my desk and was disappoined to see the classic oily spring rolls in my bag. I went back to complain and was told that there was nothing there could do, was very disappointed espcially as I had just spent a tenner at the City Caphe (which is quite pricey for lunch) and had been spending the same almost daily in the last week.
Excellent find. I enjoy the pork vermicelli salad and fresh tofu salad rolls. Just tried the Vietnamese coffee which is served iced and it's delicious, sweet and creamy. I shall be drinking a lot of these this summer.
Very busy small cafe with great reasonably priced food. I prefer the rice meals and hot spicy noodle soup, large portions and high quality ingredients. Some unusual drinks on offer, aloe vera is nice. Pay cash and give your initials, they will call when food is ready about 10 mins to queue in lunch rush but worth it.
Can't believe I just found this now lunch favorite! Fresh summer rolls so healthy and tasty and huge cups of steaming soup noodles. I love the spicy chicken soup and beef noodle salad but am still working way through menu. A gem in the city compared to Wasabi and Itsu.
What a pleasant surprise for finally some good hot food for lunch in th City!
I finished a grilled pork banh mi feeling disappointed and my stomach was too! I'm use to banh mi in sydney which is generous and full of flavour. That said the bread is nice and crunchy. The fillings were lacking in quantity and quality and the usual condiments were missing. I'm used to a combination of pate, mayo and a dash of soy sauce. I got the feeling that there was sweet chilli sauce in mine which was unnecessary and did not complement the other items in the bread. When you order they ask for your initials, so be on the lookout otherwise someone with the same initials might take your order.
Just tried the classic pork banh mi, the bread roll is very good, but I didn't see any daikon in there which is my favorite, mine only has the carrots, but still it is very tasty. Would definitely want to try other things next time. Shame that city caphe is not close to my work place though.