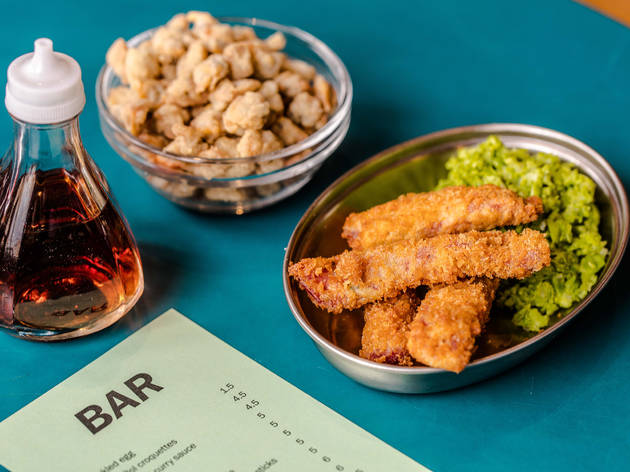 1/9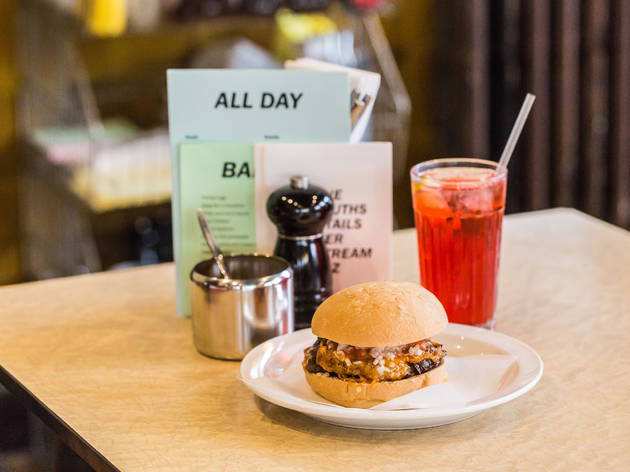 2/9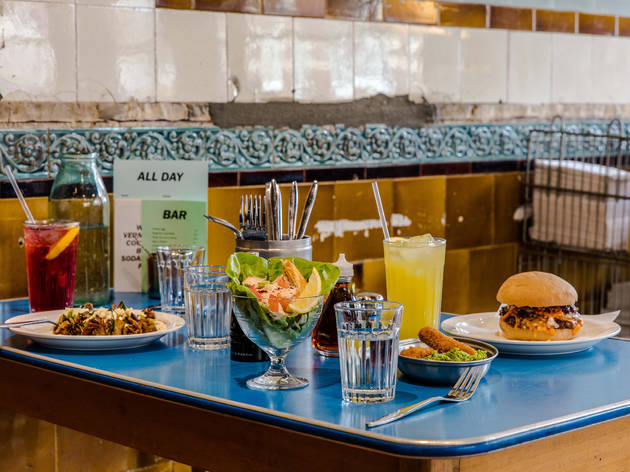 3/9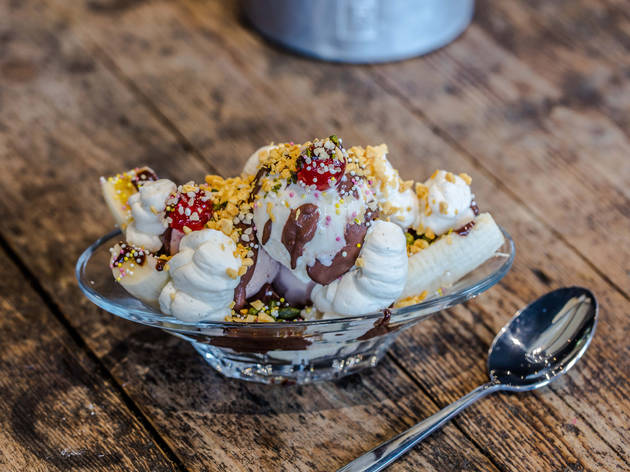 4/9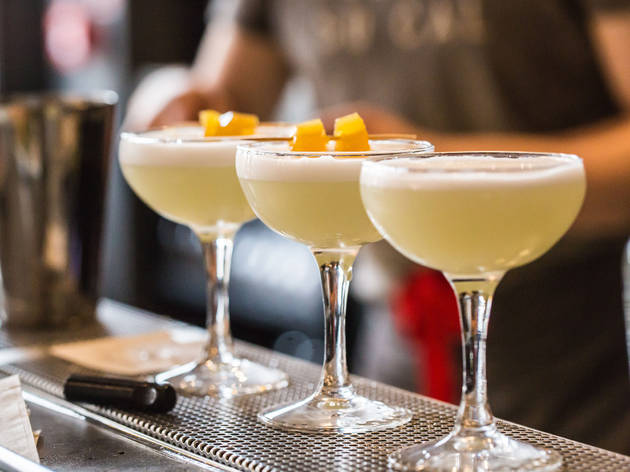 5/9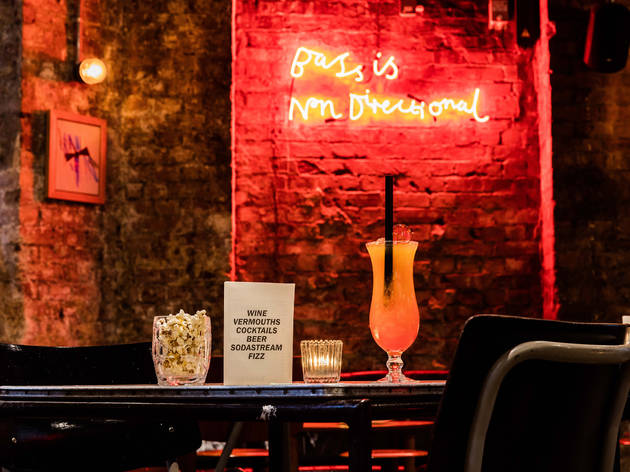 6/9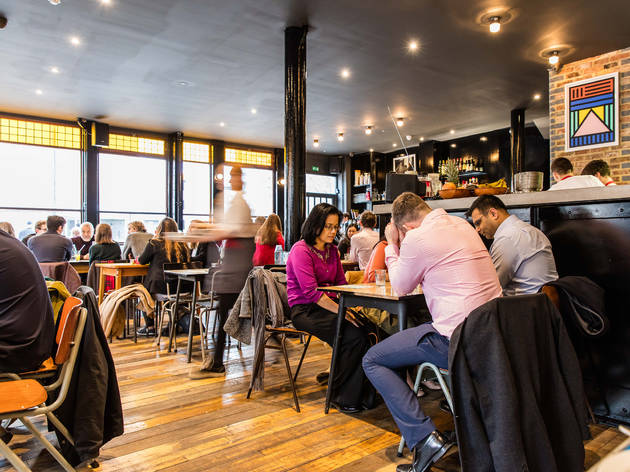 7/9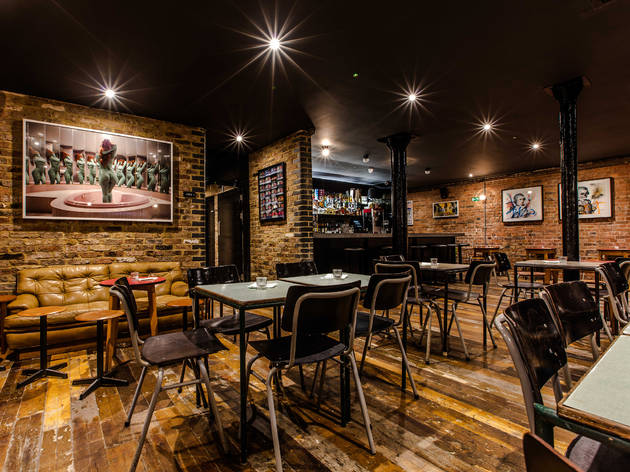 8/9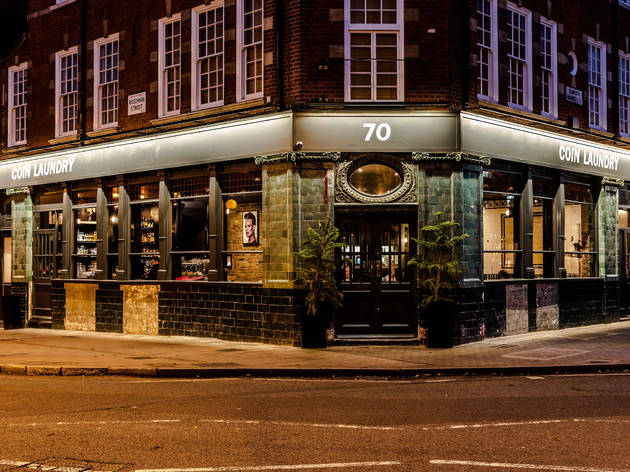 9/9
Fans of ironically retro food and drink should heart this Seventies-style addition to restaurant-packed Exmouth Market.
The British culinary achievements of the 1970s: 1. Arctic rolls. 2. Chicken Kievs. 3. Erm… It doesn't exactly scream 'London needs a restaurant dedicated to this!'.
Hence, presumably, the hipsterfied approach of Exmouth Market's Coin Laundry - an eaterie that takes the gastronomic output of a decade where people used bin bags as clothing, but tries to stop it being rubbish. Think prawn cocktails packed with meaty king prawns and festooned with ribboned spring onions, chips with a (surprisingly thin) curry sauce and juicy chicken kiev legs that manage to be seriously tasty despite a surprising devotion to a Bernard Matthews-esque crumb. Plus, the odd delicious, if slight head-scratcher of a dish - Ye Olde 'rabbit balti pie and coriander sauce', anyone?
Décor-wise, the odd formica table and mini TV displaying a 'chicken kiev counter' are overwhelmed by Victorian tiling and exposed brickwork so that the look doesn't say '1970s' so much as 'generic hipster hangout'. Clientele ranges between bearded dudes pouring water from giant milk bottles, the odd middle-aged couple lured in by the exotic promise of vol au vents, and the occasional dayglo-jumpered teen who's brought her mum along as if to say: 'You'll love this place, mum! They're deliberately uncool!'
Unfortunately, it seems to be having a bit of an identity crisis. Its website claims it's 'a laid-back neighbourhood bar'. But on our visit, we were told that their licence meant we weren't allowed to order a drink in the main street level space unless we also ordered a meal. Which is neither very 'laid-back' nor very 'bar' (although there is a dedicated drinking spot downstairs, which we rated much more highly). Same too for their insistence on table service. It feels unnecessary. Pointless. Almost archaic. Still, at least the latter quality makes it perfect for a '70s-themed venue.
Venue name:
Coin Laundry
Contact:
Address:
70 Exmouth Market

London
EC1R 4QP

Transport:
Tube: Farringdon
Do you own this business?
Average User Rating
3.3 / 5
Rating Breakdown
5 star:

0

4 star:

5

3 star:

10

2 star:

0

1 star:

0
I was excited to visit Coin Laundry, as I'm in love with the surrounding Exmouth Market area. The vibe was charming and seemed more apt for a Sunday brunch with friends than a weekday dinner, but the evening menu was appropriately bistro (with a few British oddballs thrown in: ham egg and chips, chicken kievs etc).
The food was pretty good. We shared a selection of starters and shout outs are deserved for the mini chicken kievs, mushrooms and haddock toast. Unfortunately the steak tartare felt a bit out of place. For mains, I had the bavette steak and chips, which was delicious and incredibly well seasoned. The chips, however, could have done with something special (truffle maybe, or rosemary?).
I wasn't excited about the dessert menu, but I ordered the bread and butter pudding regardless and ended up very impressed. Unusually, the custard was a major highlight! I felt slightly patriotic that such a British dessert was so good.
Drinks wise, hats off to the porn star martinis. I ordered a few daiquiris which were good, but on the small side considering the price.
Next time, I'd visit Coin Laundry for a weekend brunch to soak up the Exmouth Market atmosphere and try out a few boardgames.
I'd heard great things about Coin Laundry but never made it down until we booked a table for a larger group of us for dinner. It was quite quiet as it was a Monday night but still really quick, friendly service and can imagine it's a great spot for a group on a weekend for a long lazy lunch to play one of their free boardgames. I went for the Steak Pie and it was delicious - the chicken kiev balls as a starter are also a winner. Cocktails deserve a shout-out too, nice selection and they'll also make you anything you want that isn't on the menu too.
place is okay but there's a reason nowhere else serves 70s food anymore. I appreciate they gotta pay for their distressed decor but £10.50 for a chicken kiev? Do one.
I tried out Coin Laundry's new bottomless brunch menu at the weekend and I was really impressed. There's alot of comfort food dishes to choose from, which is a major plus, but you can't go wrong with a traditional English brekkie. There's comes in a tin with a spoon, so you might be tempted to shovel it down ya - it's really that good. And they've done something magical with the baked beans - they were so tasty. Just a shame there wasn't many vegan options to pick. My veggie friend ended up settling on a selection of sides like the mushrooms, avocado and beans - but it all tasted wonderful, so it worked out. I also loved the Pamplemousse cocktail - a wicked combo of pink grapefruit, elderflower and gin. It's not a cheap brunch, but you definitely get what you pay for - and I look forward to swinging by again the next time I'm in the area.