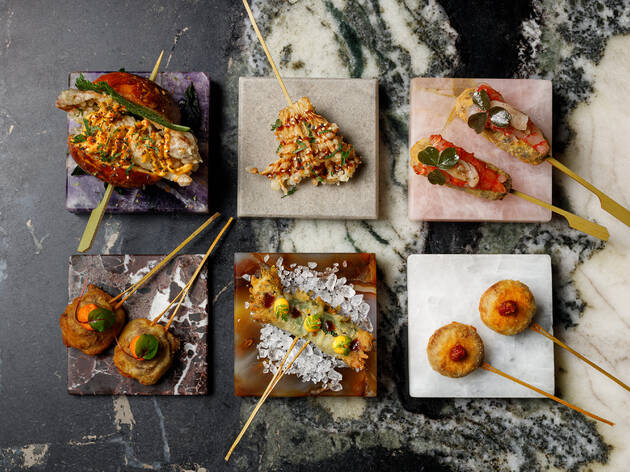 1/3
Photograph: Anton Rodriguez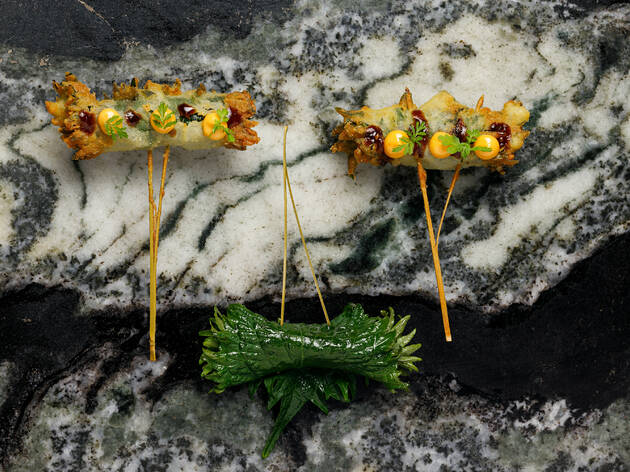 2/3
Photograph: Anton Rodriguez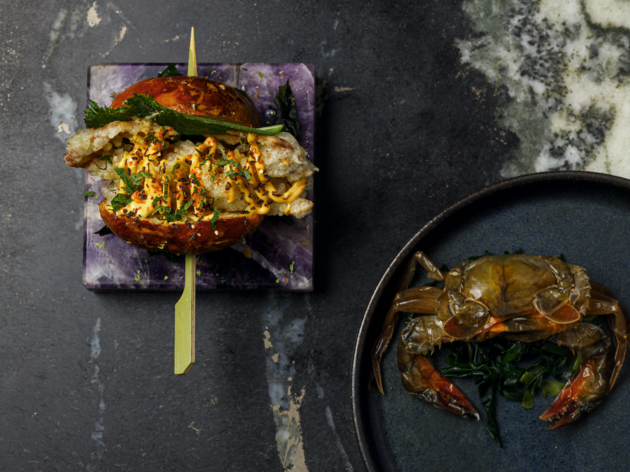 3/3
Photograph: Anton Rodriguez
Time Out says
Kushiage is Japanese pub food – deep fried nibbles on a stick. Here at Dai Chi, we're told, they 'take simple pub food, and elevate it'. It made me smile to think that 6,000 miles away a waiter in Tokyo might be serving up an 'elevated' version of cheese-and-onion crisps or Scampi Fries to bemused diners. It's clear the staff are passionate about this new endeavour from the team behind Angelina in Dalston, a much beloved Japanese-Italian fusion eatery.
Dai Chi's set menu continues in the same vein, combining the crown jewels of both cuisines to create something genuinely unique. The creamy burrata was dotted with bright orange salmon roe nestled on bitter leaves, soft mouthfuls of hamachi were sprinkled with sweet soy and truffles flown in from Italy. This is where the menu shines: fusion dishes that prove a small mouthful can be more than the sum of its parts.
It might sound a bit obvious, but later on the menu leans quite heavily on the deep-fried skewers with two of the six courses being entirely fried (three if you're pescatarian). Meat-eaters will enjoy the slight reprieve from breadcrumbs when presented with the braised pork, which really did melt in the mouth. But even this is topped with a 'frickle' – that's a deep-fried pickle to you and me. The final savoury dish was a welcome, simple bowl of rice topped with a raw egg yolk and seasoned with something called umo and kombu hitofuri – a sprinkle of which managed to hit sweet, salty and umami all in one.
Fans of Shakfuyu's famous french toast with matcha ice cream should come to Dai Chi for the dessert alone. Yes, it's matcha ice cream, but it's much more than that. The soft creaminess of the ice cream was cut through with a light citrus hit from the miyagawa (Japanese satsuma) foam. Topping all this off were crumbs of roasted white chocolate, nuggets of crunchy goodness you could genuinely eat all night.
The decor has a very strong LA vibe – dark wood, mid-century (and surprisingly comfy) chairs, low lighting, an art-deco-style private dining area that makes you feel like you're in an old Hollywood boudoir. You can imagine someone being told they're 'too Chris Pratt when we're looking for more of a Chris Evans, sweetie' over a glass of Gavi di Gavi here.
Pricewise, £35 for a six-course tasting menu that includes caviar, oysters and truffles in the heart of Soho is pretty astounding; I actually had to go back and check that that price was correct. Perhaps it's London fatigue, but I'm so used to two courses and half a bottle of house wine being £50 a head that it's easy to forget what a good deal this is. This is third date territory – fancy enough to impress but won't leave you frantically moving money from your Monzo pot into the main account under the table when the bill is called.
The vibe Low lights, high-spirited servers and LA-chic decor.
The food Japanese-Italian fusion takes its next step into the world of deep-fried skewers. An exciting set menu will have you trying mouthfuls you've never imagined
The drink From pinot noir to sake, via Italian cocktails spliced with Japanese flavour, all bases are covered
Time Out tip? The wine pairings, while tasty, did little to add to any of the courses. Take a look at the extensive wine list, pick your favourite grape and order a bottle.
Details
Best selling Time Out Offers