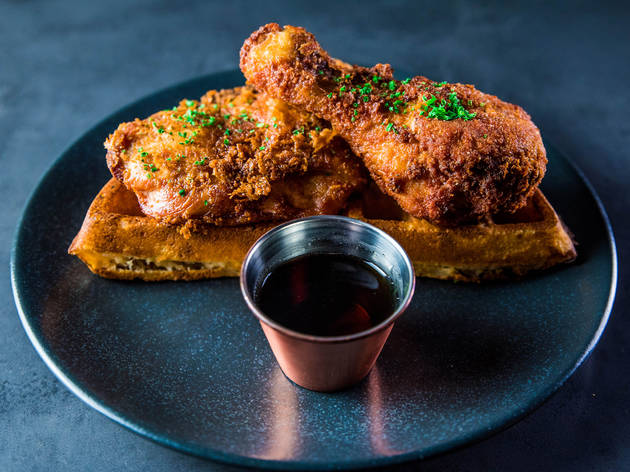 1/10
2/10
© Kris Piotrowski
3/10
© Kris Piotrowski
4/10
© Kris Piotrowski
5/10
© Kris Piotrowski
6/10
© Kris Piotrowski
7/10
© Kris Piotrowski
8/10
© Kris Piotrowski
9/10
© Kris Piotrowski
10/10
© Kris Piotrowski
Time Out says
Reverse snobbery is a funny thing. Everyone coos over the pop-up, the plucky underdog, the 'undiscovered' chef. But a trend-chasing restaurant-by-numbers, backed by venture capitalists – where's the romance in that?
Yet financing doesn't have to be a dirty word. Sometimes, as in the case of this new no-bookings Kensington hotspot, deeper pockets simply mean a slicker end product. Take the decor, for instance. Styled as a basement 'dive and dog bar' – hot dogs, that is – it's a triumph of studied retro cool. The hostess table is a vintage pinball machine, the lighting is flatteringly set to drinking-den low, and the music is at 'party loud'. But you can tell it's faux-bohemian: the faded old record players and ancient Nintendos are all glued down, so you can't nick 'em.
The compact menu consists of pimped dude-food, making it bang on trend (for 2012). Dishes include the 'burger dog' – a sausage-shaped burger in a finger bun, with melted cheese down its centre. Nice idea, but it was the proper hot dogs that stole the show. Three kinds (beef, pork, veggie) were all impeccably sourced and came in five variations, all served in pillowy brioche buns. Our combo of 'Mexican' filling (tender pork pibil, fiery salsa and a lick of sour cream) with pork dog (meaty, smoky and juicy, with a proper 'knack') was one of the best restaurant hot dogs we've had in London.
Likewise, a stack of succulent chicken limbs was brilliantly ungreasy, having been dusted in a spicy flour coating, then baked: a refreshing change to the battered or sauce-slathered varieties. Our dinky mac 'n' cheese, made with creamy taleggio and a breadcrumb topping, was equally swish. Last up was a cute twist on 'milk and cookies': a chewy, chunky chocolate cookie and milk gelato served in a small glass, with a teeny-tiny straw.
The cocktails we tried were fine, if nothing special (we liked the sweet and tangy Mutt's Nuts best). But staff on our visit coped well with the unrelenting influx of young west Londoners, each batch seemingly more modish and attractive than the last. If there's one thing you can't buy, it's a fun-loving atmosphere. And Dirty Bones has that in spades.

Details
Address:
20 Kensington Church St
London
W8 4EP

Transport:
Tube: Kensington High St
Price:
Meal for two with drinks and service: around £60
Contact:
Opening hours:
Mon closed; Tue-Thur 5pm-12am; Fri 5pm-1am; Sat 11.00am-1am; Sun 11.00am-6pm
Do you own this business?
Average User Rating
3.7 / 5
Rating Breakdown
5 star:

7

4 star:

5

3 star:

3

2 star:

2

1 star:

2
Forced to pay for food we didn't want. 0/5
I came here with a large group of friends for a birthday. We were seated at a table that clearly was too cramped for our group. After looking at the menu I had my eye on a classic hotdog and starter which would have come to about £11. This would have been a reasonable price that I was happy to pay. However, the waitress then told us that due to the size of our group (>10) we MUST all have the set menu at £22 (drinks not included). The set menu had less choice and was worse value. The manager explained that this was policy to make life more convenient for the cooks. This is clearly BS. No self respecting restaurateur would force customers to buy specific items. It is also incomprehensible that forcing people to buy MORE food would have made things more manageable for the chefs. The plain simple reason for this policy is greed. The only reason we didn't storm straight out was out of respect for the birthday girl. The food itself was alright.
I will never come here again. This is one discerning customer that they have lost for good.
Definitely one for when you're feeling ready to be a fatty!
We waited about 20 minutes for a table and received a text when our table was ready from the lovely Adam (or Andy!?). We ordered the full plate of buttermilk chicken - four pieces between two. Definitely could have done with a couple more pieces, as this was what I was expecting from a full plate. We also ordered man n cheese which was divinely cheesey with a little somethin' somethin' extra. And fries, Which were, well, just your standard fries.
Nice atmosphere, full of young professionals. Real buzzy with lots of chatter (sometimes difficult to hear who you're with!). I'd recommend, but there are other restaurants in Kingly Court I'd go to first.
Absolutely loved this place!
We went for brunch and opted for the bottomless prosecco. Whilst the waitress certainly delivered on the constant flow we found our bottom and had to beg them to stop!
The food was really nice and the prices really reasonable, 2 meals a desert and unlimited prosecco for £70 pretty good bargin and we were there for ages and didn't feel they were keen to get rid of us.
Food was ok, bacon on hot dog was burnt then when returned the manager said it's caramelised and that's how it comes. The waiter tricked us into buying 3 £3 warm bottles of water for the table, he opened the bottles before telling us that we were being charged for it. The waiter for the table was argumentative and slightly rude. However the lady who welcomed us into the restaurant was lovely, warm and accommodating, the guy on the door was rude. My alcoholic drink had no alcohol in it.
Have been twice now and on both occasions the drinks and the food have been excellent, Fried Chicken some of the best in London and although in dog terms I prefer simplicity the Brit Dog was very good, as was my friend's Mexican one. The cocktails were delicious with the Dirty Bones Martini my favourite, liked the one with Brooklyn beer in too. Will definitely be back
Amazing vibe and great food, junky food brought to another level! Really enjoyed our night out there and it's a place I could go to every week, London needed a new fun joint. The ribs and fried chicken were amazing and the hot dogs were the best I've had in a trendy London restaurant. Great job Dirty Bones.
Absolutely amazing, astonishingly good food and delicious drinks. Decor was very cool and the night we went there was an epic live singer too. We will be back!
Nice place to be...good food..
Disappointing food. Only the sides were good really.
Service: friendly staff but wated 15 minutes for drinks to arrive and then a further 45 for the meal. No apology given but after my second complaint food was then brought out promptly. Food: really disappointing and I'm surprised timeout has rated it so highly. The hot dog was really small for the price and really dry and tasteless. The bun tasted like something from a tesco packet - for that price (£8!) you would hope for something a bit special or homemade at least. Chips were ok. Chicken was pretty basic (£7 for three small pieces) but you would find better value and probably similar tasting at KFC (and I don't exactly rate KFC highly!) really soggy fried coating and not much seasoning. Really over priced and over hyped - I'm sure you can find better value in other places nearby. For four of us with 4 hotdogs, 2 small chickens to share, 1 chips and four orange juices it cost £80. Go figure!
Snap up exclusive discounts in London
Time Out's handpicked deals — hurry, they won't be around for long...