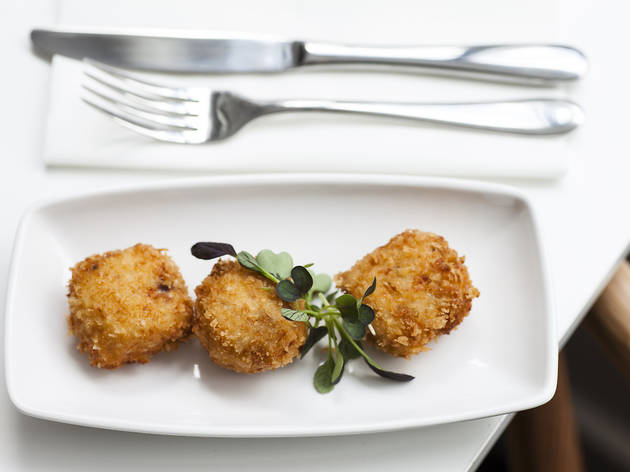 Time Out says
Fitted snugly into the elegant independent shops of Marylebone village, Donostia – San Sebastián in Basque – basks in the prestige of that gastronomic capital. Whole legs of ham hang in the window as a nod to tradition, but decor is mostly modern and minimalistic. Staff are knowledgeable and passionate about the food they serve, while head chef Tomasz Baranski (previously of Barrafina) turns out Basque interpretations of classic dishes. Understated flavour revelations make the tapas stand out; serrano ham was wrapped around fleshy prawns, then deep-fried to create the ultimate surf 'n' turf.

Donostia's version of the classic squid-ink risotto arrives topped with simply grilled monkfish to contrast with the inky rice beneath. Although torrija is traditionally eaten at Easter, the fluffy, milk-soaked bread was fried perfectly and served with a surprising goat's milk ice-cream – good eating on any day of the year. The wine list is worth careful consideration; two wine importers who fell in love with Basque cuisine run the restaurant, and the menu often features unusual wines they've collected on their travels. Try a bottle of Rioja from their biodynamic collection, or a glass of Basque natural cider, poured spectacularly from a height to aerate it.
Details
Address:
10 Seymour Place
London
W1H 7ND

Transport:
Tube: Marble Arch
Contact:
Do you own this business?
Average User Rating
4.3 / 5
Rating Breakdown
5 star:

7

4 star:

0

3 star:

1

2 star:

0

1 star:

1
You couldn't say a bad word about Donostia. AMAZING AMAZING food
Donostia is without any doubt one of the best restaurants we have ever been in London.
We had a lunch for three and even if we were a bit scared for the small looking size of the portions we were really impressed with the quality and taste of the food. All our dishes were absolutely delicious.
The service was really good, the decoration is minimalistic and modern and as said before the food is just brilliant.
We paid around £23 each and we were really satisfied with everything. I will highly recommend it. We will surely go again.

PS: If you go, don't miss the dessert "Txocolatea"

Absolutely outrageous. 50£ each (and we were 15) to eat appetizers. I am Spanish and I have been living in London for years, but never got ripped this way. We had to eat somewhere else when we left as somebody already stated in the comments. And it is not even justified by the QUALITY of food, as some of the waiters tried to say, as we were eating basically POTATOES. Good ones, but still potatoes.
It was a great mistake for me, from the discomfort of the tables, to the absurdly expensive but tiny offerings, but I had not fully understood that this was a place specializing in appetizers, and that I would need to buy a main course elsewhere. My pork shoulder could have been any old pork chop with bone out, with an undistinguished paste to go with it. Chips OK, and a tiny morsel of foie gras for a starter. Go again? No way jose.
On the first autumnal evening (torrential rain, cold, grey, true London) this year, I escaped into this little gem in Marylebone (more Marble Arch end of Oxford St). Donostia is an attractive, contemporary, cute restaurant with fine fine Basque cooking. The owner is an ex-Barrafina chef, so this establishment is a serious contender for the best tapas in London. The atmosphere was buzzy, warm and had that bonhomie, that is often hard to find in London city. We were seated by the window (best table for the frisson) with 'ham on our heads' (ie a large legs of Bayonne ham, tantalising near enough to nuzzle). I managed to refrain. The menu was clear, concise but bursting with yummy sounding bites. The tempura prawns with mango had the lightest batter and the most succulent seafood, at £2 per prawn, I had to order another. Cod cheeks with tarry black aioli were delightfully moreish. The star was the chargrilled porky iberico shoulder surrounded by dollops of delicious romesco sauce. Triple cooked chips with brava sauce were as good as the ones in Opera Tavern. The wine list was equally impressive with classic and novel Spanish wines, with very reasonable price tags. The end bill was a rather economical £75 for 2, for a meal of this quality and quantity (I wish this was my local). I also must mention the fantastic service and our waiter, who braved the downpours to hail a cab from around the corner. Old school manners count for a lot these days. This place is a little taste of San Sebastian on our doorstep, not to be missed.
Dining out can be hard work, especially with your 'better half'. First you've got to agree on a place, then agree on food (she seems to like choosing my meal for me, as well as her own), then there's the constant harassment from staff and the inevitable argument with the missus over the bill. It's almost always an underwhelming experience. The only times I've enjoyed the myself seem to be those occasions of 'happenstance', an accidental discovery of something special. Which leads me to Donostia. Stumbled upon in the oh so suave 'Portman Village', Donostia cuts a modest but sleek image on the street. I'm a big fan of Spanish cuisine and Tapas (isn't everybody?) so the site of hanging meats and Jamon is a mating call to my belly. This will do nicely. The tables were fully booked, but after a small wait some space freed up at the bar (The owner, Melody, was kind enough to come outside and let us know) and we were in. It seems the bar is where the action's at anyway, the open kitchen offering up sights of delectable food-stuffs being fried, boiled, steamed and sliced. The smell alone is enough to get me chomping at the bit. The bar staff were welcoming, helpful and most importantly, inobtrusive. Wine was ordered immediately, Rioja, I'm unsure of the name, but it was definitely red and most certainly good. I'm no wine connoisseur, sue me. When it comes to food though, I know where it's at. The food then. Oh my gentle Jesus. I went for the 'clean sweep' manoeuvre and ordered one of everything, one must be brave when breaking in a new restaurant. I was met with a veritable delight of flavours. The Croquetas were the stuff of dreams but the crowning jewel has to be the Pluma, A pork fillet with Romesco sauce. Who knew pig could taste this good. The thing that makes Donostia though is more than the food, the drink, the trendy location or the spot-on interior. It's the enthusiasm that is given off by the owners Melody and her boyfriend (sorry, I forget his name). They are obviously in this for the love of food and wine and it's a great thing to behold. Especially as even though the place was swamped, they still found time to chat to my girlfriend and I about the restaurant and their adventures in the Basque region of Spain whilst bringing their dream to fruition. I've never felt less like an 'ass in a seat'. So yeah. Donostia. Officially not hard work.
This is my new favourite restaurant - and it's only been open for 3 weeks! We were so impressed with the quality of the food we went back again on the weekend. Their crispy fried squid is to die for! The cod cheeks slither in pipil sauce, another favourite. The second time we visited they had a special - chorizo and prawn stuffed squid on black ink sauce. Squid cooked to perfection, this combination of flavours was spectacular, I hope it becomes a permanent fixture on the menu. The star was the pork pluma which I understand is a fillet cooked medium rare, so succulent and perfectly balanced with the delicious crunchy romesco sauce. Go!
A great little find! Not a type of cuisine I had heard of but thought we would give it a try and to say we were pleasantly surprised would be an understatement! Went here with a couple of friends last week, and had a superb evening. The food just kept on coming, my personal favourite was the pork with a delicious tangy tomato and almond sauce (forgotten the name!) but delicious all the same... the perfectly sized portions meant that I could really order right across the tapas menu, share dishes with my friends and not get that usual food envy over other peoples plates! (still left the restaurant stuffed, happy and laden with guilt however!) Their house red wine was also to die for btw! I've even taken the time to look it up online and bought a case to have at home! ;) Lovely atmosphere. Will certainly be going back! :) Would highly recommend!
Snap up exclusive discounts in London
Time Out's handpicked deals — hurry, they won't be around for long...