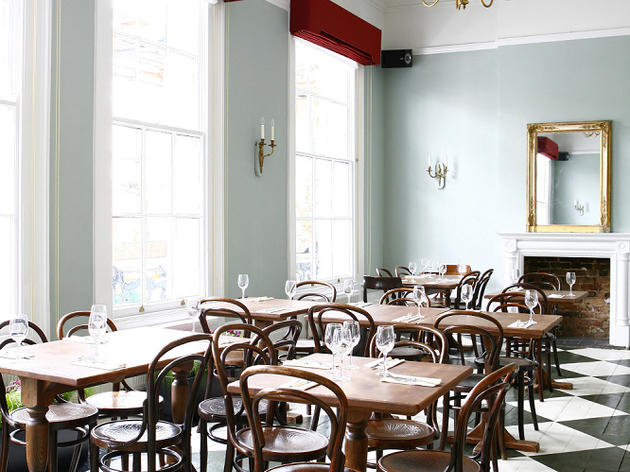 Time Out says
The flurry of publicity garnered by this large, airy pub upon its 2009 reopening was at least partly down to the media's love of its own – one of its owners at the time was Ben Maschler, son of veteran Evening Standard restaurant critic Fay. However, such connections can only take a place so far, and the Drapers Arms has thrived because it understands its clientele (well-to-do Islingtonians glad to be away from the Upper Street fray) and delivers what they've come to expect from an above-snuff local: namely, pricey wines, varied beers (Harveys Sussex Best, Sambrook's Wandle, Truman's Runner), neutral decor and thoughtfully seasonal cooking. The first three were very much present and correct when we visited, but the food was a little more hit-and-miss.
Things certainly started well: smoked sprats were a perfect match for a mild horseradish and some pickled red cabbage, while a bowl of devilled sand eels came with an appealingly piquant tang. The mains, though, were less successful: lamb's leg steak arrived in an ocean of butter, while the kitchen's idea to serve caesar salad with quail worked about as well as one might have feared. We'll put it down to a sloppy night; take care when you order, and you should come away happier than we did.
Details
Address:
44 Barnsbury Street
London
N1 1ER

Transport:
Tube: Highbury & Islington
Contact:
Opening hours:
Open noon-11pm daily. Lunch served noon-3pm, dinner served 6-10.30pm Mon-Sat. Meals served noon-8.30pm Sun
Do you own this business?
Average User Rating
2.9 / 5
Rating Breakdown
5 star:

2

4 star:

7

3 star:

2

2 star:

2

1 star:

5
Great beer / ale selection, friendly service, fabulous food.
I usually really like this place and I think it's because I'll normally go in a week day when they are quieter. Food is incredible on the good days but having visited on the weekends, there is a marked difference in both service and execution of food. The roast is poor...the veg was just green leaves, a few carrots and a couple of soggy roast potatoes. Definitely not worth the insanely high price. If you want to check it out, just avoid the weekend but weekdays its a great place for dinner and a pint.

Gave me food poisoning, thanks..
I don't get the hype. Had a traditional Sunday roast and the food was cooked nicely but not something I'll be coming back for. Pleasant enough service. Booked well in advance and got the worst table sitting in a corner staring into a grubby wall. The pub itself and the location made more of an impression than the food. Good selection of beers.
I've never had such an appalling experience at a restaurant than I did on Saturday at the Drapers Arms. Not sure where to begin. We made a group booking of 26 people for my sister's birthday. The starters arrived, which was, putting it simply, bowls of ham salad and mussels. However, this created confusion as we agreed on 2 courses for £27, (either starter and main or main and pudding) so we assumed that it was just starters and mains from now on, with no pudding. The host spoke to the manageress, Natalie, and asked about this, to get a defensive response, blaming the customer, rather than apologising and coming to some sort of compromise or at least appearing genuinely sorry. Instead, we were now told it was £35 each minus service charge and alcohol. Natalie made no attempt to correct the host or clarify the menu choice and instead left it to spring this on us half way through the meal. She was happy to mislead us and take more money despite requesting the 2 course set meal for £27 days before. Not surprisingly, with friends on a budget, and such a patronising and rude response from the manager, the host and birthday girl got very upset. This then lead to the next stage, of which I am utterly flabbergasted I am even about to write... The host's partner then went to confront the manager's behaviour, to then be accused of being on cocaine by loudly asking 'are you on cocaine sir!?' in front of the entire table and other customers… (just for the record she couldn't have been more wrong!!) If you ask me, this says more about her than anything else! Utterly shameful. I was absolutely speechless when I overheard this, as were others. After a shouting-match in the restaurant between the manager and her customer, putting her hand over her face in exasperation demonstrating her antagonistic attitude, when we got the bill, she informed us that we were going to get a discount, but she's now taken it off' - similarly to her fellow manager's comment of 'I was going to apologise, but now I withdraw my apology' - all of a sudden blaming the people that are about to pay their salary!! Absolutely disgusting customer service. So the bill came to £1132 (inc. alcohol) with the 12.5% service charge taken off (as we stated we weren't going to pay service charge by this point). However, with the information that the manageress, Natatlie, accused one of our party of being on cocaine, the bill was suddenly reduced to £810, reflecting the original price agreed of £27 per head for the food. We couldn't pay the bill and leave fast enough. The whole evening was ruined and every member of our party was upset and just in shock at the staffs' behaviour. They really need to reconsider their staff and send them all, including the managers, on a customer service training course at the very least. With regard to the food itself, it was not worth the price or the hype. Certain dishes, such as the chicken pie, were lovely, however, we were given stone cold plates. The shared platter of pork belly was barely warm the time it arrived on our table. So we were soon eating cold meat effectively. The thinly sliced potatoes were watery and tasteless. Wish I'd taken pictures of each dish to prove my point! By this stage, however, it wasn't worth the hassle of complaining, as we would only be blamed somehow! The pudding, which we said we did not want once we discovered they were going to charge us extra, was definitely not worth the initial argument. The bread and butter pudding was watery and the meringue with hazelnuts and chocolate sauce was something a 5 year old could come up with. Nothing special nor worth the extra £8 per head!! In fact, one of the party became very ill soon after leaving, throwing up both ends, so I can only suggest it was a dodgy mussel from the meal! As mentioned a few times below - the service was 'snooty' to say the least. Our plates were carelessly dumped in front of us. The bottles of wine were just left on the tabe with no 'service' of pouring them like any other restaurant does. When it came to clearing away - we had to pass our plates to them. Felt like I was in a school canteen. Never ever going back and advise everyone to STAY AWAY and don't waste your money on such appalling customer service!!
I visited this pub with some friends and we were treated so badly. The staff made us feel unwelcome, they were rude and basically bad at their job. I will never go there again. As we were leaving I told the woman who I believe was the manager how rude she was and she didn't care. What a shame for the owners as it could be fantastic pub, just get some decent staff.
I live locally, and this is unquestionably my favourite pub in the area - great beers and great food without bankrupting you. I find Geoff's description of it as "rowdy" a bit odd, but not as odd as the idea that the service at the nearby Albion is "less snooty" - the Albion has great food but is so full of itself it's untrue. As the last commenter alluded, it loses a point for the sometime slowness of the food service. Perfect for a lazy afternoon or evening, but not the best choice if you're ina rush...
This is a really fine gastropub where they take a lot of trouble over an original and generally inventive menu. The staff are unfailingly friendly and helpful. The Achilles heel is the delivery of the food. It can take an age, even when the place is practically empty. Still - worth waiting for.
Terrible rowdy pub. Snooty service. Fancy food which is passé. We left with a hole in our pocket feeling ripped off. Nice area for which it gets a star. Try the Albion for nicer staff and better value.
We go to The Drapers regularly - lunch & dinner never disappoint. Wine, ale & bar snacks are all good and there's a nice little courtyard, although it's quite shady. When the pub is very busy service can be a bit slow. Definitely worth 4 stars not 3 as per Timeout review.
I love this place - excellent food with a sense of adventure and deep, gutsy flavours. Whole fish on the bone is always excellent, the potted shrimps are a joy.
Food was relatively good but service was poor. Friendly when (if) they appeared at the table, but very very far from attentive. My friend lost his patience so we took the dining party back home for desserts / wine to avoid prolonging lunch for another 90 minutes. Good to try but won't be going back.
Awful service, rude manager. Food was ok but the wine list was terrible, so no reason to have a decent meal without a decent glass of wine.
Snap up exclusive discounts in London
Time Out's handpicked deals — hurry, they won't be around for long...