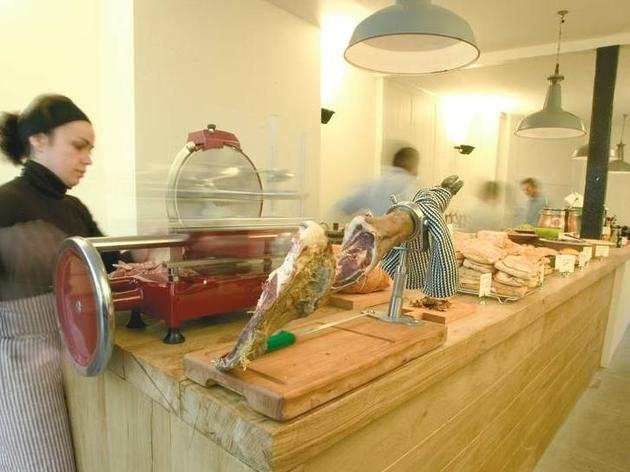 The Soho outposts of classy Fernandez & Wells bustle all day with the clatter and chatter of folk on breaks; this plainly decorated yet welcoming café branch (the other two are dubbed 'food and wine bar' and 'espresso bar') is near perfect on every front.
Coffee is roasted to F&W's own specifications and produces a consistently smooth, clean-flavoured cup: a black coffee had not a hint of bitterness, even at the last sip. Staff are earnest, polite and eager to please.
The food – inventive sandwiches and an irresistible selection of own-made cakes – clearly uses top-end ingredients. The counter seating and stools don't make Fernandez & Wells a place to linger, but it's hard to find a better place in Soho to stop for a coffee.
Venue name:
Fernandez & Wells
Address:
73 Beak Street
London
W1F 9RS

Do you own this business?
You may be interested in:
Rating Breakdown
5 star:

3

4 star:

0

3 star:

2

2 star:

2

1 star:

2
Popped in a few saturdays ago for a quick bite to eat and glass of something. Haven't been back for years and I loved it. Simple grilled chorizo, lovely bread, olive oil and a very reasonable glass of cava. I took my daughter (7-year old mini me) and she had fun and the staff were great
The restaurant is a mix between Spanish and french food. Really good quality food and amazing services. I will go there until I try all the menu.

Ask Eduardo to be your waiter, one of the best in London.You will feel like at home.

If you like cheese, wine, and ham, it's definitly the place to go!!!!
For the price, expect £20 PP.
Enjoy !!!

Haven't tried the food but for a quick glass of wine (or two!) for lunch it's fab!!
food was crap & the staff terrible
Lovely sandwiches and cakes, although overall I would say a bit pricey.
Our favourite place in the whole of London, even the world! The pork and apple sauce or today the ham, cheddar cheese and picalilli rolls are to die for! Wonderful looking cakes and beautiful lay out of tempting food. A cool place to be lucky enough to find oneself any day of the year. New York meets Soho London!
We arrived at about 1:15pm and although the queue was long the restaurant was quite. My friend and I paid separately, mine went through ok but my friend paid by card but the card machine ran out of paper. My friend was surprised when asked to input the pin the second time and he refused as the transaction already gone through. After we ordered we were told to sit in the restaurant to wait for the food to come. Only after 30 mins and enquire why it took so long 3 times before we got our food. Mine was particularly disappointing as I ordered pork. It came in a tiny dish with three tiny pieces of pork, a few cut cheese and couple of pieces of bread, cost over 8 quid. My friend also ordered similar things but in a sandwich and much more substantial than mine and that only cost 4 quid. I failed to understand why firstly it took so much longer to make the similar thing and secondly why the price difference. I asked for the manager to speak to me twice and other staff said he was too busy. As we left (30mins later after I asked for the manager) I confronted the manager again and said why didn't he speak to me. All he said was that because he has to deal with the customers he was too busy to speak to me. His attitude was very poor and I said never again will I come back to the restaurant. I am very disappointed that Fernandez and Wells put profit first and customer service second.
Service, coffee and food were brilliant in this cafe. So good in fact that my two friends and I spent almost £40 in this cafe on Sunday morning. However, two hours later we were tersely told to leave as our waitress told us she 'was trying to make a profit' and that this 'was not a starbucks'. Sad really as I will never go back!! Be careful how much time you spend in this cafe!
More venues
Sponsored listings