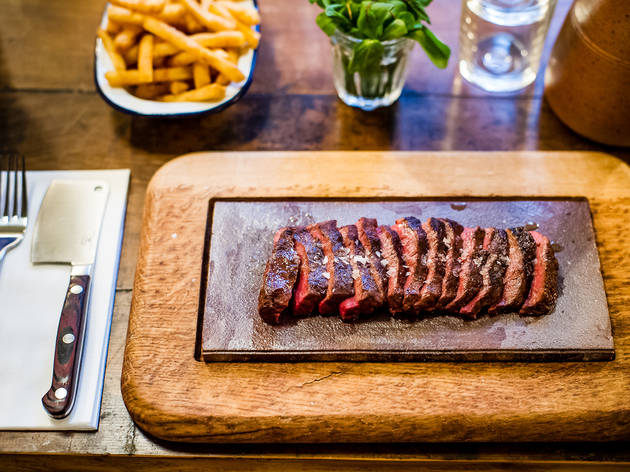 1/5
© Paul Winch-Furness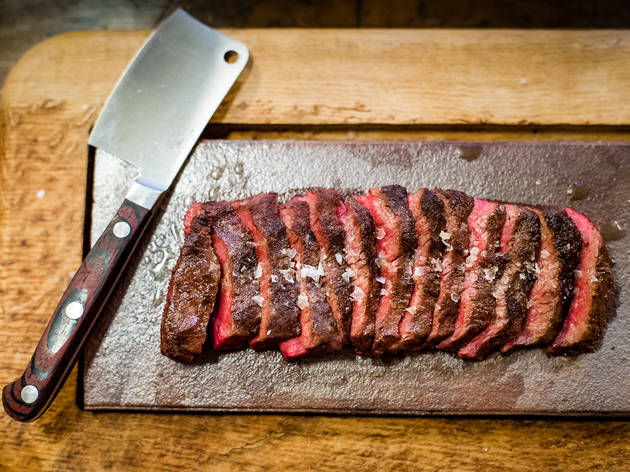 2/5
© Paul Winch-Furness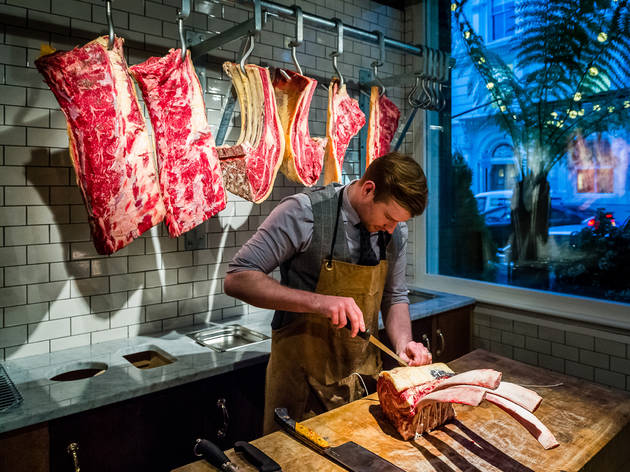 3/5
© Paul Winch-Furness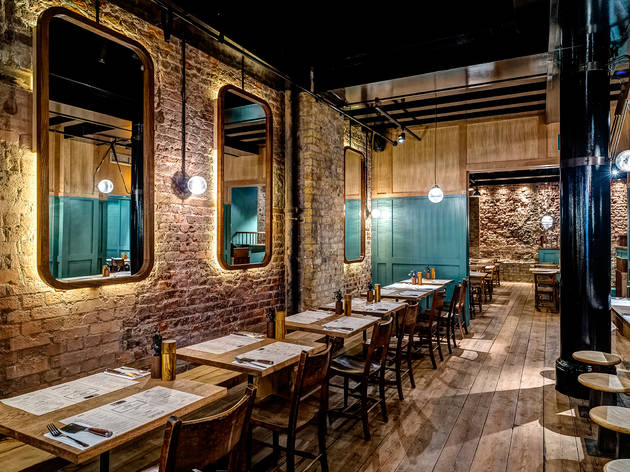 4/5
© Paul Winch-Furness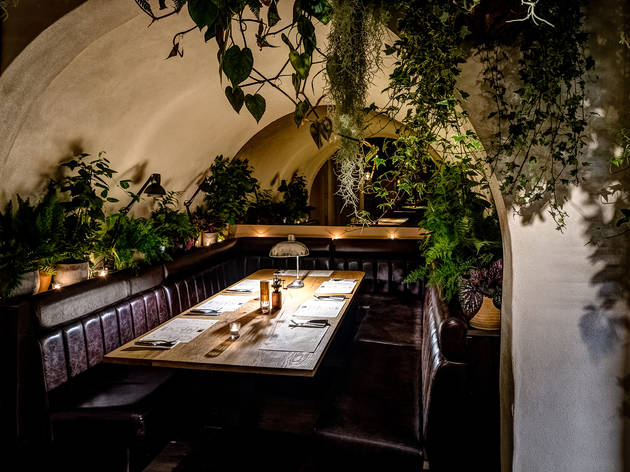 5/5
© Paul Winch-Furness
Time Out says
A third London branch from the steakhouse group specialising in under-used cuts.
It was a cold, drizzly Wednesday night. It wasn't even 7pm. Yet here we were, standing in the doorway of the new branch of Flat Iron, being told the wait for a table would be an hour and 20 minutes. 'One hour and 20?!' we squeaked, aghast. Still, there was a silver lining: this Covent Garden outpost of the hip steak hangout – the third one to date – has a long, shiny bar serving long, shiny cocktails, so there we waited.
As ways to kill 80 minutes go, it's not too shabby. Our cocktails, chosen from a short menu of with-a-twist-classics, were rustled up by a cheery bartender who stayed smiling when we nearly forgot to pay him. A blood orange old fashioned saw its bourbon base deliciously spiked with smoked demerara syrup and blood orange oil; of this kind of tinkering with drinks, we approve. Before we knew it, an iPhone was buzzing, the time was up and our table was ready.
The beauty of Flat Iron is that while it's no bookings, it's also no choice. Which means that even if you do have to wait a while to be seated, the moment you sink your bottom on to a chair, you can go straight ahead and order. Sure, there's the occasional blackboard special, but essentially the deal is this: one steak (a 'flat iron', the US term for a full-flavoured but affordable leg cut) for £10. It comes long and thin, like a deboned rabbit, then sliced into fat little mini-slabs, on a slate, with a dinky pot of lamb's lettuce that's more garnish than salad. Proper sides (crispy fries, steamed greens) are only £2.50 a pop. Everything we ate was just as it should be – which, when you factor in affordable wine (with plenty by both glass and carafe) and friendly, helpful staff, makes for a pretty good deal.
Then there's the charm-bracelet-sized cleaver (a replica of the one provided for eating) they give you when you're finished, so you can either grab a scoop of salted caramel ice cream with chocolate shaving from the ice cream bar as you leave or – if you're local – 'cash it in' another time.
Finally, the large, stylish space: a failsafe combo of wood floors, exposed brick and designer lighting with a few Theatreland quirks (such as arches leading to more intimate 'nooks'). All in all, it adds up to a great, and great-value, night out. No wonder there's a queue.
Details
Average User Rating
4.8 / 5
Rating Breakdown
5 star:

23

4 star:

1

3 star:

2

2 star:

0

1 star:

0
We went to Flat Iron Covent Garden last night (14th December) for our annual Christmas meal and had an amazing time. It's our third year in a row and last nights was the best yet.
There can be a little bit of a wait as it's so popular and they don't have many tables for groups but it's always well worth it and the great barman making fantastic Old Fashions means that the time flies by.
The waiter was great fun, manager friendly, food amazing, perfect minimal menu with just one type of excellent steak so no long debates about over-priced Chateaubriand. I've been to a lot of steak restaurants in London and this is by far my favourite. Even the creamed spinach is amazing and the free ice cream, served with a smile, rounds the meal off perfectly.
I'd wanted to go to Flat Iron for ages but was a bit put off by the queues at their smaller branches so was so happy when the big Covent Garden one opened. I've been here both with groups and as a couple and both experiences are excellent. I can't recommend it highly enough.
Can't fault Flat Iron on their food, their menu is super simple and it's definitely worth a visit if you're looking for a good piece of steak at a bargain price. The only downfall to Flat Iron is the absence of a booking process. The restaurant doesn't accept bookings so you need to get your name on the list when you arrive. We went to the Covent Garden branch on a Monday evening after work and had to wait an hour and a half for our table so we dipped into a nearby bar for cocktails. In fairness, they send you a text as soon as your table is ready but it'd be so much easier to just book a table in advance. Great food at a great price if you're willing to wait for a table - the complimentary ice cream at the end of our meal was a nice surprise and a lovely treat on the walk home.
This little steakhouse is discretely tucked away between shops in a thoroughfare in Soho. No bookings can be made here; however the staff will take down your details and contact you when a table is ready - if there isn't an available table already. Once you're seated in this small restaurant, the waiters make sure that you feel special by constantly checking up on you. The menu is concise - with 2/3 steak or meat options to choose from. The sides vary from potato chips to a delicious aubergine roast. The meat arrives on a heated plate and the sides come in a cute little dishes. Everything is delicious! I love this restaurant - having gone there twice I'll be sure to visit again!
Flat Iron is brilliant. Reasonable, high-quality food, an unpretentious wine list and personable service.
The only the fault is caused by its popularity - they don't accept bookings and you have to sign up to their waiting list before getting a table.
Regardless, I love the relaxed atmosphere their restaurants offer and the £10 steaks are perfectly cooked.
Struggling to think of somewhere to go with my Dad, who purely loves meat, I attempted to try Flat Iron for the first time.
Worrying I wouldn't get in, based on the fact you cannot reserve, I was over the moon when we were shown straight in! After ordering a delicious carafe of red, served in a very cute old fashioned milk bottle and tumblers, a very friendly waiter came to explain the menu to us.
Basically, all they serve is flat iron steaks, with the exception of some specials which on this day featured a burger and a sirloin steak. But considering the place is named after the cut of steak it serves, we both plumped for the flat irons. They come with a side salad, so we ordered two portions of duck fat chips, creamed spinach and the blue cheese salad. And the sauces we had were bearnaise and Fred's sauce, which was described as a spicy bloody Mary sauce.
First things first, the steak was beautifully cooked. They recommend medium rare, which was perfect. The meat was juicy, flavoursome and the fact you can use a mini cleaver to cut it was adorable. The sides were all amazing, and you could probably get away with sharing them all. The chips were moorish, the creamed spinach was heaven and the blue cheese salad was full of flavour. After demolishing it all I could not eat the side salad that comes with it, but it looked lovely. If you want a cheap, but tasty dinner head to flat iron, spend £10 and enjoy a good lump of meat.
And the icing on the cake? A free scoop of salted caramel ice cream at the end.
I've been to the Flat Iron restaurants countless times and each time has been just as great as the last. It's a must do if you, or any other meat lovers visiting London.
The only drawback is the queues which you will encounter regardless to which one you go to. Simply put your name down and head to the nearest pub / bar and they will text you when your table is free. For larger groups on weekends I'd say the wait would be around 1 - 2 hours, but put your name down anyway as people tend to drop out of the queue, and it's never that long of of wait.

Popcorn whilst you wait for your meal is great as it is made with beef drippings (tastes a great as it sounds!)
The Flat Iron is tender and melts in your mouth, recommended medium rare (can't argue with that) and for just under a tenner is a steal. Great choice of wines too, the Malbec is pretty good. Choice of sauces and sides ranging from around £4 mark (£1 for sauce).

Great ambience, amazing value, quick service and really friendly staff.
Tip: Go to the Covent Garden restaurant as you can get free ice cream at the end.

One of the best steaks in London, in the biggest Flat Iron branch. The menu is pretty simple as there is just one main course: The Flat Iron Steak.
You can have it cooked as you want, but medium rare is the one recommended. Occasionally there are a couple of special mains offered. If the burger is one of them don't miss it, it's delicious.
The steak comes with a small green salad as a side. But there are 6 different options of additional sides to order: Sophie's salad, the fries and the grilled aubergines are three of my favorite.
Even though the restaurant is big (extends over two levels) you should expect long queues (in the order of 2 hours). However, the queuing system they have in place is clever. You give your phone number and you receive a text message with a link. The link contains live information about your "reservation" and the number of tables before you. You can check your order and wait for a table while you are having a drink at a nearby pub. Believe me the experience worths every single second of your wait.
At the end, Flat Iron has a sweet surprise for you. Their amazing chocolate ice cream which comes for free! What a treat :-)
I visited Flat Iron's quirky spot on Henrietta Street for Friday night feasting and cocktails last weekend. Being as popular as it is, getting a table isn't easy, and the restaurant has adopted the classic no booking policy, but fear not, you can put your name on the list to receive a text when your table is ready, and in such a prime location there is an abundance of vibrant bars to help you work up an appetite.
This steakhouse exclusively serves its namesake- an unpretentious, underrated shoulder cut of beef which is also known as the 'butler's steak'- for no more than a tenner. The cut is just a little firmer than a fillet but as flavoursome as a rib-eye, cooked to your desire (although they suggest medium-rare) and seasoned with a sprinkling of salt. As far as the sides go we chose two portions of dripping fries (did I mention that you also get complimentary popcorn cooked in beef fat?), gorgeous roasted aubergine and a blue cheese salad, all making great accompaniments to the steak. Four sides is more than enough between two.
Last but most definitely not least, we drank the house red which was recommended to us by one of the waitresses. I am not a huge red wine drinker and I was impressed, it complimented the steak and is available by the glass for those on a budget. Flat Iron also boasts a small but inexpensive range of cocktails, ideal post or pre dinner.

It is not often that you hear the words 'steak' and 'cheap' in the same sentence. Well, Flat Iron does both. It also does mouth-watering sides, beef-friendly wines, and free ice cream. I think we've found a winner.

Best steak in the world. My husband won´t stop talking about it. We live in Norway and he´s threatened on more than one occasion that he is tempted to pay the airfare JUST to eat here. I wouldn´t stop him if he did, so long as I was invited. It´s that good.
Easy and inexpensive place to get your steak on! You have to go earlier because they do not take reservations (I think), well I never made one anyway. I love their double fried chips too! Their cleaver knife is so cute, it doesn't work well but it's just purely for decoration purpose. I have to try their infamous burger next time. Enjoy peeps! :)
The best place for a reasonable priced but excellent piece of steak in London. I took my mother and step father here for a quick lunch. Both being normally hard to please, service was excellent and welcoming, good explaination of what is on offer and conversational. My step father thought that this would be a tough cut of meat. Even the hardest critic changed his mind once the steak was placed in front of him and he tried it. Cooked perfectly to what your request, try it with some mustard and the excellent chips....delicious. The salteed caramel ice cream for desert is a nice way to round it all off.

Snap up exclusive discounts in London
Time Out's handpicked deals — hurry, they won't be around for long...