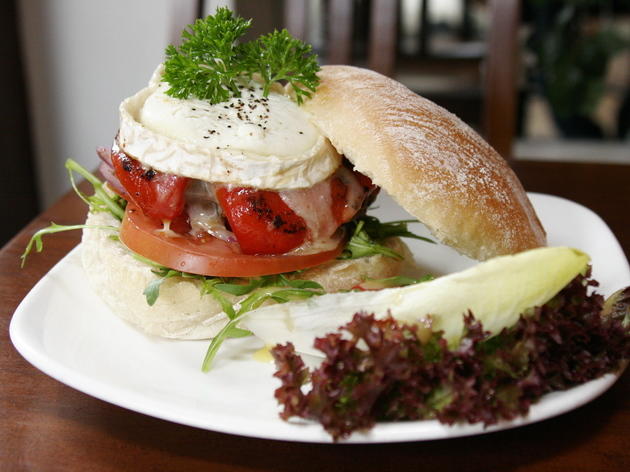 1/5
Heloise Bergman / Time Out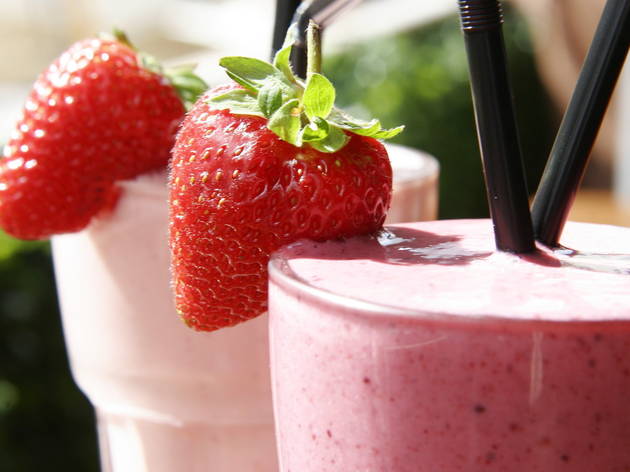 2/5
Heloise Bergman / Time Out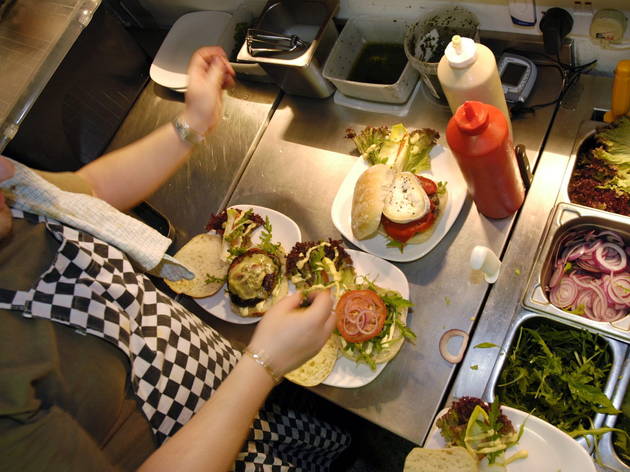 3/5
Michael Franke / Time Out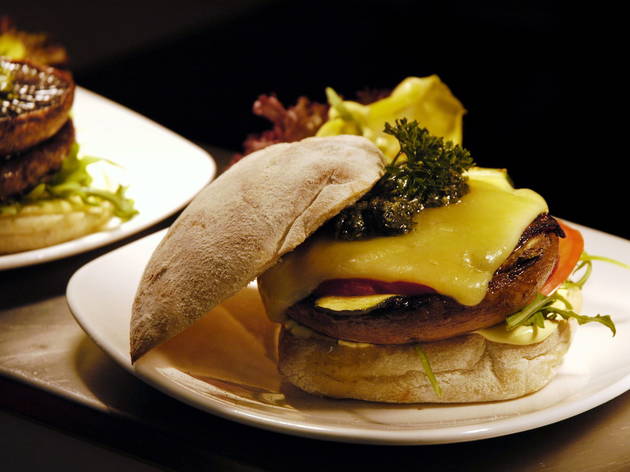 4/5
Michael Franke / Time Out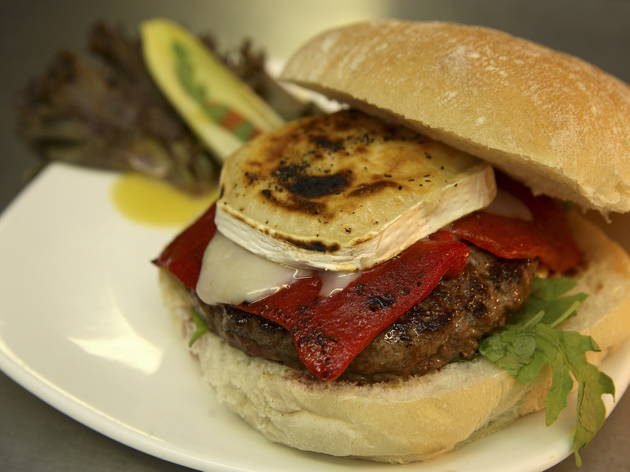 5/5
Michelle Grant / Time Out
If you can imagine a girly burger joint, Haché would be it. Named after the Gallic term for 'minced' (go to Paris and ask for a steak 'haché' and you'll be served a good-quality patty), the restaurant is full of feminine French touches: from pretty vintage chandeliers to the creamy walls with ornate, oversized mirrors. In the open kitchen at the back, classic 'man food' is prettied up wherever possible.

On our visit, thick-cut slices of onions were encased in huge balloons of batter, while the frites were proper french fries – thin-cut, seasoned and skinny. They arrived in a cutesy 'mini fryer basket': a nice touch. Less impressive were the cajun-spiced chicken wings, with their flabby, not crunchy, coating. The upmarket burgers are decent, though. Our pink-middled patty came topped with melted cheese, smoky bacon and smart salad fillers, including rocket, ripe tomato and slices of red onion, all in a soft brioche bun.

If you want to be really metrosexual, ditch the bun entirely: staff will happily replace it with a green salad. Then all you'll need as accompaniment is a cup of chamomile tea, made with proper dried flowers. Who said burger joints have to be butch?
Venue name:
Haché
Contact:
Address:
153 Clapham High Street
London
SW4 7SS

Opening hours:
Meals served noon-10.30pm Mon-Thur; noon-11pm Fri, Sat; noon-10pm Sun
Transport:
Tube: Clapham Common
Price:
Main courses £6.95-£17.95Meal for two with drinks and service: around £40
Menu:
View Menu
Do you own this business?
You may be interested in:
Average User Rating
3.5 / 5
Rating Breakdown
5 star:

4

4 star:

4

3 star:

4

2 star:

2

1 star:

1
Preparing ourselves for a lengthy night at the two brewers, around ten of us managed to squeeze into the restaurant at peak hours (luck clearly on our side) on a Saturday. We ordered a hefty amount of wine and everyone ordered a good selection of burgers from the menu, the Le Fumé making everyone wishing they'd ordered that (since it came in its own little cloche to keep the steam in, fancy!)
Now, whilst I think it is hard to really excel with a burger, you need to get every detail right, the burgers here are not bad. I personally went for the special, which was an Italian themed mozzarella and basil affair. Very tasty.
Definitely will come back again.
I have heard people raving about Hache ever since I arrived in London over 3 years ago so finally ventured here last week. It was nice but with so many different places to choose from what would swing it for me is actually the venue as it is so much nicer than the many burger joints in Clapham which are so obviously chains and simply just don't have as nice a vibe as Hache does. Don't get me wrong, I did enjoy the food but it wasn't particularly stand out.
I think this is the best of the modern burger joints in London for consistency and options, although I must admit to not seeing the need to muck about with a good old plain burger. It should stand out on it's own and a Hache burger does, in my opinion. Moist, cooked beautifully at medium rare, well seasoned and tender are all terms that can be applied here.
I find the modern trend for expensive burger joints passing themselves off as high dining a bit confusing.... It's a burger for 'flip's' sake and you eat it with your hands!
This said, I reckon their lunch menu option for a burger, drink & chips is great value these days, if you're going to step out from Maccy D's and all it's deepest, dirt-filled joys.
My only problem with Hache is that I don't particularly like their bun options. They have brioche which is too sweet and flimsy and gets destroyed by the juices. The ciabatta bun is very light for a ciabatta and holds together better, but is still a bit dense.
I think using something like a papo secos roll would be better. I know it works as that's what I do at home and after all, Little Portugal is just down the road in Stockwell so they wouldn't be hard to source.
I'll still keep going back though as I like the taste/money laid out ratio at lunch time.
I ate there last Saturday with a long lost friend. Food was perfect, service was jolly and atmosphere was warm. I would recommend the Lamb Moroccan Burger - the harissa sauce is to die for!! We will be back. Oh yeah, and they play swinging 60's music in the toilets (which were spotless).... nearly had me doing a twist and shake while washing my hands. Awesome! D
If only I had read user reviews of Hache in Clapham I would have armed with all I needed steer the lunch elsewhere or at the very least be able to say "I told you so". Instead, I was rather looking forward to trialling a new burger joint for me but left with a bad taste in the mouth and the feeling someone had picked my pockets. The menu at glance seemed a little confused with far too many options. Why am I being offered fish and chips? Why is there a salad section on the menu? This is not the behaviour of self-proclaimed burger connoisseurs. The burger was decent but overpriced. The chips were forgotten and then "reheated", arriving a dark brown and tasting of oil that was long overdue a change. Service overall was terrible and I hope for their sakes it was our waiter's first weekend in the job. Having to ask more than once to pay for an experience this disappointing is unnacceptable, they weren't even busy. The only saving grace of this place are the onion rings which were very good, I can only assume they were cooked in a different fryer to the unintentionally twice cooked chips. Avoid.
The best burger I have had in London...and I have had a few. This is the first place I ever had peanut butter on a burger and it changed my life. The burgers are all fantastic, the flavours are carefully thought about and well executed. The service is good, not rushed but not in your face. the ambience and the general feel of the restaurant is lovely as well. You can go in this place in your glad rags for a romantic night out or you can just go for a quick bite to eat. I cannot big this place up enough.
A bit disappointed. Burgers are alright but not wonderful, and the veggie one is dry and tasteless. Fries arrived almost cold. Staff is nice and polite, and that's probably the best thing about this place. I don't know if I'll go back there since the experience wasn't great.
I know the onion rings were cooked in vegetable oil because that's what my mouth tasted of as I left... chips very poor... burger just about OK... £20 a head for this? Please. ALL the other "gormet" burger places are so much better.
More venues
Sponsored listings