Hackney Picturehouse Bar & Kitchen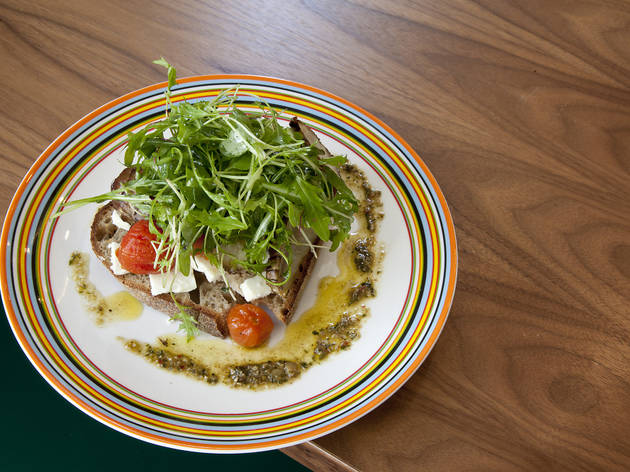 Why would anyone choose to eat in a cinema? Because, despite Hackney's food renaissance, there's a pocket of epicurean resistance centred firmly around the Picturehouse, something the mini chain set out to exploit when it opened here in 2011.
The large, light-filled foyer contains an assortment of shared tables with bench seating and some smaller tables, offering lots of space even at the busy intersections of movies ending and starting. The menu is a clever mix of snacks (such as mini pizzas and fat chips) through to burgers, daily specials and that often dismal offering, the sharing platter. This one is better than most, but not much, its selection of unimaginative antipasto staples doing little to excite.
Much better are the small plates – the hot dogs and pimientos de padrón are particularly popular, and deservedly so, with the former a perfect marriage of sausage, bun and sauerkraut, and the latter as good as anything you'll get in Galicia. Specials of pastas, savoury tarts and salads are acceptable, but this is a place for a light bite, rather than a full meal.
The impressive range of locally brewed beers includes tipples from Beavertown alongside the more obvious selection from London Fields Brewery.
Venue name:
Hackney Picturehouse Bar & Kitchen
Contact:
Address:
Hackney Picturehouse
270 Mare Street
London
E8 1HE

Opening hours:
Open 10.30am-11pm daily. Meals served noon-10pm Mon-Fri; 11am-10pm Sat, Sun
Transport:
Tube: Hackney Central rail
Price:
Main courses £5-£12.50. Meal for two with drinks and service: around £40
Do you own this business?
You may be interested in:
Average User Rating
3.6 / 5
Rating Breakdown
5 star:

5

4 star:

3

3 star:

1

2 star:

0

1 star:

3
Went in recently for a bit of lunch with a friend. Had the soup of the day(potato, leak and pea) with some sourdough bread... brilliant! and price was great, atmosphere at that time of day just right for a quiet lunch.
this is our local bar resturant we love this plac nice qualty food
fast line mini cab service 0208 5332727

Just been at the bar for breakfast and I was overcharged in 2 of the 3 items I had ordered, and in top of that, I was given the wrong rest. Highly unrecommendable
I have ordered a pizzetta and got an half naan bread with hardley anything on it! ABSURD they should be ashamed of serving this it is not food. A rip off
Hit and miss, this place. I really like the ideas behind it, and behind providing fresh, seasonal food. Had some amazing homemade dips here, and the burgers are good. However, we also once had some banana cake that was utterly uncooked in the middle(!), the pizzettes are tasty but extremely small and thin (although only £3) and we once had mulled wine which seemed to be entirely devoid of alcohol, but there is a good intention at work in the kitchen, and hopefully with practice they'll get it right more often.
We all know that London is very expensive for eating out and where a lot of the time people get low vaule for money, usually we lower our heads and bear this, most of the time we don't even thing about these issues and pay without thinking. However there is a point when expensive means rip off and this is the case with this place. I went with some friends and one ordered the burger, which was fine for £7.95, but to pay £3.50 for a 'pizzette' which was a 7 cm round of extremely thin crispy bread with a smear of tomato and two tiny pieces of mozzarella is frankly taking things too far, this was not a small pizza, it was plain rip off. When I queried this with the manager, he basically told me to get lost. I wonder why as consumers we let people get away with such practices, the burgers might be fantastic -although they take 20 minutes to arrive; but I won't be going there again because I don't like to be treated with contempt, I like paying the right amount for what I am going to get and at this place I was openly ripped off! food and good for a quick bite, but really with plenty of Lahmacun places nearby I won't be going there again.
Had a pre-movie meal here on the weekend. Burger was good, and I enjoyed the flat bread and dips plate. Of these the red pepper was definitely the highlight. Drinks - the mulled cider was much enjoyed by my friends. Overall an ok well-priced meal, however I wouldn't go here for just the food.
I went there the other day and had the home made burger and fries. It was the best burger I have ever had. Other people were raving about the food too. fantastic that Picturehouse has made a genuine effort to provide great food at reasonable prices. My local, now!
Great place, perfect for the area with a lovely, fast changing menu. Excellent hot dog. Great for a bite with a film or just for the food.