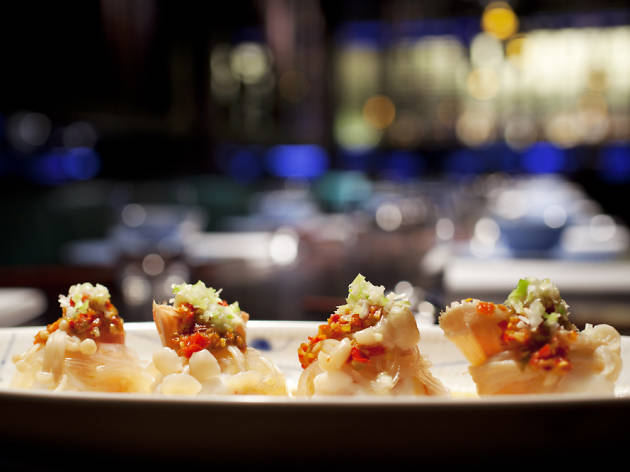 1/2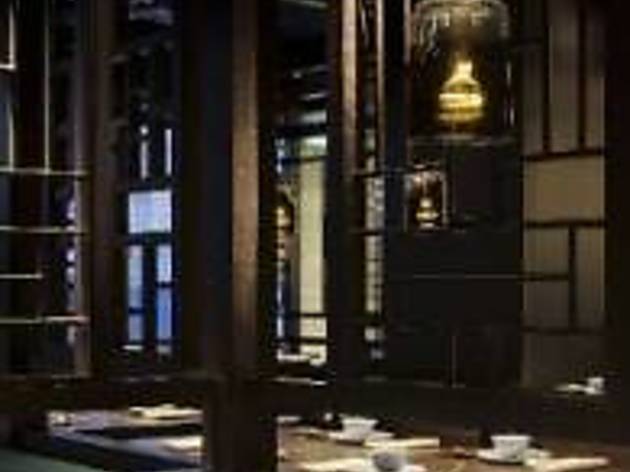 2/2
A carbon copy of the original high-end Chinese restaurant in Mayfair, with the same stylish interior and innovative Cantonese cooking.
The original Hakkasan opened nearly a decade ago, in 2001 – the same year Beijing won the bid to host the 2008 Summer Olympics. Since then, the popular image of Chinese culture, cuisine and competence have changed greatly.
Alan Yau was the original mastermind behind the groundbreaking restaurant, ambiguously located underground in an alley near Tottenham Court Road tube. His interpretation of Chinese cuisine was refreshing, bringing Cantonese cooking and fine dining together into one sexy package.
Of course, Hakkasan was not the first to posh-up Chinese food – Mr Chow in Knightsbridge was doing it for decades before Yau came on the scene – but it propelled the cuisine back into the spotlight. The first-class cocktail bar, serving up highly original drinks and quality sakés, helped too.
In an interview with Time Out three years ago, Yau commented: 'No one really imagined that Chinese food could be sophisticated, not in the way that they view Japanese food and places like Nobu.' While Yau is no longer associated with the brand he created (Hakkasan was sold to Abu Dhabi investors in 2008), the quest to articulate Chinese food as an internationally recognised beacon of fine dining continues. Yau is currently opening his first restaurant in the IFC Mall in Hong Kong, incidentally, and there are also Hakkasans in Miami and Abu Dhabi now.
This second London branch is conspicuously located among the riches of Mayfair, with windows looking out on to the streets and into the designer boutiques opposite. But the romance of descending into an opulent underworld – as in the original – can still be realised by requesting a table in the basement dining room.
Here, it's pretty much a carbon copy of the original design by Christian Liaigre at Hanway Place, but by a different designer; upstairs is brighter, less clubby and miles more inviting, looking more like the ground floor space of sister restaurant Yauatcha. The sleek, short red dresses worn by the glamorous female staff are designed by Diane von Furstenberg, whose boutique lies just across the road.
The (cheaper) dim sum menu was brought out along with the à la carte . We enjoyed the simpler items the most – benchmark har gau dumplings were plump and fresh, if unconventionally large, while xiao long bao had thin, delicate wrappers and a rich porky broth, though none of the flavours of the advertised dried scallop.
Luxury items were folded into the dishes with shameless abandon: bouncy prawn balls burst with a molten centre of liquid foie gras, a playful twist on Fuzhou fishballs (normally stuffed with minced meat), while prized ingredients such as abalone, crab, lobster and wagyu feature heavily.
Most of what we tried was decent, and a cut above most Chinese restaurants, but often seemed to be less than the sum of its parts.
A new dish of black truffle roast duck with tea plant mushrooms comprised of beautifully cooked duck breast, moist and tender with crisp skin, but the truffle element was muted and failed to add anything to the plate. Braised pork belly in double soy sauce (soy sauce that has undergone two fermentations for a fuller, richer flavour) with osmanthus flower on the menu made us think fondly of Dongpo pork, but it was barely recognisable when it came to the table – it tasted more like sweet-and-sour pork without the tang, the delicate aromatic flowers lost among the overly sweetened soy.
Desserts are more Western in style, beautifully executed. A jasmine tea and apricot sorbet was exceptional, but the jasmine tea-smoked chocolate crémeux alongside tasted acrid. For £3.60, the glutinous rice balls filled with sweet black sesame paste from the dim sum menu is a cheaper, more traditional and enjoyable dessert.
It's telling that the simpler dishes seemed to work the best, as though the kitchen were not quite au fait with melding certain ingredients and techniques together. But there is no doubt that Hakkasan will do well in the area, even if it didn't quite live up to the expectations raised by the sensation the original caused.
Venue name:
Hakkasan Mayfair
Contact:
Address:
17 Bruton Street
London
W1J 6QB

Opening hours:
Bar noon-12.30am Mon-Wed; noon-1.30am Thur-Sat; noon-midnight Sun.Restaurant Lunch served noon-5.30pm daily. Dinner served 6-11.15pm Mon-Wed, Sun; 6pm-12.15am Thur-Sat.
Transport:
Tube: Green Park tube or bus C2
Price:
Meal for two with wine and service: around £130
Menu:
View Menu
Do you own this business?
You may be interested in:
Average User Rating
2.7 / 5
Rating Breakdown
5 star:

3

4 star:

5

3 star:

0

2 star:

4

1 star:

6
Fine dining at its absolute finest. The atmosphere is for me what makes this place special, with the dark decor and mood lighting making it an extremely memorable experience. The staff were all fantastic, as was the food. Although don't get me wrong, for what your paying it should be. The relatively small plates lead toward a sharing experience, allowing you to sample a variety of plates. The food was incredible, particularly the truffle roasted duck which I cannot recommend enough.
Amazing environment, excellent food and friendly stuff- a perfect celebration for a special occasion. We were seated in the basement level in a relatively quiet corner - even though the music was a bit loud but not as much to annoy us- and ordered the signature menu, which included literally everything : soft shell crab, sesame prawns on toast with foie gras, dumplings, crispy duck with pancakes and caviar , spicy lobster noodles, wagyu beef fillets, sea bass, two dessert dishes and champagne! We were excited with every dish (felt full from the first main but kept eating because it was so good) and considered the price expected for what we got in a Mayfair restaurant. The stuff were very attentive and the atmosphere relaxed - maybe it had to do with the fact that our reservation was at 22:00 so by the time we were finished there were a few empty tables around us already and no hurry for us to go. Would definitely recommend it for a special occasion and in combination with a menu since that's what makes the price worth it.
Hakkasan Myfair restaurant revealed a service not enough competent compared to the quality they want to achieve: my visit last night turned out as one of the worst restaurant experiences I've ever had.
Let's start with order: we were welcome by friendly staff at the reception/cloakroom, our table was at the lower floor, a bit noisy due to quite loud dj set, but nothing wrong with it. The restaurant was quite full, but the people seemed to be quite happy.
The first problem happened with the wine choice: I asked a suggestion about a bottle, the waiter suggested to speak with the sommelier, who simply scrolled the menu reading without giving the impression to know the wine they were selling. In the end I trusted my (limited) knowledge of wines choosing a 2011 Furmint "
Áldomás
", Bodvin Hungarian Tokaj, since I like white wines, full of flavor, but without been too fruity and remaining dry in mouth. The choice has been a really good one since the wine was perfect.
About the food: as soon as we arrived we were told that 5 starters were not available, shame but fine for a sunday evening. Our menu choice:StartersTofu aubergine and Japanese mushroom claypotGolden fried soft shell crabMainsSteamed mini New Zeland lobster wrapped in glass vermicelli Stir-fry Peking style duckHakka noodle
Starter's presentation was nothing special. We were finishing the starters - we still had food we were eating on our plates - when the waiter who was serving us arrived saying he had to clean up quickly because the mains were ready and he had to bring them.The awkwardness of being push to eat fastly is something unacceptable in a place that should have a Michelin starThat waiter cleaned up our table and brought the mains. At that point our dinner was over, completely ruined. I was staring at my girlfriend who was shocked as well, none could eat anymore. I asked to speak to a floor manager explaining the situation and asking for the bill, he apologized for what happened reporting to his manager as well. I was kindly offered to have the food replaced whenever I would have been ready to eat, after that kind of service I wouldn't have been able to eat anymore. I simply asked for the bill and at that point I was told not to worry about the bill.I thanked the manager for this, but this was not the aim since we had great expectations on Hakkasan.
Probably a review of the standard of service could be useful, because what I could see yesterday is far away from a Michelin star restaurant.
Awful place. The food is average, and the staff are failed part-time models / actors. I would never visit this place again..
I would never go back to this restaurant again. The staff are incredibly rude, and i think Alan Yau would be ashamed to see this place.
AWFUL service, terrible staff. DO not visit.
I was very disappointed with my first visit to Hakkasan, Mayfair. We came to the restaurant to celebrate a special occasion and the occasion was dampened by the rude and indifferent waiting staff. I felt they were in a hurry for us to leave our table, they would quickly remove empty dishes we were eating from when guests at the table were still eating. I mentioned this to the waiting staff and I was told this was restaurant policy. I felt my comment was completely ignored. A guest at the table received her desert in a glass with a broken hole. When this was mentioned to the manager he did not seem very concerned even thought the fellow guest may have eaten small fragments of glass in her dessert. Then we were told to hurry and vacate the table. I will not be returning to this establishment again. They are more interested in filling their pockets and having customers through the door than ensuring that their customers have a good eating experience.
I agree with the other reviews. The food is excellent .. staff revolting .. yes THAT BAD! I have never been looked down on like that by anyone .. dreadful - I got the inkling that the feeling of utter disdain filtered down from the management .. that many miserable people could not have accidentally ended up working in the same restaurant. They won't be flavour of the month for long .. over rated, over priced .. and very nearly over ... period. There is no way I'd go back ...I'd take standard,tasty pub grub, happy, helpful staff and a glass of wine over this jumped up pretentious 'hole' anyday! Merry Christmas!
Cocktails and dim sum really lovely, everything else - service, food, setting - decidedly average and ludicrously expensive. Far better places to go in London. Best avoided
utter pomposity and hassle of booking a reservation has totally put me off - they are more interested in their own posturing than in recognising that we are the customers - this is a trend I deplore in these full-of-themselves places. after booking us in, and 2 re-confirmations!! because their commerical pocket may be hit if we are either late or don't turn up - they insist at precisely two hours in, they will take us off the table - it is not a place to go with friends for a wonderful leisurely time except if you want to impress them with your deep pockets. most uncouth. don't go.
Over priced and service is poor. Food is the average.don't go unless you are a fool.