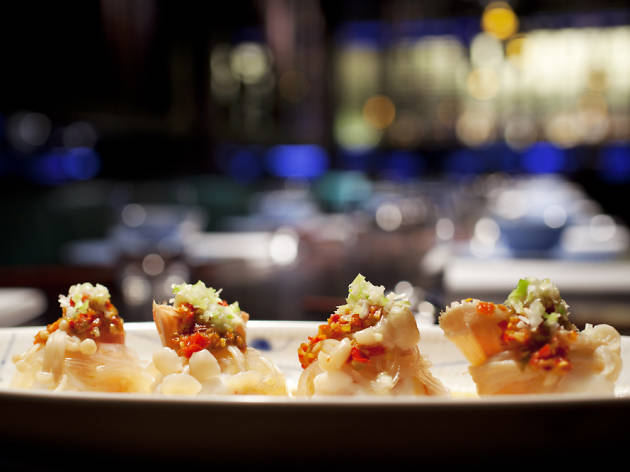 1/2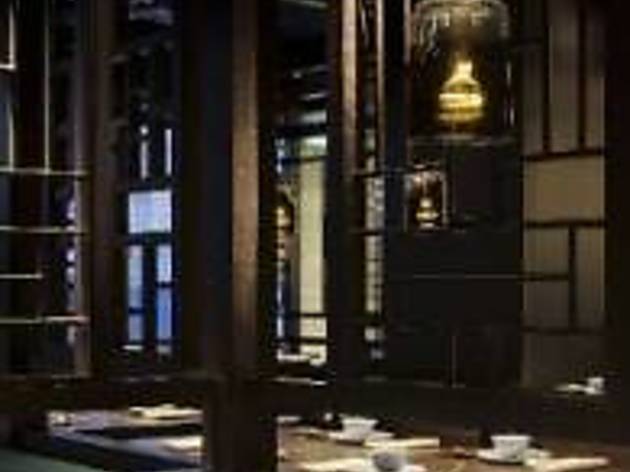 2/2
Time Out says
A Mayfair spin-off of the original high-end Chinese restaurant
Hakkasan Mayfair may not be the original – that's Hakkasan Hanway Place, over in Fitzrovia – but it's pretty much a clone of the first, right down to the Michelin star. Plus, thanks to its snazzy location, is the one we're always asked about.
Once again, it's a high-end Cantonese restaurant in a sexy basement: you'll blink as your eyes adjust to the moody lighting (spots dangling over tables, very little anywhere else). Picture a cross between an opium den and 'The Matrix' and you're there. Service, too, is as polished as it gets.
As for the food, it's good, though not as showstopping as you'd expect for the price. The best dishes were the signatures: jasmine tea-smoked ribs (now served off the bone, still perfection) or deep-fried soft-shell crab (salty and moreish, with tiny flecks of chilli and red onion). The Singapore noodles, fat with sprouts and seafood, were also decent (and, at £14 for a big plate, a bit of a steal), as was pomegranate seed-studded sweet and sour pork (£19). But don't bother with salt and pepper squid (too flabby) or the spicy prawns (just dull).
You don't have to dress up, but you should feel free to: everyone here is either rich or beautiful. And they've come to pose. On my visit, two wannabes in white jumpsuits were taking selfies in the full-length mirror in the loo. Can't get a table downstairs? You can eat in the ground-floor lounge bar, too.
Details
Address:
17 Bruton Street
London
W1J 6QB

Transport:
Tube: Green Park tube
Price:
Dinner for two with drinks and service: around £160.
Do you own this business?
Average User Rating
2.7 / 5
Rating Breakdown
5 star:

3

4 star:

5

3 star:

0

2 star:

4

1 star:

6
Fine dining at its absolute finest. The atmosphere is for me what makes this place special, with the dark decor and mood lighting making it an extremely memorable experience. The staff were all fantastic, as was the food. Although don't get me wrong, for what your paying it should be. The relatively small plates lead toward a sharing experience, allowing you to sample a variety of plates. The food was incredible, particularly the truffle roasted duck which I cannot recommend enough.
Amazing environment, excellent food and friendly stuff- a perfect celebration for a special occasion. We were seated in the basement level in a relatively quiet corner - even though the music was a bit loud but not as much to annoy us- and ordered the signature menu, which included literally everything : soft shell crab, sesame prawns on toast with foie gras, dumplings, crispy duck with pancakes and caviar , spicy lobster noodles, wagyu beef fillets, sea bass, two dessert dishes and champagne! We were excited with every dish (felt full from the first main but kept eating because it was so good) and considered the price expected for what we got in a Mayfair restaurant. The stuff were very attentive and the atmosphere relaxed - maybe it had to do with the fact that our reservation was at 22:00 so by the time we were finished there were a few empty tables around us already and no hurry for us to go. Would definitely recommend it for a special occasion and in combination with a menu since that's what makes the price worth it.
Hakkasan Myfair restaurant revealed a service not enough competent compared to the quality they want to achieve: my visit last night turned out as one of the worst restaurant experiences I've ever had.
Let's start with order: we were welcome by friendly staff at the reception/cloakroom, our table was at the lower floor, a bit noisy due to quite loud dj set, but nothing wrong with it. The restaurant was quite full, but the people seemed to be quite happy.
The first problem happened with the wine choice: I asked a suggestion about a bottle, the waiter suggested to speak with the sommelier, who simply scrolled the menu reading without giving the impression to know the wine they were selling. In the end I trusted my (limited) knowledge of wines choosing a 2011 Furmint "
Áldomás
", Bodvin Hungarian Tokaj, since I like white wines, full of flavor, but without been too fruity and remaining dry in mouth. The choice has been a really good one since the wine was perfect.
About the food: as soon as we arrived we were told that 5 starters were not available, shame but fine for a sunday evening. Our menu choice:StartersTofu aubergine and Japanese mushroom claypotGolden fried soft shell crabMainsSteamed mini New Zeland lobster wrapped in glass vermicelli Stir-fry Peking style duckHakka noodle
Starter's presentation was nothing special. We were finishing the starters - we still had food we were eating on our plates - when the waiter who was serving us arrived saying he had to clean up quickly because the mains were ready and he had to bring them.The awkwardness of being push to eat fastly is something unacceptable in a place that should have a Michelin starThat waiter cleaned up our table and brought the mains. At that point our dinner was over, completely ruined. I was staring at my girlfriend who was shocked as well, none could eat anymore. I asked to speak to a floor manager explaining the situation and asking for the bill, he apologized for what happened reporting to his manager as well. I was kindly offered to have the food replaced whenever I would have been ready to eat, after that kind of service I wouldn't have been able to eat anymore. I simply asked for the bill and at that point I was told not to worry about the bill.I thanked the manager for this, but this was not the aim since we had great expectations on Hakkasan.
Probably a review of the standard of service could be useful, because what I could see yesterday is far away from a Michelin star restaurant.
Awful place. The food is average, and the staff are failed part-time models / actors. I would never visit this place again..
I would never go back to this restaurant again. The staff are incredibly rude, and i think Alan Yau would be ashamed to see this place.
AWFUL service, terrible staff. DO not visit.
I was very disappointed with my first visit to Hakkasan, Mayfair. We came to the restaurant to celebrate a special occasion and the occasion was dampened by the rude and indifferent waiting staff. I felt they were in a hurry for us to leave our table, they would quickly remove empty dishes we were eating from when guests at the table were still eating. I mentioned this to the waiting staff and I was told this was restaurant policy. I felt my comment was completely ignored. A guest at the table received her desert in a glass with a broken hole. When this was mentioned to the manager he did not seem very concerned even thought the fellow guest may have eaten small fragments of glass in her dessert. Then we were told to hurry and vacate the table. I will not be returning to this establishment again. They are more interested in filling their pockets and having customers through the door than ensuring that their customers have a good eating experience.
I agree with the other reviews. The food is excellent .. staff revolting .. yes THAT BAD! I have never been looked down on like that by anyone .. dreadful - I got the inkling that the feeling of utter disdain filtered down from the management .. that many miserable people could not have accidentally ended up working in the same restaurant. They won't be flavour of the month for long .. over rated, over priced .. and very nearly over ... period. There is no way I'd go back ...I'd take standard,tasty pub grub, happy, helpful staff and a glass of wine over this jumped up pretentious 'hole' anyday! Merry Christmas!
Cocktails and dim sum really lovely, everything else - service, food, setting - decidedly average and ludicrously expensive. Far better places to go in London. Best avoided
utter pomposity and hassle of booking a reservation has totally put me off - they are more interested in their own posturing than in recognising that we are the customers - this is a trend I deplore in these full-of-themselves places. after booking us in, and 2 re-confirmations!! because their commerical pocket may be hit if we are either late or don't turn up - they insist at precisely two hours in, they will take us off the table - it is not a place to go with friends for a wonderful leisurely time except if you want to impress them with your deep pockets. most uncouth. don't go.
Over priced and service is poor. Food is the average.don't go unless you are a fool.