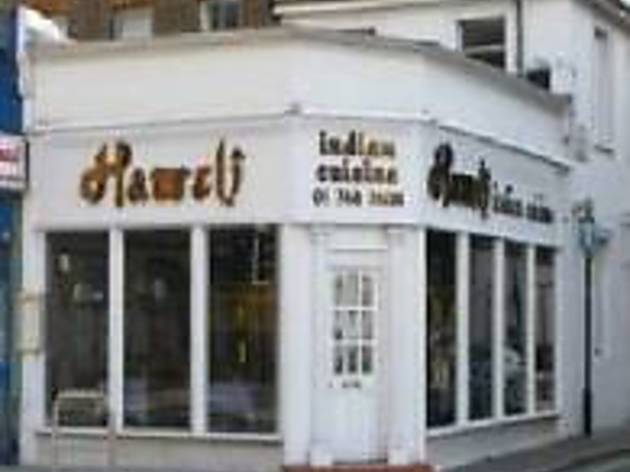 The content on this page is provided by a Time Out partner.
Haweli Indian was established in 1983 and has always been popular with locals and visitors alike.
At the Haweli food is prepared with love and passion,and customers greeted with an everwarm welcome.
Fazlul Bari, the manager, became a restaurateur through his enthusiasm for food, and his menu expresses this enthusiasm.
The best of a wide veriety of Indian cuisine is prepared with whole spices, intelligent innovation and careful attention to detail.
Tandoori Garlic Chilli Chicken, a chicken tandooro dish with fresh corriander, green chillies ,garlic and ginger juice...Baigan Masllader, a unique vegetarian dish prepared with whole baby aubergines...Goa chicken, a spicy dish in coconut sauce with exquisite spices...and delicate coastel dishes frm Bengal with seafood, white fish fillet and trout. Other dishes include Chicken Jalfarezi, Chicken Green Masalla and Lamb Kalia. The special Lemon Rice is an absolute addition to your palate.

Venue name:
Haweli Indian Haute Cuisine
Contact:
Address:
357 King Street
London
W6 9NH

Price:
£25 and under
Do you own this business?
You may be interested in:
Rating Breakdown
5 star:

0

4 star:

0

3 star:

0

2 star:

0

1 star:

1
On a friday evening my partner and I ordered a takeaway meal for delivery from Haweli in Hammersmith. This is something we had done several times before and were always happy with what we received, good food in a timely manner. This is why our most recent experience with this restaurant was so disappointing and frustrating. Upon receipt of our food, which had not had to travel far as we are very local to the restaurant, we found that it was only barely warmer than room temperature. This was very disappointing as we had paid over £25, waited for 50 minuets, and were looking forward to enjoying our meal. Naturally, we called the restaurant to inform them that our food was not hot. The person answering the phone told us that they would send a new meal but it couldn't be guaranteed to come any faster than usual. We explained that this would mean we would have waited nearly two hours from our initial point of ordering to eat our meal and hence that wasn't really satisfactory recompense . We were then offered a mere 10% discount on top of the food being replaced for our inconvenience. As it seemed this was a good as it was going to get we agreed. The new meals arrived which were hot and we were initially pleased to receive them. However, much to our dismay, a big fuss was then made about us giving back the food we had from earlier. When we got the first meal, not expecting it to be cold, we served it out. On discovering it was cold and that new food was coming, we threw it in the bin, leaving what was left of the main courses in the original containers. This apparently was not acceptable, and the delivery person phoned the restaurant, in front of us, to tell his superiors that all the food was not there (!?) This was frankly astounding to us, that he had obviously been sent with clear instruction to collect the food that had been in our house, being handled by unknown persons, kept at unknown temperatures for return to their restaurant! Even knowing that it had been handled, they took back what was left in the containers! Not wanting to leave it on bad terms, we called the restaurant shortly after the driver leaving to thank them for sending the new food. The Manager then challenged us, his inconvenienced but still gracious customers, and attempted to argue that it was 'unfair' that we had not sent back all the cold food. We were flabbergasted. To make matters even worse, we received a rude voicemail from a person at the restaurant who did not identify themselves, saying that what we had done was 'disgusting' and telling us in no uncertain terms never to call them again or order food from their restaurant. This whole encounter with Haweli has dismayed and troubled us, and begs the question of what exactly were they intending to do with the cold food, that they wanted it back so desperately? Any basic knowledge of food safety would tell you that once food has left the kitchen and been with customers it is unsalable and has no value- or at least its not supposed to, and is essentially waste product! All in all, we were treated appallingly, and have been left with grave concerns as to why they are so angered, to the point of leaving rude voicemails, if they do not receive leftover food back which should be of no value to them whatsoever.
More venues
Sponsored listings