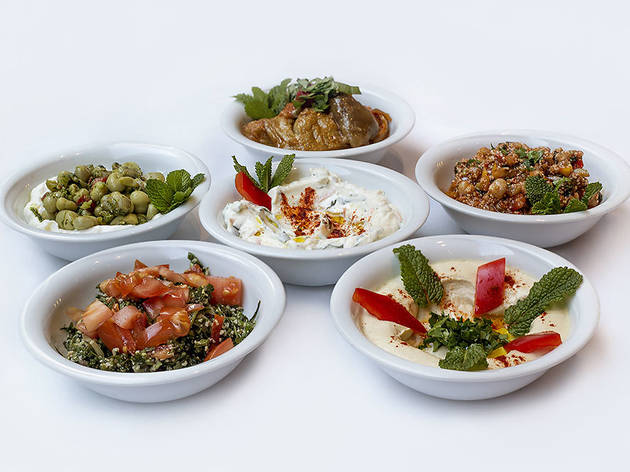 This Turkish restaurant is one of five branches of Haz in the City. This is the one to pick if you're after a vista – the westward-facing floor-to-ceiling windows offer some great views out over Cheapside and across to St Paul's Cathedral.
The menu ranges from mezze dishes of houmous, imam bayildi, borek and falafel to Turkish salads and charcoal grills of lamb shish, chicken kofte and iskender kebabs, lamb chops, filet steaks and ali nazik – a dish of grilled and puréed smoked, spiced aubergine with cubes of sautéed lamb.
Keep an eye out for mousaka and other stews, as well as seafood options from the charcoal grill.
More
Less
Haz says
Haz restaurant is a modern-Mediterranean restaurant. The ultimate haven for those who would like to capture the true essence of the Mediterranean in the midst of London. Haz gives you a dedicated experience that will take you to the heart of modern day Turkey.
More
Less
Venue name:
Haz
Contact:
Address:
34 Foster Lane
London
EC2V 6HD

Menu:
View Menu
Do you own this business?
You may be interested in:
Average User Rating
2.9 / 5
Rating Breakdown
5 star:

2

4 star:

0

3 star:

3

2 star:

1

1 star:

2
Absolutely terrible service with quite possible the worse waiters you will encounter anywhere.
We went as a group of 12 and the waiter assigned to us was appalling from start to finish and made the experience horrible. We would never go here again!
We ordered mix grill which state it comes with rice but the waiter didn't provide any stating it was a new menu and doesn't come with any rice and we have to pay extra for it. It addition to this, they would not provide us with chilli sauce stating that it was extra and we have to pay extra.
Haz need to train their waiters in service as they clearly do not know what they are doing. Not worth ever going here as the waiters just make you want to leave. Go else as Haz has gone downhill very fast!
This well established restaurants has became City`s best culinary destination. you will be welcomed with a warm smile and enjoy the dining experience of sharing mezes and beautifully cooked charcoal grills, variety of wine choices from old and new world. Staff is friendly and atmosphere is super buzz.
I have been to Haz on a number of occasions, every time the food has been great and so has the service! It great for a quick tasty lunch without feeling like you are in the door and out the door!
They have a number of locations and St Pauls is really lovely! They have a beautiful few of St Pauls and they also have a great area to hire!
But most important the food is good!
I took my husband to Has St Pauls for a dinner to celebrate his birthday. We were met by a nice host and showed to our table. However from here on our experience went downwards. The order was taken by a waitress with a displeased expression on her face, which made us feel unwelcome. As we were waiting for our food I have noticed that the white wall we were sitting by needed a good wipe off, there was used Christmas cracker laying on a floor near me, the knife had some cloudy residue on it so I had to polish it. The interior reminded me of a large canteen, because it lacked a character, intimacy and warmth. Soon the waitress brought out some yogurt and pita bread, which was disappointingly cold. For dinner we had lamb tagine, which was even more disappointingly bland with no spice on it what so ever. We had to share one bawl of some sort of chutney to go with lamb, which was rather nice, but far to little to cover large portions of tasteless main dish, which consisted of either lamb neck or spine peaces, some tasteless almonds and same overcooked veggies of which majority was carrots. I managed to find 2 apricots and no prunes, although they were mentioned on a menu. Apparently we did not have even solt and pepper on a table. The restaurant had only couple tables occupied and seemingly the were more staff then customers, but throughout the whole time we were eating no one could be bothered to check on our table. Only when we were ready to pay another waiter came up and asked how was our dinner, but did not show any further interest, when I said that the meal was so so. Yet another person came to charge the card and did not even thank us when he was done. I really wished to speak to a manager, but because we did not want to ruin what was left from our evening, we just left. Today I have also noticed that we were charge a service charge of almost £4! These people don't even know what a service is, so how dear they to charge for it! My advice would be run fast and far from this place.
We decided to do our christening party here and what a mistake we made. Food was OK but service was absolutely terrible. Staff we're very slow in putting the starters and drinks out (mainly because they were very short staffed) and as a result took ages for people to get their food and drinks. For the mains, instead of putting food platters in the middle of the table as agreed, they put plates of food with no spoons to serve the food. When I complained the waiter put out the spoons for two tables and then dumped the rest on the side. For long periods of time no staff were around as they were busy serving customers on the other side of the restaurant, needless to say we were extremely embarrassed. When we complained to the manager (who made sure he wasn't around until it was time to pay) he admitted that they were short staffed but took no responsibility and offered no apology. He then rudely walked off saying that we didn't know what we were talking about. Considering we had just spent £1500 in his restaurant I was pretty shocked how we got treated, but maybe we should haven't been too surprised given that when we had paid our deposit, the manager didn't take or return any of our phone calls.